Wholesale-focused UK satellite operator OneWeb is in talks to merge with Paris-based Eutelsat, in a move that would position the combined entity to better compete with SpaceX's Starlink and indeed Viasat, which is acquiring Inmarsat.
In a statement issued this morning, Eutelsat confirmed its discussions about an all-share combination with OneWeb, but warned that there can be no assurance they will result in an agreement. Bloomberg first broke the news of talks over the weekend.
Under the terms of the transaction being discussed, Eutelsat and OneWeb shareholders would each hold 50% of the combined group's shares. The deal would be structured as a contribution by OneWeb's shareholders of their stake in OneWeb to Eutelsat in exchange for newly issued Eutelsat shares.
Eutelsat said:
Following recent market rumors, Eutelsat Communications confirms that it has engaged in discussions with its co-shareholders in OneWeb regarding a potential all-share combination to create a global leader in connectivity with complementary GEO/LEO activities. The combined entity would be the first multi-orbit satellite operator offering integrated GEO and LEO solutions and would be uniquely positioned to address a booming ~$16 billion (2030) Satellite Connectivity market.

OneWeb is one of the two only global LEO networks and has experienced strong momentum over recent months, with service expected to be fully deployed in 2023. The transaction would represent a logical next step in the successful partnership between Eutelsat and OneWeb, started with Eutelsat's equity investment in OneWeb in April 2021 and deepened with the Global Distribution Agreement announced in March 2022. Eutelsat currently holds 23% of OneWeb's share capital, alongside a consortium of high-profile public and private investors.
There are certainly clear synergies between the two firms, including in aviation. Eutelsat, for instance, last week told Runway Girl Network that it intends to maintain a largely wholesale model when addressing the aero mobility market.
"We operate a wholesale model in most cases, enabling us to work with all market players, our main customers being major service providers. We intend to maintain this model," said Eutelsat corporate communications director Marie-Sophie Ecuer.
This syncs nicely with OneWeb's approach for its LEO network.
With an impressive fleet of GEO satellites, Eutelsat has long counted Panasonic Avionics and Gogo (now Intelsat) as aero customers for its Ku-band capacity, and it added a contract with Anuvu in 2021 which helped to boost its fiscal year 2021-22 1H and Q3 results, reported in February and May, respectively.
Today, mobile connectivity represents 6% of Eutelsat's activity, split between maritime and aviation, Ecuer confirmed.
But that figure is expected to grow in a variety of ways. As mentioned, Eutelsat already intends to commercialize OneWeb services across aviation, maritime, enterprise, telcos and government, under the Global Distribution Agreement it signed in the spring for OneWeb capacity. The arrangement, said Eutelsat and OneWeb at the time, paves way for the two companies to work together on developing combined GEO/LEO connectivity solutions.
Should Eutelsat merge with OneWeb — with the latter valued at $3 billon or more, as reported by Bloomberg — the combined company would also boast relationships with OneWeb's growing roster of aero partners including Gogo Business Aviation and Satcom Direct.
A merger could also obviously accelerate the introduction of hybrid LEO/GEO network solutions for the civil aviation market.
Even without factoring in OneWeb, Eutelsat's mobility revenues are expected to see solid growth, as its QUANTUM Ku-band satellite, which entered service in November 2021 providing extensive coverage in the MENA region, is bringing flexibility to address government and maritime.
And it anticipates continued momentum next year as its KONNECT Ka-band VHTS for Europe and its EUTELSAT 10B Ku-band satellite — with coverage over the high-traffic North Atlantic corridor — enter service. Both satellites' launch schedules are delayed. But the KONNECT VHTS, with a Ka-band capacity of 500 Gbps, is now on its way to Europe's Spaceport in Kourou, French Guiana by boat, for a planned 6 September launch aboard an Ariane 5 rocket.
"In the future we will launch two satellites offering incremental capacity able to address the aero mobility market, KONNECT VHTS (Ka-band) that you mentioned, and EUTELSAT 10B (Ku-band)," noted Eutelsat's Ecuer via email, adding: "Both will be operational in 2023."
The EUTELSAT 10B satellite, meanwhile, has already attracted aero customers. In 2019, Gogo followed by Panasonic each signed on for 10B capacity. Eutelsat referred to both arrangements specifically in its 1H earnings report.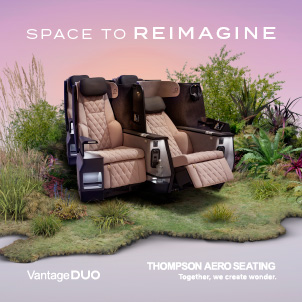 With Starlink posing an increasing competitive threat including in aero, and Viasat acquiring Inmarsat, a Eutelsat/OneWeb tie-up seems like a no-brainer.
Should it come to fruition, all eyes will be on Intelsat, which last month indicated to RGN that its hybrid network may or may not include OneWeb, describing the British firm as "a potential choice of LEO partner in the Ku-band".
Any combination of Eutelsat and Oneweb would be subject to, among other conditions, approval by the requisite majority of Eutelsat shareholders and receipt of all relevant antitrust and regulatory (including foreign investment) approvals, said Eutelsat.
"Eutelsat will inform the market as soon as there are any new developments," it added.