SmartSky Networks, the innovative air-to-ground (ATG) inflight connectivity provider, today announced California-based Thornton Aviation as a sales and installation provider for SmartSky's advanced shipsets at Thornton's Van Nuys and Burbank, California locations.
With over three decades of excellence in aircraft services, Thornton Aviation will sell and install SmartSky's connectivity equipment. Thornton's proven track record of on time and on budget aviation services will bring SmartSky's dependable, responsive, and secure inflight connectivity to the wide range of corporate and business aircraft currently serviced and managed at Thornton's FAA Certified facilities.
Vincent Russo, Director of Avionics at Thornton Aviation notes: "With one of the longest operating MROs at one of the busiest general aviation airports, we understand that a customer's inflight connectivity experience is a top priority. We also know that keeping the operations team and crew connected in real-time will make for an even better flying experience. By adding SmartSky to our portfolio of aviation services, we can ensure that passengers, crew and operations have the internet access and data they need."
Aria Bahawdory, Director of MRO Account Management for SmartSky Networks added: "Thornton Aviation services and manages a wide range of business aircraft.  Their long-standing expertise and broad aircraft knowledge, coupled with available STCs for many of the aircraft they service, will provide their customers with an inflight connectivity solution that meets the needs of cabin, crew, and operators alike."
SmartSky's products and services are available through a growing network of installation partners and Value-Added-Resellers (VAR).  The three interrelated offerings include SmartSky's patented, next-generation air-to-ground network, advanced antennas and ABRs, and a transformational digital platform and application-layer, Skytelligence®. Full CONUS network coverage is on track for the end of this quarter and hardware is available now for installation.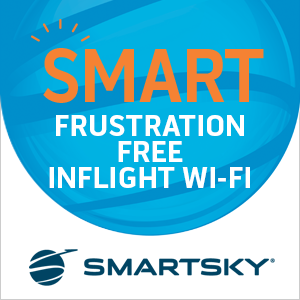 About SmartSky
SmartSky Networks was founded to transform aviation through disruptive communications technologies, services, and tools. Its innovative air-to-ground network takes advantage of patented spectrum reuse, advanced beamforming technologies and 60 MHz of spectrum for significantly enhanced connectivity. SmartSky Networks uniquely enables an "enterprise in the sky" experience with unmatched capacity for data transmissions both to and from the aircraft. This real-time, very low latency, bidirectional data link makes SmartSky Networks the best inflight user experience, and a key enabler for new and enhanced applications and services. 
About Thornton Aviation
Since 1984, Thornton Aviation has provided a wide variety of services to the aircraft industry. As a FAA Certified Repair Station, we offer aircraft maintenance and avionics services for a wide range of corporate/business aircraft including those operating under FAA Part 91 Regulations & 135 Air Carrier Certificate requirements. Thornton Aviation was the first FAA Repair Station authorized to work on Experimental Aircraft.
Featured image credited to Smartsky Networks