With its beautiful new cabin for Taipei-based China Airlines' new Airbus A321neo fleet, JPA Design may well be the first example of a successful answer to a key question with the new generation of narrowbodies: how can designers make the entryway and cabin of a single-aisle jet feel premium?
Entering from door 1L, the monument immediately to the right of the entryway features a mixture of the persimmon wood effect that has become something of a China Airlines signature, paired with a striped grey-blue-turquoise art design that brings in a butterfly motif and includes what appears to be a stowage panel above.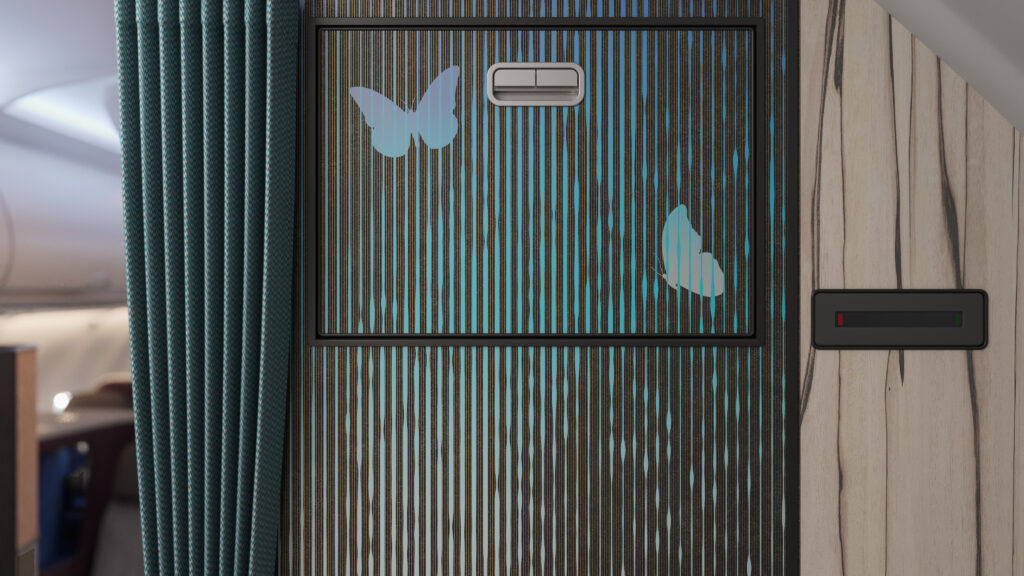 Thoughtfully chosen dark thermoplastics and crew seating fabrics feature to the left, while ahead an attractive wave-patterned turquoise curtain screens off the working galley area, and a matching curtain can be drawn across in flight between the galley and business class. Lighting projections onto the far wall and curtain, which continue this colour palette, also feature the butterfly motif.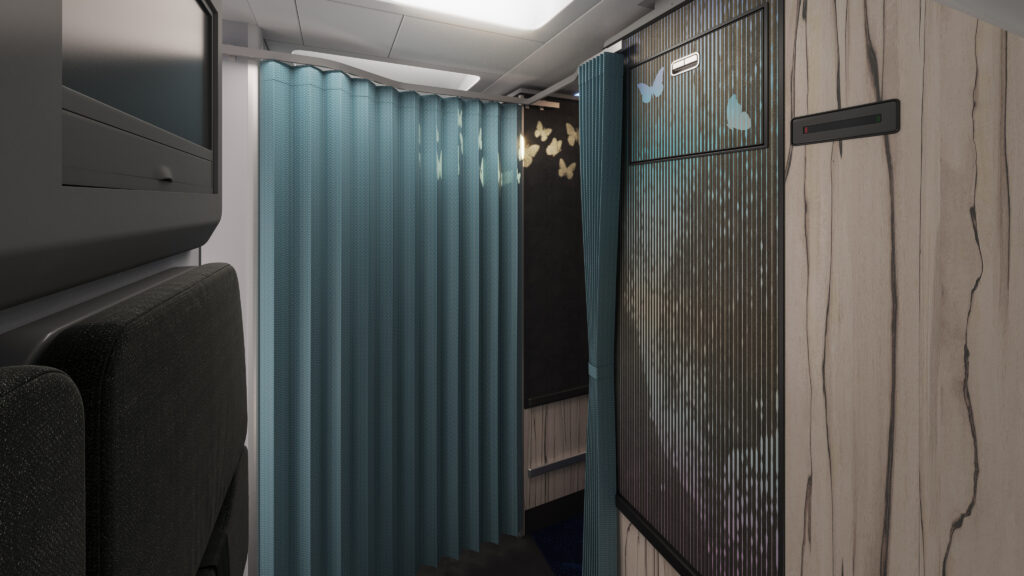 This space is a delight, and JPA is to be congratulated for figuring out how to turn what is often a humdrum industrial space into an area that feels luxurious and welcoming.
Business class features a warm, lush colour palette of chocolate browns, deep burgundy and a rich cerulean blue, and a light blue patterned divider between the seats and economy behind. It's incredibly effective, feeling premium, modern, plush and inviting.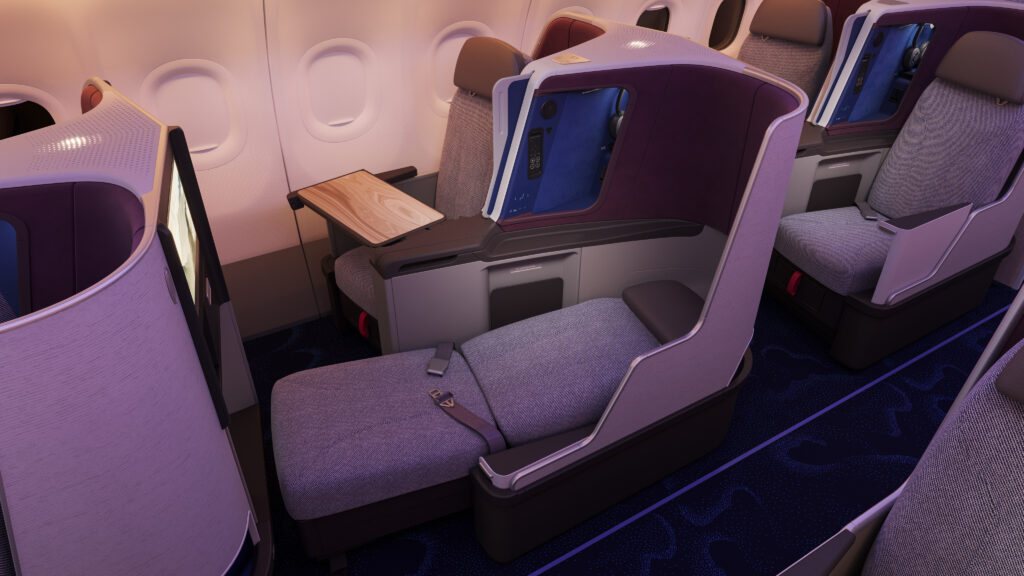 Stelia Aerospace confirms to Runway Girl Network that it is the supplier for the business class seats, with JPA also confirming that the seat is the French manufacturer's Elysium product.
Elysium is the updated, premium-ised version of the Equinox 2D V-patterned business class seat Stelia started offering as Sogerma in the early 2010s, with the feet of each pair of passengers pointing towards each other.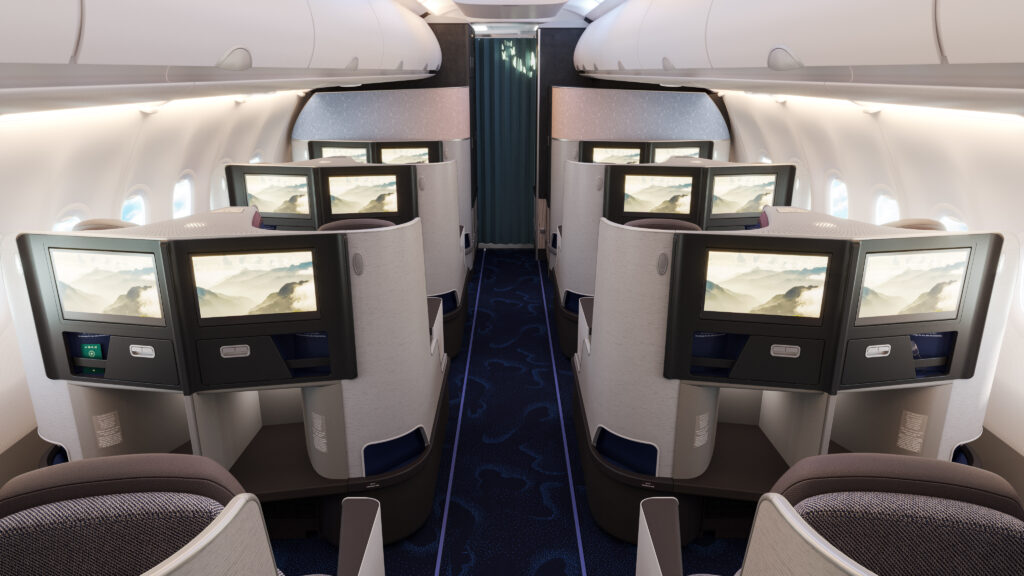 In comparison with the Collins Aerospace Diamond seat's normal parallel, slightly angled configuration (an H shape rather than a V), Elysium/Equinox allows the shoulders of the window seat passenger to be directly next to the window, but pointing away from it. While a full-length ottoman separator goes some way to avoiding the "footsie" class reaction to V-patterned seats, it will be interesting to see passenger reaction to this arrangement of seat.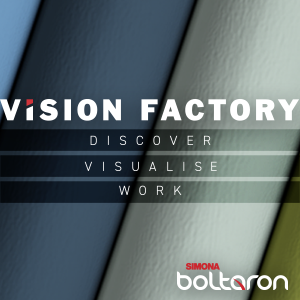 The shrouding arrangement is particularly interesting, with no privacy wings in seat mode, but a slightly angled lower shroud that looks to avoid the issue of side-sleeping passengers staring across the aisle into the eyes of a fellow traveller.
Dynamic crash certification appears to have been secured via a shoulder belt, with the tell-tale metal lip of a buckle extending from just underneath the headrest.
Wireless charging also features, with a small charging shelf inside the cerulean side shroud underneath the headphone storage and just above the AC power port. If passengers are not travelling with a companion next to them (or indeed if they have had quite enough of their travelling companion, one supposes) an angled privacy divider featuring a small sliding makeup mirror emerges from the side shroud.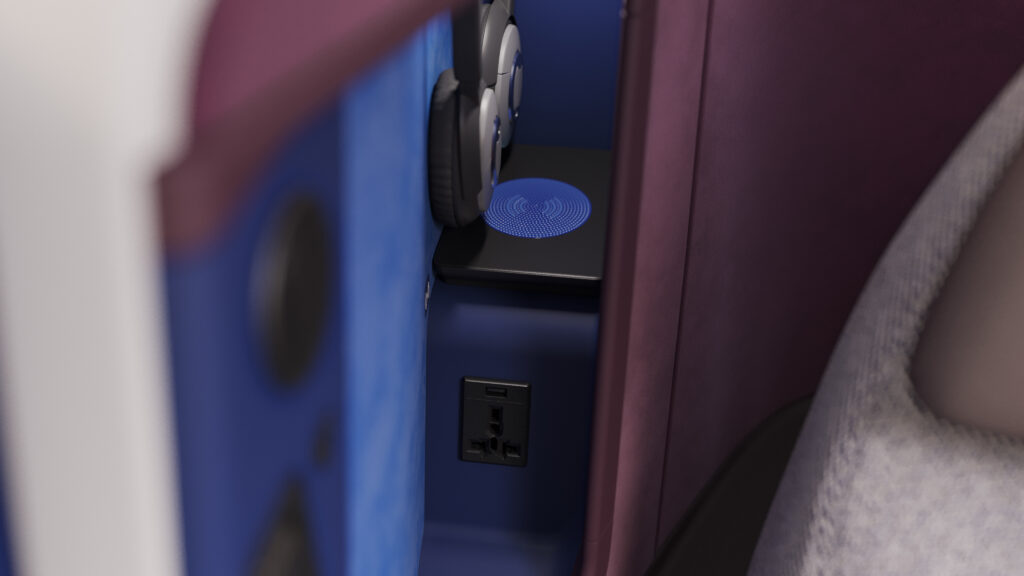 In economy the colour, materials and finish feature a strikingly attractive mixture of a pale blue-lavender leather on the top half of the Collins Meridian seat, with a double-wave pattern giving way to a warm sandy tan on the lower half. A lighter tan headrest with darker accents adds more texture and depth.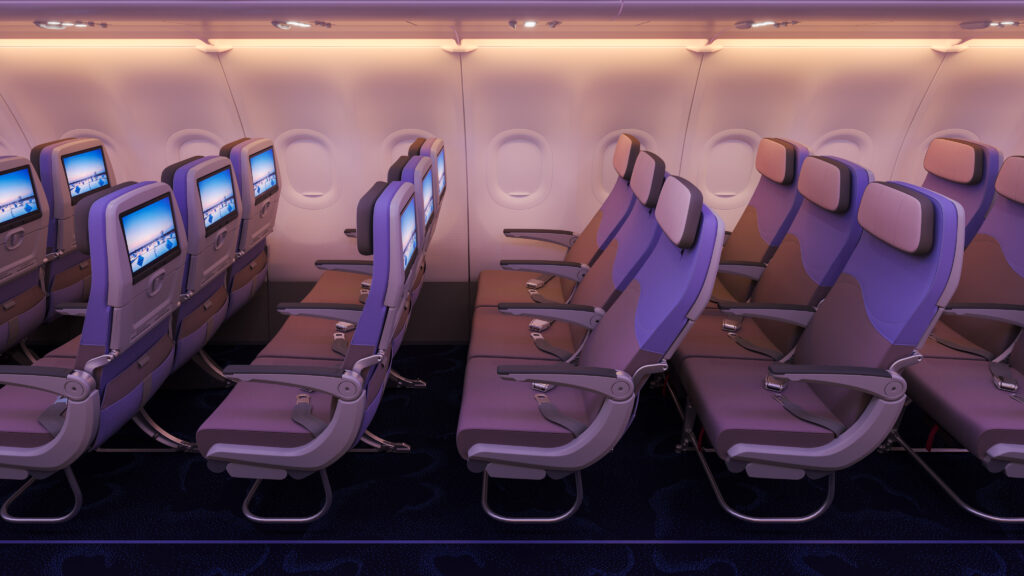 From the rear, this colourway is repeated effectively, with contrasting tan and blue layers in the seatback pocket spaces that include storage slots sized for tablets, phones and — delightfully — a stretchy, athleisure-y strap that's perfect for wrangling charging cables and headphones.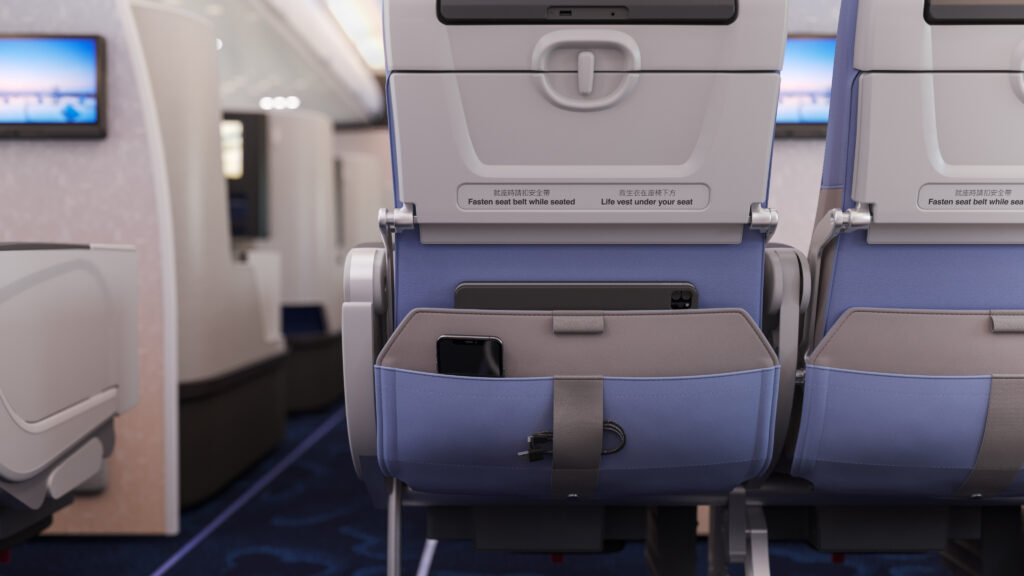 From front to back, JPA has made the most of the latest colours, materials and finishes, as well as new passenger experience touches offered on the A320neo generation of aircraft, to make the experience feel special, premium and luxurious throughout. It is one of the most successful cabins to be unveiled in years.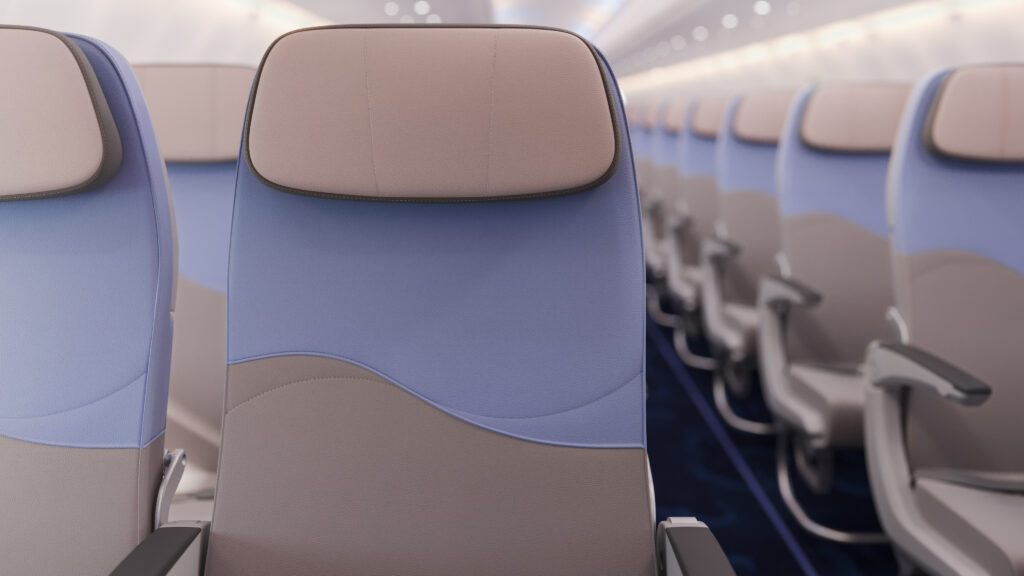 Related Articles:
All images credited to China Airlines/JPA