You might say she felt the need, the need for speed. Cessna Citation 560XL first officer Caroline Colombo's love affair with aviation began when she was just eight years old, while watching the classic action film Top Gun with her dad.
"It sounds super random, but I knew then that I wanted an exciting and adrenaline-pumping job," she tells Runway Girl Network.
Now flying for Charlotte, North Carolina-based private aviation company Davinci Jets, Colombo sat down with RGN to reflect on the people and experiences that helped her realize her dream, and to share some ideas about effective ways to drive interest in science, technology, engineering and mathematics (STEM) among young girls and women.
"I think the biggest reason that girls do not choose careers in these fields is that it isn't presented as an option to them at a young age. They are not exposed to it," she says.
Luckily for Colombo, her grandfather had a friend who owned a beautiful yellow piper cub. When she was ten years old, he took her for her first ride in a small airplane. "And that just really reaffirmed that this was the path for me," she says.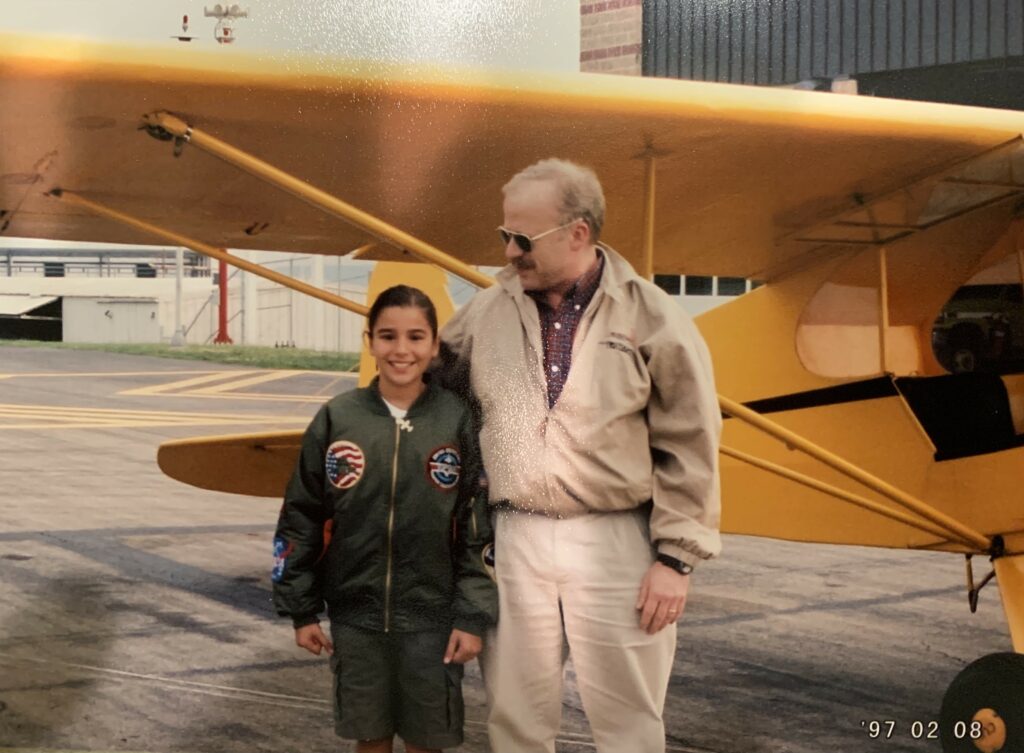 It took a little while before family members warmed to the idea of her pursuing aviation as a career.
"This was a very foreign interest for them at the time. The rest of my family works for the family business (my dad's law firm) so for me to throw this at them at such a young age was a big surprise," Colombo confides. "Once I got older and told them that this is really what I want to dedicate my life to and that I could never see myself doing anything else, they were 100% in, and have been ever since.
"My friends have also been extremely supportive of me. They always make the effort to come visit me no matter where I happen to be living. And my life long best friend, Megan, was my first ever passenger. That's real friendship!"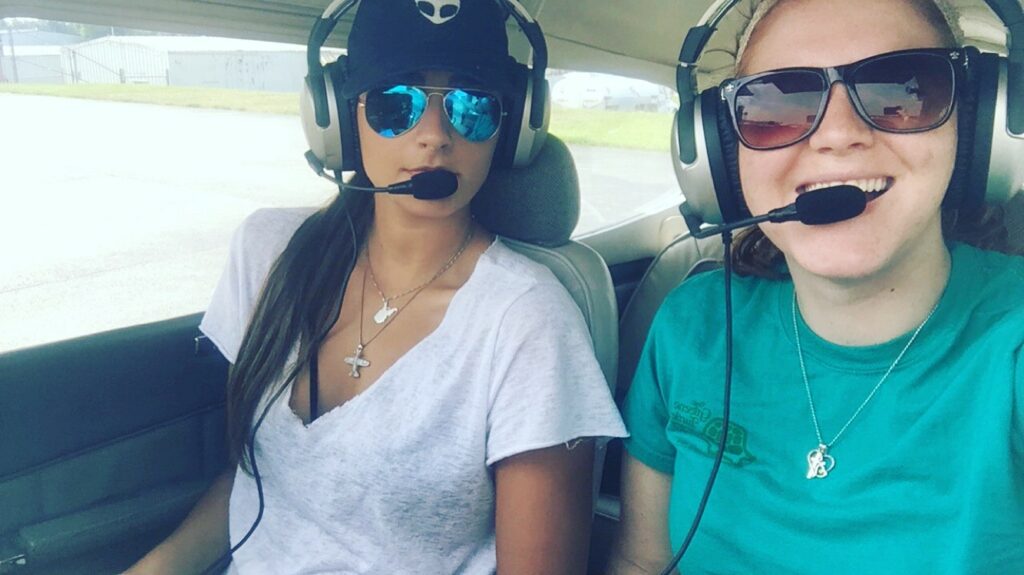 Fully immersing in aviation
As a high school graduation gift, her basketball coach, Adam Henkins, bought Colombo her first flight lesson. "I attended my hometown college of West Virginia University (WVU) and started flying at my local airport during my freshman year of college. But I couldn't fly as consistently as I wanted to because I was a full-time student (in a non-aviation field)," she says.
After her second year of college, she decided it was time to get serious about flying if she was to make a career of it. Embry-Riddle Aeronautical University in Daytona, Florida caught her eye.
"I did a campus tour with my parents and the facilities and education it provided were so impressive it was a no brainer," she says. "I decided to transfer to Embry-Riddle for a BA in aeronautical science. I knew I would be sacrificing a lot to move so far away from home, but that the top-notch training and education would be worth it. And it definitely was."
Women helping women
The Woman's Ambassador program at Embry-Riddle had a big hand in Colombo's decision to attend the school.
"The main goal of the program is to keep in touch with the potential female students and help them with their transition to college, kind of a 'big sister' program," explains Colombo. "Embry-Riddle found that girls are much more comfortable and confident coming into a heavily male dominated environment when they feel like they already have some female friends and connections. Just someone to eat lunch with or ask questions to."
"My women's ambassador, Pia, was a great help to me," Colombo continues. "She showed me around campus and answered questions that were non-education related, like good places to eat around town or where I should live. We also went to college fairs and acceptance banquets to chat in person with some of the students, which was always a super fun experience."
Later, Colombo returned the favor and paid it forward by serving as a Women's Ambassador at the school, establishing connections with prospective female students and mentoring students. She considers the program to be very effective. "Almost all prospective students we had in the program were a lot more comfortable being there because of it."
Driving interest in STEM
Colombo reckons that the best way to interest girls in STEM is to make it fun and accessible. "We used to do this lock-in at the local mall for the Women's Ambassador program with girl scout troops and do STEM activities with them. While we were just one of many types of booths there, it showed them that this was an option and introduced them to real-life women currently doing those jobs. It felt real to them, that there are girls doing it and they can also do it," she says.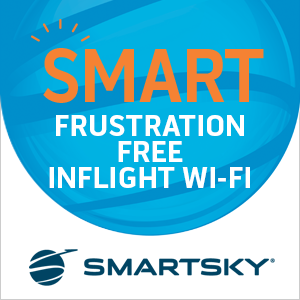 Female mentors can play a pivotal role in guiding mentees and preparing them for leadership roles. And Colombo's experience was no different. Her first flight instructor at Embry-Riddle, Miranda Shives, became a mentor to the young aviator. And she credits Shives for playing a huge role in her education.
Embry-Riddle assistant chief flight instructor Rene Clemens also assisted and inspired her. "It was really awesome to see a woman in a leadership position at such a major flight school. She is a very impressive person," Colombo enthuses.
She met another mentor, pilot Xandi Newell, after graduation. "[Newell] has really been my guide to the professional real-life side of aviation outside of schooling. Since I don't have any family in the industry, the information and support that she has given me is priceless."
The highs and lows
After college, Colombo interned with auto racing organization Hendrick Motorsports, which has its own small fleet, to see how a corporate aviation company worked. Eager to eventually secure a job in corporate aviation, the internship proved to be invaluable, enabling her to make many important connections.
Thereafter, she worked as a flight instructor for a few years to build up her flight hours. But the experience wasn't all smooth sailing. Colombo explains:
When I started at Epic Fight Academy, they warned me that sometimes male students do not like having a female flight instructor and that they have had some problems with this in the past. They just wanted me to be aware, so I wasn't blindsided by it. When they told me this, I shrugged it off and never in a million years thought that would be a problem for me. After my very first flight with my very first student, I texted my mom about how excited I was to finally be instructing. Moments after I sent that text, my manager came in to tell me that my student had immediately requested a male flight instructor.

It was super disheartening. Just not the kind of thing you want to deal with on your first day, let alone first hour, on the job. Luckily, I was backed by a really supportive staff who assured me they would not put up with this type of behavior. The biggest lesson I learned from this is to just keep going. So, I just took it on the shoulder and kept working.
That work ethic — and the connections made at Hendrick Motorsports — served Colombo well when it was time to pursue a corporate aviation career. "My boss at Hendrick Motorsports, Dave Dudley, has a son, Mac who is around my age. We were in similar spots in our careers while I was an intern. He went on to work for Davinci, while I went on to flight instructing. But we kept in touch to see where each other was at. When I reached a marketable amount of time the first thing I did was reach out to Davinci. I knew that they were a reputable company with a promising career path," she says.
Landing at Davinci
Davinci is a well-known, respected name in the industry, especially in Charlotte. Colombo says she spoke with Davinci chief pilot Chris Bradley many times, "and each time we spoke, or met up in person, it showed that Davinci runs a professional, fun, and most importantly safe operation from the top down. I interviewed with them a few times for a few different positions and when they offered me this job, I immediately jumped on it."
Colombo joined Davinci three months ago. "It is few and far between that you find a truly good and genuine company with the people to match. When that opportunity is given, you don't take it for granted," she says.
Formerly named Jetpool, Davinci also happens to be deeply intertwined with inflight connectivity provider SmartSky Networks' corporate history. In 2008, Davinci's clients expressed their desire for an inflight Internet connection that could replicate the experience in their offices and homes. Davinci's principals began scouting out novel technologies to create a new solution to meet the need. From that search, SmartSky Networks was born.
Colombo flies the SmartSky IFC-fitted Cessna Citation 560XL that serves as one of its testbed aircraft. Her impressive skills were on display at the recent NBAA-BACE show in Las Vegas, where, together with Captain Chris Taylor, she flew prospective SmartSky customers and members of media, including this journalist, over Nevada to test the IFC solution.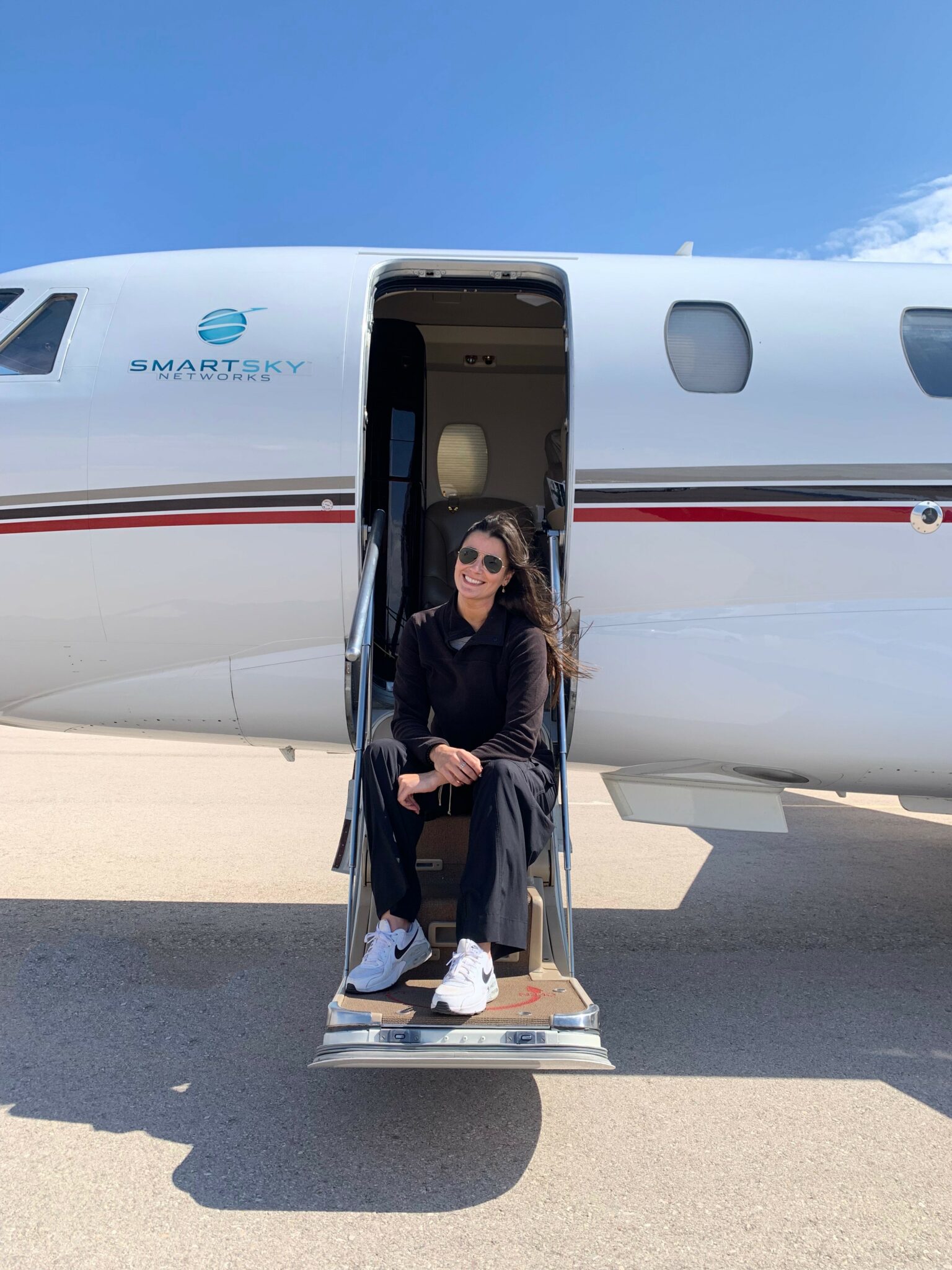 So, what is a typical day like for Colombo?
"I work a 10 on 5 off schedule. So, a regular day in my life at the beginning of my shift is driving to Pittsburgh Airport – because I live in West Virginia – and hopping on a flight to wherever the plane is stationed. Then we fly two to three times per day on our planned route, squeeze in some dinner and head to the hotel," she says.
Flying the Citation 560XL is "amazing", she adds. "It's my first jet that I've ever flown, and it feels incredible. I definitely have to say it brings a smile to my face when we go full throttle and take off. And I don't think that that feeling will ever fade."
Her favorite part of the job is simply having the opportunity to do what she has always wanted to do, in a positive and safe environment. Currently type rated as a second in command (SIC) on the Citation 560XL, Colombo expects to next get her pilot in command (PIC) type rating, and her air transport pilot (ATP) certification.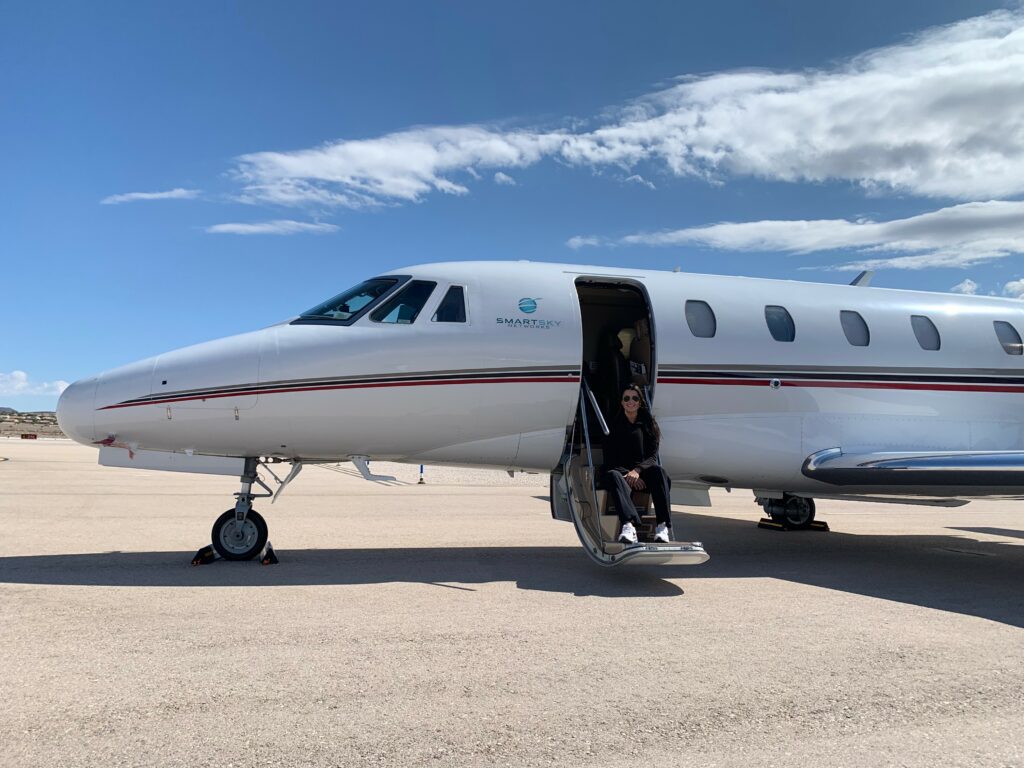 Does she have any advice for girls who are considering a piloting career, or entering an aviation profession in general?
"My advice to young girls is to keep in mind that this job is attainable, and you can really make a life out of your passion," says Colombo. "This is an extremely fun and rewarding career path that anyone with the drive can do."
Related Articles:
Featured image credited to Mary Kirby. All other images provided by Caroline Colombo.