Making good on its commitment to provide airlines with a choice of Ka- or Ku-band satellite connectivity for its E2 family, Brazilian airframer Embraer has entered into a buyer furnished equipment (BFE) agreement to offer Viasat's high-speed Ka solution on the new E-Jets.
In so doing, Viasat becomes the first Ka inflight connectivity supplier to have a linefit IFC solution available on the E2 family. Panasonic Avionics' Ku-band satellite connectivity and wireless IFE solutions, and KID-Systeme's "SKYfi Club" streaming offering are also available linefit.
Offerability of Viasat's Ka IFC is not news to Brazilian carrier Azul which in fact is among the "multiple airlines" that have already selected E2 aircraft equipped with Viasat Ka direct from the factory, according to Viasat.
Azul this year went live with Viasat IFC for passengers – both on Airbus A320 family aircraft and Embraer E195-E2s. The aircraft were initially installed by a partner MRO firm, but lately Azul has been doing retrofit work in-house at its new hangar in Campinas.
Having a factory-fit option is beneficial for airlines, however. "By selecting Viasat's IFC system as a factory option on the Embraer E2 aircraft prior to delivery, airlines will be able to offer, from day one of aircraft service, an advanced IFC experience to each passenger and flight crew member, while avoiding costly down-time associated with taking aircraft out of service for post-production IFC retrofits," noted the Carlsbad, California-based satellite operator and aero ISP in a statement.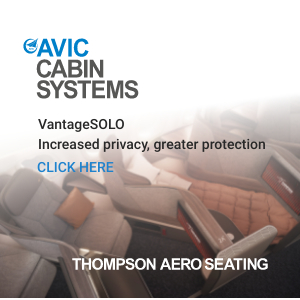 In an interview this summer with Runway Girl Network, Azul CEO John Rodgerson said the carrier's free inflight Internet service for passengers, powered by Viasat Ka, is a differentiator for the carrier, which is wrapping the cost of the service into the price of the ticket and further offsetting with advertising.
Viasat's high-speed solution in Brazil, specifically, leverages capacity on its Ka-band partner satellite, SGDC-1, owned by Telebrás. The satellite "gives enormous coverage throughout Brazil", supporting connectivity even "if I'm flying in the middle of the Amazon", said Rodgerson at the time.
In North America and in Europe, Viasat's own Ka-band satellite footprint can support IFC, be it on E2 aircraft or other types fitted with its kit. In its statement today, Viasat revealed that Embraer delivered its E195-E2 type certificate with Viasat IFC linefit to an airline customer in 2020, but it did not name the customer.
Featured image credited to Embraer