Having recently secured defense customers for its nextgen antenna hardware, NXTCOMM is once again turning its focus to civil aviation, including the commercial sector. The US company is floating a hybrid concept that would see a version of its flat-panel electronically steerable antenna (ESA) paired with a traditional, currently installed gimbaled Ku- or Ka-band antenna — under the same radome atop aircraft — to support here-and-now GEO satellite connectivity service and future low-latency LEO service.
"In this case," explained company chief commercial officer Stephen Newell at last week's Satellite 2021 conference and exhibition in Maryland, NXTCOMM is looking at combining the abilities of both a mechanically steered antenna and its modular phased array antenna "into a benefit for existing GEO satellites and provide the basis for operation over LEOs when they are available."
With no moving parts, NXTCOMM's ESA is billed as being able to easily slot into products today. The design uses standard Printed Circuit Board (PCB) manufacturing technology with commercial off-the-shelf components and a unique sub array topology scalable to any form factor.
Newell reckons that a hybrid architecture in commercial aviation, in particular, makes sense given the time it is taking to fully build out the various LEO constellations as well as airlines' uncertainty about adopting new technology.
"E]very prudent individual in commercial airlines would like to see something before they make big investments in two new technologies that they need to support. One is LEO, that's new. The other one, ESAs, that's new too," Newell noted. As such, he suggested there is probably some truth to the notion that ESAs in standalone form won't be ready for primetime in aero for three to five years, in line with industry's estimates.
But NXTCOMM thinks there is an opportunity to speed up that timeline by having systems operate in a hybrid mode. While the finer details of NXTCOMM's concept have not been divulged, a key value proposition is this: "[Y]ou don't have to get rid of what you have today. You just have to add a little bit more in the now, and then when you do that you get more capability today and the ability to use LEOs in the future."
Pressed by RGN, Newell confirmed that the concept in question would be aimed at aircraft with large ARINC 791 IFC installations already present and that, effectively, an ESA would be tucked into the available space in that footprint on narrowbodies and widebodies.
ESAs generate a fair amount of heat because they draw a lot of power. But the "small flavor" of the ESA needed to talk to LEO satellites, as envisaged by this concept, would require a lot less than if talking to GEO satellites, he said. "It's hundreds of watts and not thousands of watts."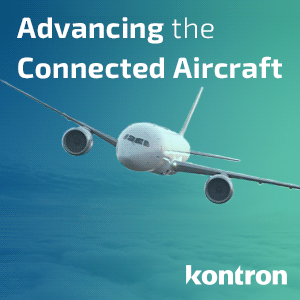 NXTCOMM is in talks with a variety of IFC stakeholders — from aero ISPs to LEO operators — to ensure they're aware of its AeroMax-branded Ku- and Ka-band aero ESA product line, including for the business aviation sector, and indeed to help them understand what the aforementioned hybridization for large commercial aircraft would look like for airlines.
In terms of the industry's response to the hybrid, he told RGN at Satellite 2021 that some firms are intrigued, and interested in further investigation. "So I think we are going to continue pursuing how that could help them solve a wide range of problems that commercial airlines currently face and service providers currently face as well."
During the show, NXTCOMM showcased a prototype of its ESA hardware — a Ku-band flat panel for L3Harris Technologies, which will support land mobile warfighter connectivity applications. NXTCOMM envisages a LEO-dedicated aero antenna that is "maybe twice the size" of the land mobile hardware.
But when LEO constellations are ready to serve aero via new aircraft linefit installations, NXTCOMM's ESA might be smaller, akin to a slimline Inmarsat Aero H-sized antenna, according to Newell. That could prove especially attractive to the business jet market.
Related Articles: