Intelsat today announced that its Gogo Commercial Aviation inflight connectivity business is now simply Intelsat, telling Runway Girl Network that the integration of Gogo into its organization has gone "very well" and that it has retired the name.
The satellite operator — and now aero ISP — acquired Chicago-based Gogo Commercial Aviation in December 2020, in a deal that spring-boarded Intelsat into having direct relationships with a raft of airlines, including but not limited to Aeroméxico, Air Canada, Alaska Airlines, American Airlines, British Airways, Cathay Pacific, Delta Air Lines, GOL, Iberia, Japan Airlines, United Airlines and Virgin Atlantic.
The business aviation division of Gogo continued on as a separate, publicly traded company called Gogo Business Aviation with a focus on leveraging its air-to-ground network to serve the BizAv market. But Intelsat immediately began a vertical integration process with Gogo Commercial Aviation.
John Wade, who came from Gogo and now serves as president of Intelsat's commercial aviation vertical, notes that there were a lot of synergies between the cultures at Gogo and Intelsat, including their focus on ensuring that every passenger has a great experience.
Where Intelsat will be increasingly different from Gogo Commercial Aviation, however, is "how we offer IFC to the world's airlines" as the satellite operator will draw on its integrated offering to help airlines defray costs and identify the right distribution strategy, and in time will launch a next generation network that includes an initial two software-defined satellites.
Slated to be delivered to Intelsat by Airbus in 2023, the in-orbit reconfigurable satellites will enable the company to direct high-throughput capacity precisely where and when an airline needs it. That will be particularly important given the fiercely competitive dynamics of the IFC market, which sees big satellite operators including Intelsat, Inmarsat (and its value added resellers) and Viasat vying for aircraft tails, in addition to IFC providers Anuvu (formerly Global Eagle), Thales, Panasonic Avionics and others.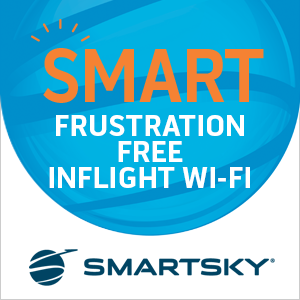 Intelsat has faced some recent disappointments, as Delta announced it is adopting Viasat IFC for over 530 mainline narrowbody aircraft, the lion's share of which are already fitted with the Gogo 2Ku — now Intelsat 2Ku —IFC system. Delta assured at the time that Intelsat (then Gogo) would remain a "long-term partner".
The 2Ku system is fitted to Delta's international widebody fleet, including its A330s, A350s and 767s. Wade tells RGN today that it is too early to make any sort of projections about Delta's awards on any particular fleet, though Intelsat is "optimistic" about hanging onto the widebody tails.
He notes that "what we're doing" to ensure a world-class #PaxEx "will be applicable to all types" including widebodies.
The company is pleased with its 2Ku antenna partner, ThinKom Solutions, whose unique "VICTS" mechanically-steered phased array antenna "is the closest antenna that exists today" to an electronically steerable antenna in aero. Wade believes that true ESAs are "not ready for primetime" in the market.
As the aviation industry emerges from the crushing impact of the COVID-19 crisis — and as passengers demand to be connected — there is a lot of IFC tender activity going on. Over the last several months, Intelsat has been responding to airline RFPs under the Gogo Commercial Aviation brand. "But as of today that changes," says Wade.
Related Articles:
Featured image credited to istock.com/Herbert Pictures