Since the start of the COVID-19 pandemic, many airlines have been carrying cargo in passenger cabins under regulatory exemptions permitting "COVID Combi" or "preighter" operations. But with a July exemption deadline from the FAA [PDF] and a 31 December 2021 exemption deadline from EASA [PDF] approaching, the questions of deadline extensions — or what to do otherwise to ensure that cargo can continue to be carried around the world — are looming.
The "COVID combi" has, by and large, been more of a European and international phenomenon than a US one. EASA's Deviation on transportation of cargo in passenger compartments documentation states that:
The allowance to transport cargo in passenger compartment is limited to 2000 FH [flight hours] following installation of the change or to 31 December 2021, whatever occurs first.
At that point, explains Cristian Sutter, chief executive officer at freighter conversion provider Avensis Aviation, "that means those aircraft will need to be turned back into passenger configuration, because they will no longer be authorised to fly: they will no longer be airworthy in that configuration."
There is, of course, the option that regulators might push back the deadline.
"There are rumours that EASA might extend it," Sutter says, but notes that the regulator might have preferred not to have to offer the exemption in the first place. "EASA is not happy with it — they kind of had to approve it without being too happy about it, because the world needed a solution."
The implications for the cargo market, which IATA characterises [PDF] as an "evaporation of the belly capacity of passenger aircraft", are significant. There is simply not enough dedicated freighter capacity to meet global needs, particularly during seasonal and event-based spikes towards the end of the year like the release of a new iPhone (usually in northern hemisphere autumn) and the Christmas period.
Absent an extension, Sutter explains, "at the time that you have to convert your aircraft back into passenger configuration, you might still need to operate and fly some cargo, because the belly cargo [capacity] will come back at the same level that the passenger flights will recover. And the problem being is that belly cargo fits established routes: London-New York, London-LA, London-Singapore, whatever."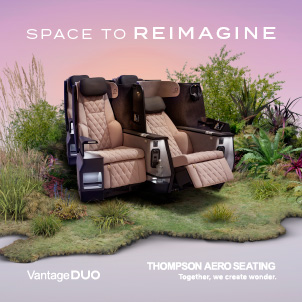 A complicating factor is the aircraft value inversion point: anecdotal evidence suggests that the price of a widebody (an A330 for example) with enough life left to make for an effective freighter conversion is essentially equal to the conversion cost. At the same time, early composite-fuselage aircraft like the 787 or A350 are still young, and the cost and complications of converting these aircraft are significant.
Even for metallic-fuselage aircraft, Sutter says, "many airlines are not willing to take the plunge of permanently converting aircraft that, A) they might not own because they might be leased, B) it's an expensive project."
Avensis offers two intermediate solutions to fix the problem: its Medius full-cabin reversible freight configuration essentially turns the full cabin into a certified upper deck cargo space, and its Medius Combi partial-cabin reversible freight configuration does the same for part of the cabin.
With airframers not having offered a linefit widebody combi option since the Boeing 747-400, this kind of combi conversion option in particular could pose interesting modern passenger experience challenges — and opportunities — for airlines, suppliers and aircraft interiors designers. Passengers, including your author, seemed unbothered by sitting in front of cargo on the 747 combi, but the opportunities of the door 4 service space never seemed to be fully realised.
What kind of #PaxEx innovations might we see as a result?
Related Articles:
Featured image credited to Airbus