Have you tried Frontier Airlines recently? I have, on a recent flight between Denver and Seattle.
Prior to that, the last time I flew the airline was in 2013, when it had just begun the transition from a mere low-cost carrier to a full fledged ultra low-cost carrier (ULCC). The bulk of the hammer fell the following year, when Frontier slashed its base fare prices and began charging for absolutely everything — from checked bags to overhead bins to bottles of water — separately.
I vaguely remember the outrage from mostly mainstream media and the public, who chose to focus on having to pay $2 for a bottle of water instead of a base fare from Denver to Los Angeles that only cost a few dollars more.
Since then, I had mostly forgotten about Frontier, having forged loyalties to Alaska and Delta in the ensuing years. But the pandemic put an end — hopefully temporary — to my once jet-setting, business travel-heavy life. Even post-vaccination, I'm still not itching to get back out there on the regular, and even if I was, most of my pre-COVID clients don't have any budget anyways.
With Delta looking for a one-way fare of $125, and Alaska nearly $200, the new, ultra-budget sensitive me was hoping to find a way to save some coin.
Which is suddenly when I remembered good old Frontier.
A quick search on the carrier's website yielded exactly what I was hoping to see: a stupid low fare. Any concerns I had over the lack of legroom and the less than ideal timing were wiped away by the $3.72 price. Even after taxes and fees it was still only $28.40.
But anyone who has flown a low-cost carrier knows that's just a starting point in the purchasing process. The booking process soon offers you a handful of bundles, each including some combo of extras, keeping in mind that literally everything is considered an extra.
The cheapest bundle was an extra $45, and included a carry-on, checked bag, seat selection, and early boarding. The next bundle up adds flexibility and refundability, while the third allows one to customize their own bundle.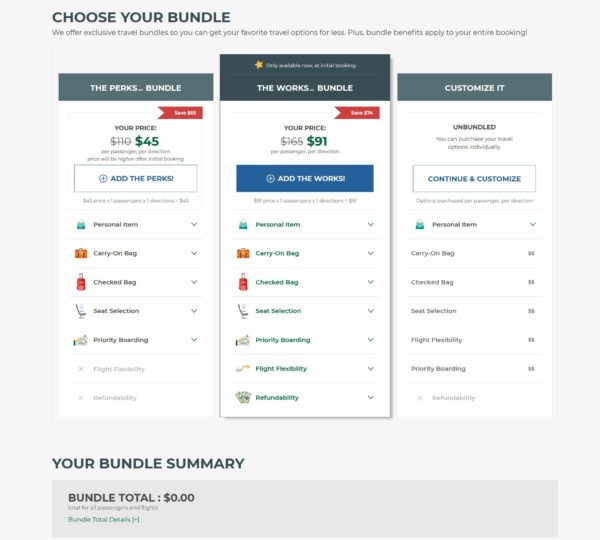 With nothing but a personal item, I skipped the bundles and went straight to the customize option to add on a window seat in the back for another $19. Prices for this particular flight ranged from $19 to $45.
If I'd had a roller bag, it would've cost me $38 more to carry it aboard. Checked bags started at $37 and up. Had either been true, or had I wanted a better seat, the bundles would've quickly penciled out in my favor. All in all, my total cost came out to $47.40.
It appears that Frontier prices all of these dynamically: the same flight two weeks later had similar but different price points for everything.
Frontier does not provide a running total as items are added onto the ticket. Each section with each add-on is added atop the total from the section before it. But you don't see the final tally until the very end, and it can be easy to lose track of exactly how much you're laying out.
The booking process repeatedly offers up-sell opportunities via pop-up style screens. The large font buttons stand ready to accept another $26 from you to move into the most expensive seat or another $100 for the most expensive bundle. The option to pass is still there, but in a smaller, seemingly intentionally harder to find button.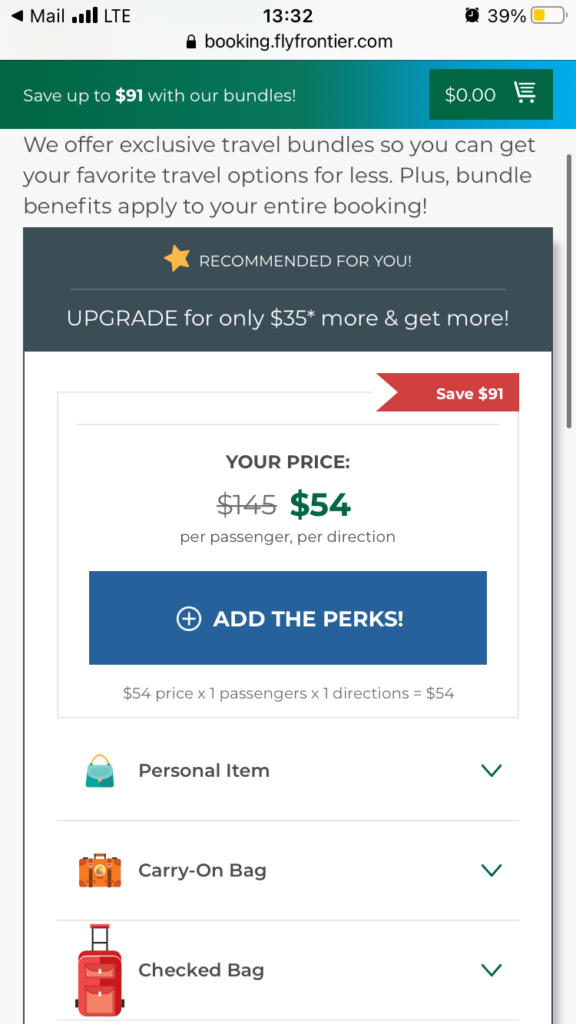 The system will try to up-sell you again, mostly on seating, at check-in too. I'll be honest, they almost got me, but I held out.
Like all ultra low-cost airlines, pricing for everything becomes progressively more expensive after initial booking. Want to add a seat selection later? Gonna cost you $5 more. Forget to pay for your carry-on and brought it to the gate? Get ready to pay upwards of $60 on the spot.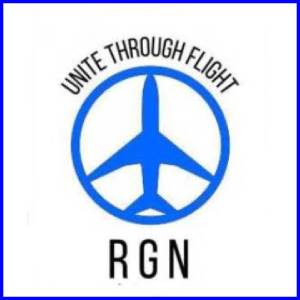 The flight, flown several weeks later, was largely uneventful. The high point was just before departure, when a helpful agent checking me in bumped me up to the considerably more spacious third row (~36" seat pitch vs ~30" elsewhere), which also boasted an empty middle seat.
I was also glad to see stringent mask enforcement and attempts to social distance during boarding — something that was woefully lacking on my inbound flight the day before with Southwest.
Frontier's 3-3 spaced seating on the Airbus A321 jet was fine, though the seats were not terribly comfortable. The first several rows do allow recline, which included mine, but the location of the mechanism to roll it back was not at all intuitive: a menacing, unmarked red handle under the seat. Making things difficult to track or find seems to be more of a feature than a bug at Frontier.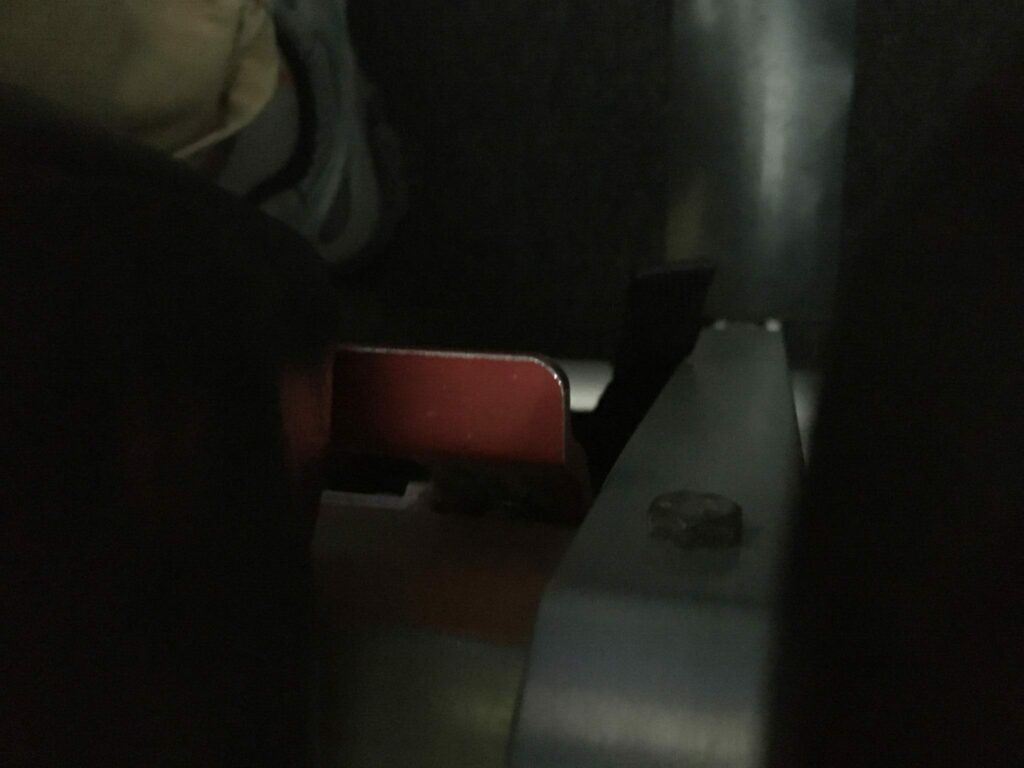 Sticking to its no-frills attitude, there are no meaningful passenger amenities such as power ports, Wi-Fi or inflight entertainment. Therefore, I happily read my way through John Newhouse's Boeing versus Airbus.
The crews were fine and friendly, though largely unseen during the flight. Due to COVID, there was no inflight service, though one could request a bottled water for $2.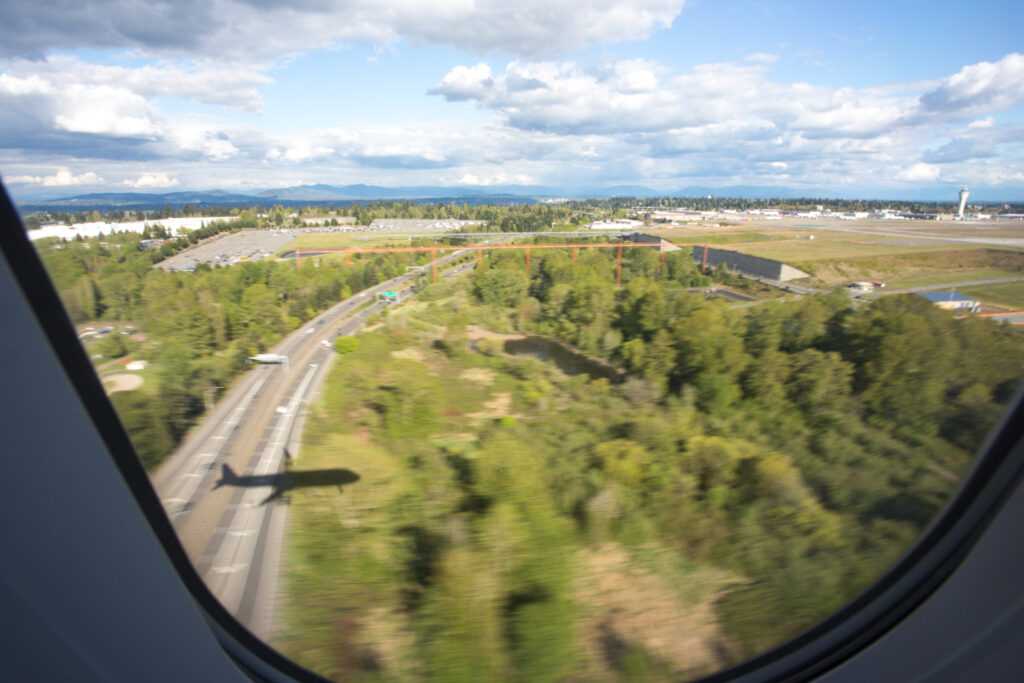 In the end, you get what you pay for, both on Frontier and the airline world more broadly. Sure Frontier's cumbersome booking and bare bones inflight experience had me missing my old legacy friends. And yes, American ULCCs aren't what they could be vis a vis the famed ULCCs of east Asia. But Frontier offered me exactly what I needed: a very cheap ride from Denver to Seattle with a window. Nothing more; nothing less.
Related Articles:
All images credited to Jeremy Dwyer-Lindgren