ZTE Corporation is working to bring air-to-ground (ATG)-based inflight connectivity to Chinese operators. In a recent article published by The Mobile Network, Liu Weiwei, general manager of ATG Product at ZTE, revealed that the firm's solution is ready for takeoff. Runway Girl Network connected with the ZTE executive to learn more. Our Q&A is below.
Runway Girl Network: According to a report from The Mobile Network, in which you are quoted, ZTE is close to launching a 5G ATG network to support inflight connectivity. Do you expect the network to launch this year?
Liu: Yes, 5G ATG network will to be launched in 2021. Chinese telecom operators had already made a detailed schedule in 2020.
RGN: Is it true that multiple airlines are close to announcing plans to deploy the ATG solution? Can you share any further specifics?
Liu: It is true. Airlines are waiting for the final commercial ATG airborne product. Two of the top five airlines and several moderate-scale airlines in China are working on detailed plans.
RGN: Who are ZTE's partners in bringing this 5G ATG IFC solution to the Chinese market? And what IFC hardware is ZTE providing itself? Have you selected the antenna system for this solution?
Liu: ZTE cooperates with industrial partners, including Chinese mobile network operators, avionics companies, AESA suppliers and aircraft manufactures, together to prompt the application of 5G ATG in china.
Responsible for 5G ATG architecture and solution, ZTE will provide the ground 5G NR base station, core network and airborne ARINC 600 CPE. The AESA antenna is provided by industrial partners, with antenna specifications and requirements defined by ZTE.
RGN: What type of work needs to take place to support the rollout (both at the cell towers, and in terms of obtaining the necessary hardware and approvals)? For instance, The Mobile Network report says fewer than 1,000 base stations can support coverage in China's airspace. Is that correct?
Liu: General speaking, the authorization of spectrum from MIIT and CAAC is essential for ATG. Second the 5G ATG flight test must be finished and achieve the design target. Now, everything is ok, and ground network rollout is ongoing. Everyone is waiting for the final airworthiness certification for airborne equipment.
Yeah. It is right. Less than 1000 NR station can support to coverage of whole china thanks to maximum 300km radius for one NR station.
RGN: Are you open to forging new partnerships to deliver 5G ATG IFC in China? 
Liu: From my personal view, ZTE is No.1 in ATG. Concerning 5G ATG IFC in China, all partners have already been working together for a long time. It is too late for new players joining the project.
RGN: What part of China will go live with 5G ATG IFC first? What routes will be covered initially?
Liu: Top 10 busiest routes will be selected firstly, e.g PEK/PEX-SHA/PVG, PEK/PEX-CAN/SZX, SHA/PVG- SZX/CAN, PEK/PEX-CTU, SHA/PVG-CTU, and so on.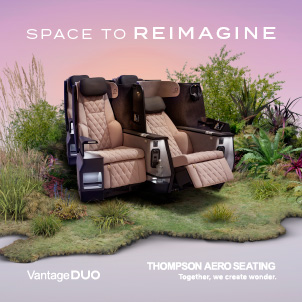 RGN: We've spoken to a number of satcom-based IFC providers/satellite operators who believe Chinese airlines are likely to adopt satcom IFC for domestic operations. Some say the buildout of a 5G ATG IFC network is still years away. How do you respond to these claims? Do you anticipate that the lion's share of the China domestic fleet will be equipped with ATG IFC?
Liu: In China, people has already been enjoying fast and cheap internet accessing services. With different Internet surfing behaviors from other countries, satcom-based IFC cannot solve the challenges Chinese airlines facing in China. By now, only two HTS satellites are available, one is Ku, the other one is Ka, for which capacity is too low, similar with only one 5G ATG NR station.
One separated 5G ATG network deployment is easy for Chinese telecom operators. In last year, 600,000 5G NR base stations had been deployed. 500~1000 NR station can cover whole china ATG coverage. Three months is enough to complete whole network deployment.
RGN: ZTE was a key Gogo partner and was poised to play an important role in facilitating Gogo's 5G ATG IFC solution here in the United States. But the US government, under Trump, implemented a trade ban in 2018. Does ZTE still have a relationship with Gogo? Is some of what ZTE did for Gogo transferable to the Chinese market? If so, what aspects? Hardware? Also, does ZTE have any expectations for a better trade environment with the United States under current President Biden?
Liu: ZTE and Gogo only cooperated on 4G NG-ATG project. The flight test and pilot test were absolutely successful. And whole system was in commercial status. But we had to stop whole project due to trade war. By now, ZTE doesn't have any relationship with Gogo on ATG. The 5G ATG architecture is different with Gogo's 4G ATG system.
Related Articles:
Featured image credited to istock.com/ozgurdonmaz