Celebrating the move to a new era, AIM Altitude has delivered its 123rd shipset of the Emirates A380 interior, including the iconic horseshoe bar, to Airbus in Hamburg.
The final shipset in this series, the momentous occasion marks a 15-year milestone in the relationship between Emirates and AIM Altitude, one which is set to continue for many years to come.
The A380 interior has seen many iterations over the years, with a major refresh occurring for the 100th shipset.
Neil Taggart, Vice President & General Manager of AIM Altitude, part of AVIC Cabin Systems (ACS), said: 'This long and continuous association with Emirates is evidence that the design of the A380's lounge bar has reached classic status whilst retaining its freshness and continuing appeal to passengers.
"The synergy between design and aircraft has proved quite remarkable".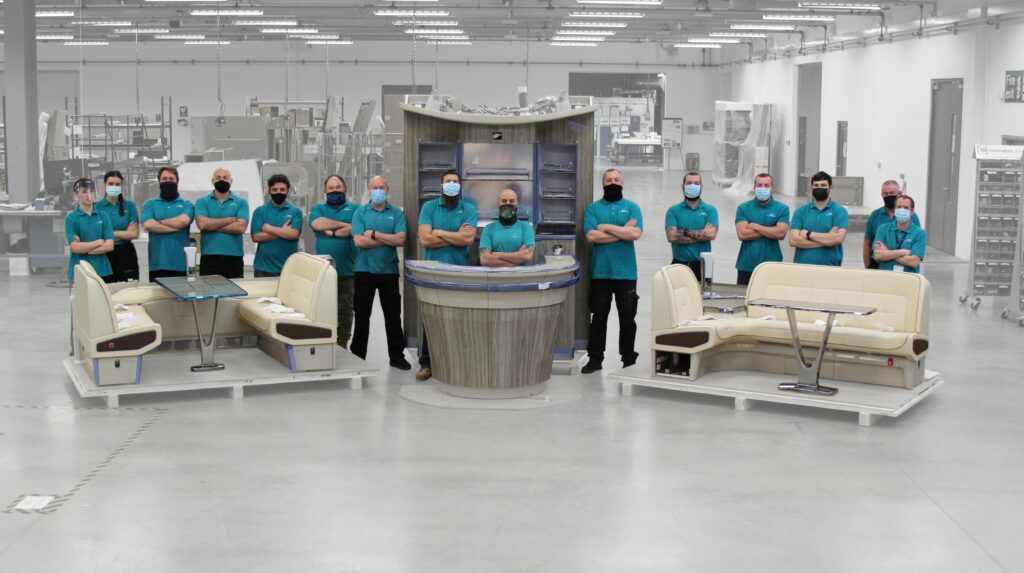 As confirmation of the strong links between AIM Altitude and Emirates, it was Sir Tim Clark, President of Emirates, who opened AIM Altitude's new headquarters and state-of-the-art cabin interiors facility at Bournemouth Airport in 2016; a time that coincided with the celebration of the 100th shipset of the A380 interior.
A significant production task, each shipset consists of:
The iconic horseshoe-bar
The chiller bar that stands behind the main bar
Left- and right-hand sofas
A stand-up stowage with 55" TV screen
A storage unit for the cabin
The previously unimaginable waterfall feature for the top of the staircase
Perhaps one of the reasons the lounge-bar design has worked so well is that it became a collaboration between AIM Altitude's design team and the airline's knowledge of its passengers. (For example, the original design offered a choice between two types of sofa: a two-plus-two facing each other or an L-shaped sofa for three people. Originally presented to Emirates with the idea of having a matching pair of one or other of the configurations, the airline, on seeing the layout, preferred to offer its passengers one each of the two different sofa designs, creating an interesting asymmetry.)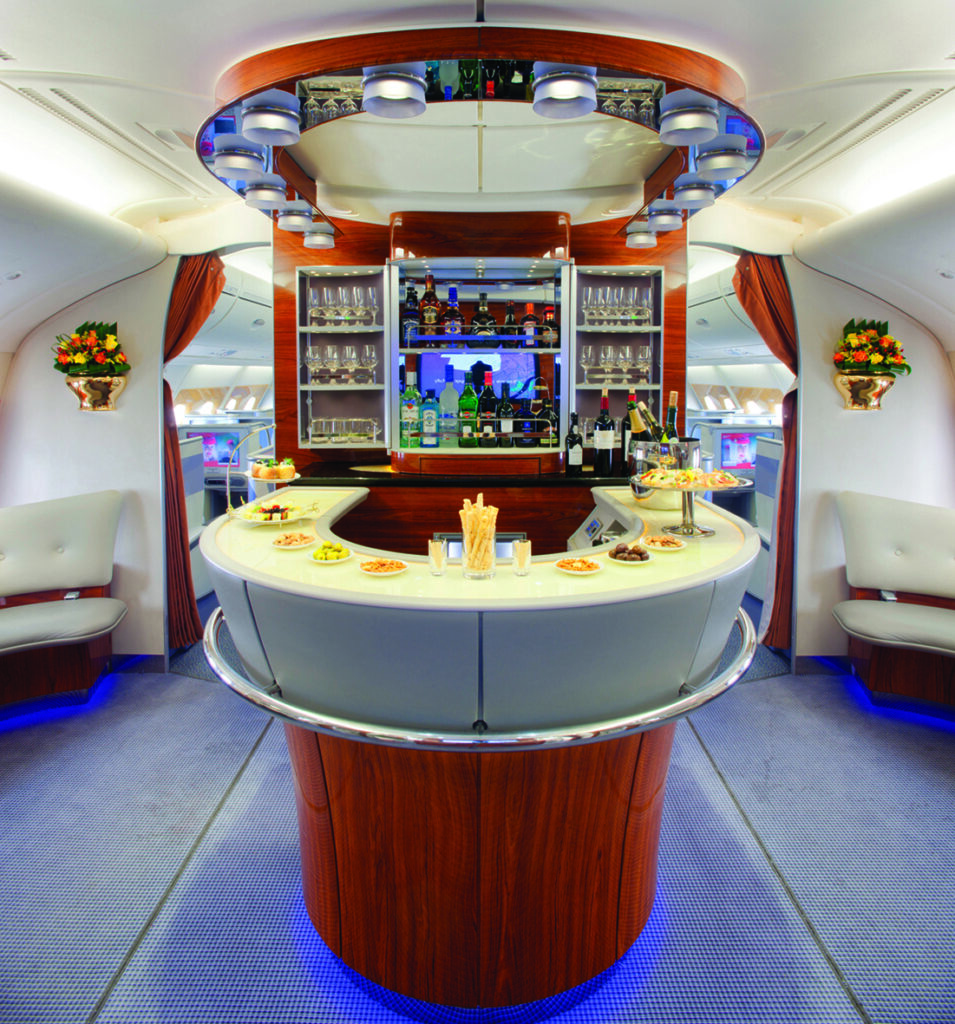 The last A380 will be delivered to Emirates out of Hamburg. AIM Altitude will continue to refresh some of the older fleet with the new style of interior that was introduced from shipset 100 onwards, so manufacture will carry on for some time to come.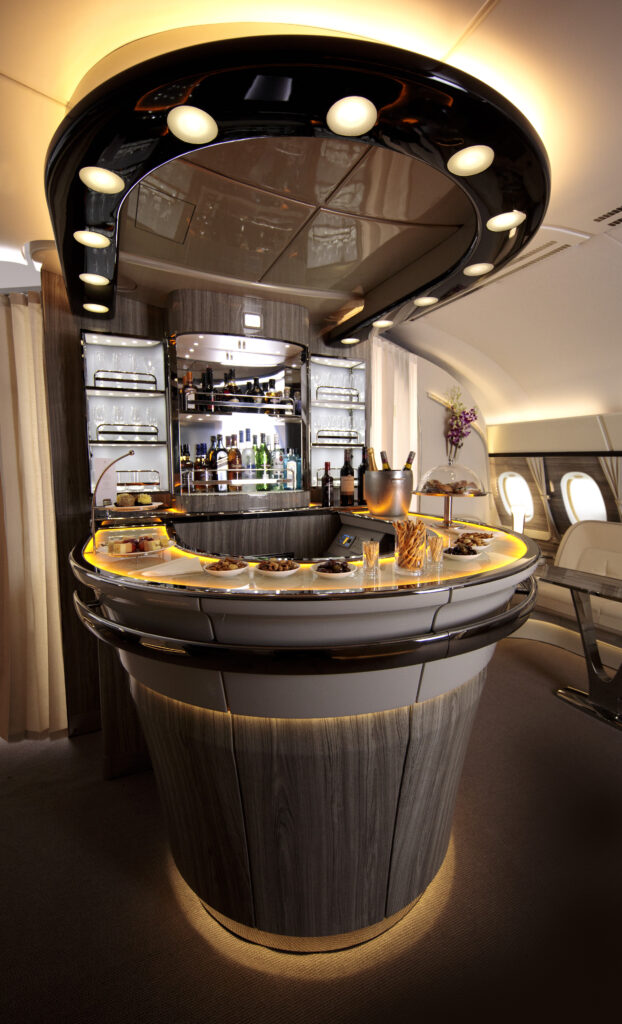 Emirates and AIM Altitude have further projects on the horizon, including a confirmed programme on Emirates' Boeing 777s and a proposed retrofit to update and refresh the A380's older-style interior.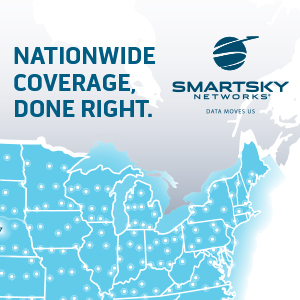 About AIM Altitude 
AIM Altitude designs, manufactures, certifies, and maintains cabin interiors for the world's major airlines on Airbus, Boeing and other OEMs' aircraft.
The market-leading products and services of AIM Altitude include premium customised monuments, social spaces, bars, galleys and stowages, composite components and a full-service product-support capability. AIM Altitude's products are all inspirationally designed, meticulously engineered and beautifully crafted.
AIM Altitude is a global company headquartered in the UK, with bases in New Zealand, the Middle East, and North America. Whilst being a modern, innovative and pioneering company, AIM Altitude still has links to its roots as a small coachworks business, established in the UK in the early 1900s.
About AVIC Cabin Systems 
Established in 2018, AVIC Cabin Systems (ACS) is a global alliance of specialist cabin interiors companies. ACS offers a complete range of aircraft cabin solutions from a single source, integrating the strengths of AIM Altitude, FACC, Jiatai, Fesher and Thompson Aero Seating. From entrance areas and galleys, to seats, monuments and social spaces, ACS designs, engineers, manufactures and certifies every aspect of the aircraft interior, both original equipment and retrofit, for the world's major airlines on Airbus, Boeing and other OEMs.
ACS designs and delivers exceptional products and services of the highest quality to fulfil the needs and aspirations of its customers, with a vision to create a connected world through an exceptional flying experience.