Already a dominant provider of inflight connectivity service to the North American business aviation community, Gogo Business Aviation sees an opportunity to carve out additional market share as industry recovers from the impact of the COVID-19 crisis, and despite a new competitive threat in the market.
A centerpiece of Gogo Business Aviation's long-term strategy is to drive penetration of its latest-generation AVANCE  air-to-ground (ATG) platform into its installed base of customers, and to secure new customers for the two versions of AVANCE, the L5 and L3.
"We plan to invest in improving the performance of our proprietary ATG network and driving market penetration of our AVANCE platform, positioning us well to introduce valuable add-on services such as Gogo 5G, and other new technologies as they evolve," stated company CEO Oakleigh Thorne as Gogo Business Aviation reported fourth quarter 2020 revenue of $77.6 million, up 17% sequentially but down approximately 10% from the fourth quarter of 2019.
However, its plan for offering the next generation 5G ATG solution has moved to the right, with Thorne revealing that deployment has slipped due to a supply chain-related delay of "one particular microchip" for a partner on the program. "And we now expect to deploy the network in 2022 instead of 2021." The world is grappling with a chip shortage crisis, he later added.
Recovery mode
Now a standalone company after selling the Gogo Commercial Aviation business to Intelsat, Gogo Business Aviation sees BizAv flight activity as a proxy for demand for its products. "And in Q4, we saw a strong rebound in flights as more passengers shifted from commercial to business aviation travel, and those passengers demanded quality in flight connectivity," noted Thorne.
Indeed, during the fourth quarter of 2020, Gogo Business Aviation's customers flew 83% of the number of flights they flew in the same three-month period in 2019. In December 2020, that number rose to 85% of 2019 flight counts "and actually hit 100% for the last two weeks of December", said Thorne. Flight counts have also risen each month in 2021.
That recovery bodes well for Gogo Business Aviation's IFC business prospects. Some 66% of the world's business aircraft are registered in North America. But more than 70% of those roughly 18,000 aircraft do not yet have broadband inflight connectivity.
"For the last five years, Gogo has added an average net of 400 aircraft online per year and we feel we can sustain that pace or a little better over our five-year planning horizon," said Thorne.
"We think a number of trends support that level of growth, including the growing demand for inflight connectivity as COVID has led all of us to spend more time online than ever before, the Uberification of business aviation as more connected passengers turned to charter or timeshare models to access travel, the trend of commercial airlines cutting service to secondary markets, the desire of corporations to protect executives from health risks, and the fact that inventory of secondhand aircraft for sale has hit all-time lows, which should lead to more new jet orders and aircraft online for Gogo."
Competitive threat
Offering both its legacy and AVANCE ATG systems, Gogo Business Aviation already competes for tails in the North American market against providers of Ku- and Ka-band satellite-supported broadband connectivity. But it faces fresh competition from SmartSky Networks, whose nextgen beamforming ATG solution is expected to go live shortly.
A "test corridor in Florida and part of Georgia" will be finished in April, SmartSky CEO Dave Helfgott recently told Runway Girl Network.
SmartSky isn't shy about its plan for snatching customers from Gogo Business Aviation. To attract Gogo customers, "I think you start with a better mousetrap, better throughput", said Helfgott. For business aircraft operators, especially, "you look at the frequency that they are required to bring their aircraft into the MRO". It is during these annual inspections that operators will face a choice of sticking with their current IFC system if they have one, upgrading to Gogo's latest system (AVANCE L5 or compact L3 system) or taking the new SmartSky solution.
Said Helfgott:
We believe that business aviation, from turboprops to all the way up to the VVIP aircraft, when they come in for that technology review, they'll be given the opportunity to [decide] – do I want to upgrade with Gogo or move up with SmartSky?

We think we'll win a percentage of those, certainly in the beginning.
He reckons that SmartSky's Flagship product for large and mid-sized jets will "way outperform Gogo". And he expects a large number of light aircraft operators, including turboprop operators, will take SmartSky's LiTE system, which carries a minimum monthly airtime cost of $750, 10 hours of use included.
….but down to small airframes, they [Gogo] just don't have a good answer for it. Then the choice is Inmarsat, Iridium or nothing so we definitely provide superior capabilities [with LiTE].
For its part, Gogo Business Aviation's new five-year plan projects a 10% long-term growth target. But Thorne said the firm is not counting on a lot of turboprop penetration to drive that growth rate.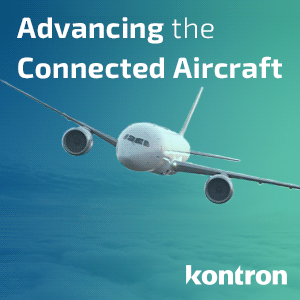 Once the 5G solution is ready next year, it will be easy to install, he said. From an equipment perspective, "if you have AVANCE L5, you're pretty much all the way to 5G, you get the antennas that are on the plane, they come off and other antennas go back in the exact same screw holes in the exact same place," explained the Gogo Business Aviation CEO.
Both Gogo and SmartSky will use unlicensed spectrum for their respective 5G and nextgen ATG solutions, but Gogo believes it holds a competitive advantage given that it also owns 4 MHz of licensed ATG spectrum in the US.
"This aggregation will allow for a significant expansion of capacity for most of the United States without the degradation that interference in the unlicensed band will cause for competitive offerings that rely on only unlicensed spectrum," suggested Thorne.
Related Articles: