The pandemic put a stop to a lot of things, but it did not halt the creation, installation, and celebratory unveiling of a giant mural at Indianapolis International Airport (IND) honoring the life and legacy of Madam C.J. Walker, the first self-made Black female millionaire in the United States.
The artwork is hard to miss. Titled Entrepreneurs Awakening: The Making of a Legacy, the mural is 11ft high and more than 75ft long. It was created by Indianapolis-based artist Tasha Beckwith and depicts how Sarah Breedlove became the wealthy, influential, and community-minded Madam Walker, whose Indianapolis-based Madam C.J. Walker Manufacturing Company produced and marketed the line of Black hair care products she invented in the early 1900s.
Beckwith's mural depicts scenes from Madam C.J. Walker's life, with quotes from Walker woven in.
"My goal with creating this mural is to speak directly to black girls and women and to everyone of any race to encourage them to follow their dreams as Madam did," said Tasha Beckwith at the mural's unveiling on 23 February 2021, "And to inspire men to give women more opportunities to become their generation's Madam C.J. Walker."
The child of former slaves, who was orphaned at 7, married at 14, a mother at 17, and widowed by 20, Madam C. J. Walker succeeded despite the violent racism of the reconstruction-era south and sexism that prevented most women from assuming any kind of power, said Vop Osili, president of Indianapolis City-County Council during the unveiling ceremony. "So yes, we celebrate her tenacity, but that's not the full scope of her legacy," he added.
"Madam C. J. Walker not only carved out opportunity for herself; she shared it with others. She opened up paths to success and independence for thousands of other women by showing them how to budget and to build their own businesses, while encouraging them to give back to their communities."
At IND airport the pandemic altered the construction and opening timeline for restaurants and shops in the airport's concession refresh program. And that created an opportunity in the form of temporary space for the Walker mural, which will be on view "well into 2022", according to IND airport.
"We used this as a creative opportunity to elevate arts and culture at the airport on the construction walls for this space," said Katie Norman, ​arts program and marketing specialist at IND airport. "Due to the temporary nature of the construction walls, the mural could not be permanent in this location. However, since the piece was designed digitally and printed on vinyl, there could be opportunities into the future."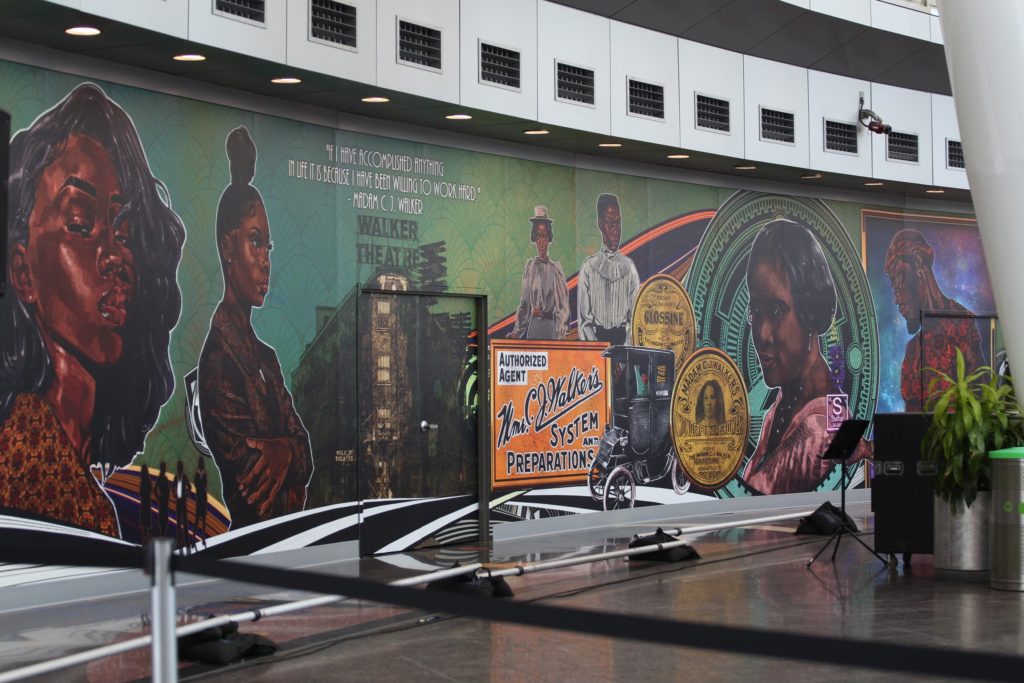 While the mural is on display at IND, millions of people, including passengers, meeters and greeters, and members of the public will be able to see it.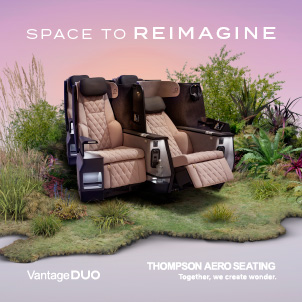 "The Indy airport is engrained into the fabric of the City of Indianapolis and being able to show an iconic self-made Black woman and her legacy is impactful not only for those traveling through our terminal, but everyone in the community who celebrate entrepreneurship, civic pride, and the tenacity to follow your dreams, just like Madam C.J. Walker," said Katie Norman.
Outside of the airport, there are many places in and around Indianapolis to learn more about the social, economic, and cultural legacy of Madam C.J. Walker.
These including the Indiana Historical Society, the Children's Museum of Indianapolis, and the Madame Walker Legacy Center, an important cultural center located in the 1927 building on the register of National Historic Landmarks that once housed the headquarters and manufacturing plant of Madam C.J. Walker Hair Care and Beauty Products.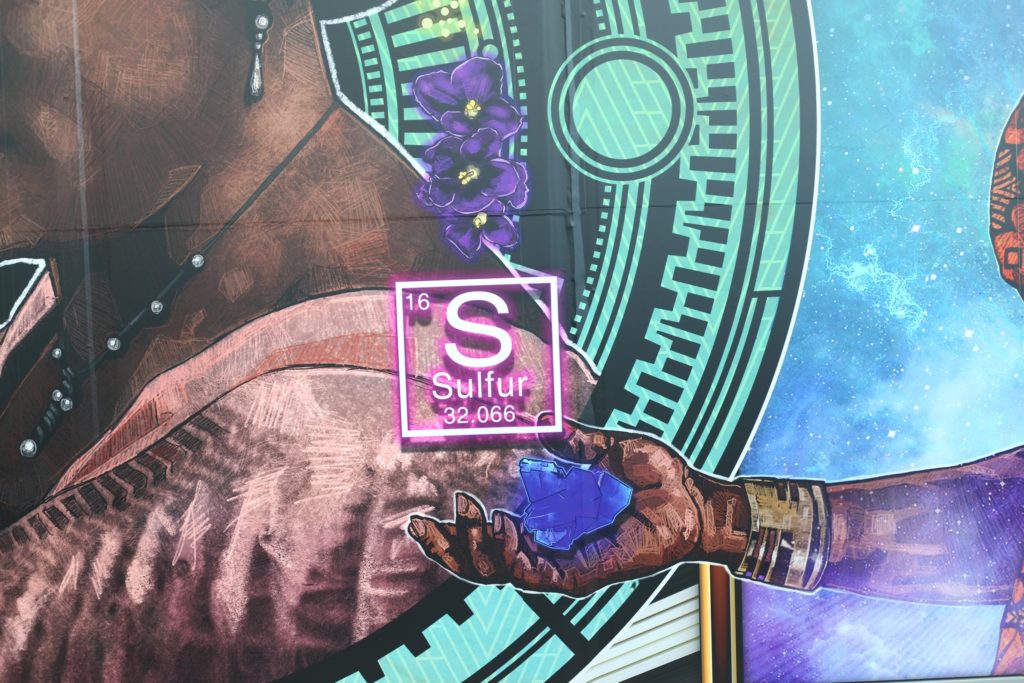 All images credited to Tasha Beckwith and Indianapolis International Airport
Related Articles: