Having successfully restructured its operations and emerged from Chapter 11 bankruptcy protection, OneWeb says its US satellite production joint venture facility with Airbus is back in business, building Ku-band satellites for the Low Earth Orbit (LEO) constellation.
Airbus and OneWeb run the 50-50 joint venture facility, OneWeb Satellites, in Florida's Space Coast. "Due to investment decisions made by the new shareholders, the joint venture facility with Airbus in Florida, USA was reactivated and the dual production lines brought back into service," says London-headquartered OneWeb, which is seeking to support Internet access everywhere.
The new OneWeb shareholders – a consortium led by the British Government and including India's Bharti Global – have invested a total $1 billion of new equity to build out and own the OneWeb network, which will boast an initial 650 satellites when it is completed.
When the acquisition was announced in July, the British government – through the UK Secretary of State for Business, Energy and Industrial Strategy – expressed an interest in enhancing advanced satellite manufacturing on home turf.
But the Florida JV factory will in fact manufacture OneWeb's "first-generation satellites as our new shareholders are laser focused on seeing OneWeb launch commercial services as fast as possible", a OneWeb spokeswoman explains to Runway Girl Network.
A total 74 OneWeb satellites are already in orbit. With two production lines, the high-volume satellite manufacturing facility can produce an impressive two satellites per day or one per assembly line shift. Traditional manufacturers generally take more than a year to build a single satellite.
"Airbus is still our partner in the JV and the facility has ramped up production to help OneWeb get back on track with our launches," says the OneWeb spokeswoman.
On 17 December, a 36-satellite payload is scheduled for launch by Arianespace from the Vostochny Cosmodrome. "All the satellites have been shipped from Florida to Vostochny and are now undergoing preparation for launch," says OneWeb.
Launches will continue throughout 2021 and 2022. OneWeb says it is now on track to begin commercial connectivity services to the UK and the Arctic region in late 2021 and will expand to delivering global services in 2022.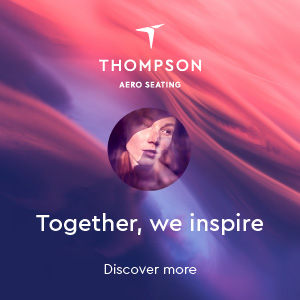 While OneWeb is focused on seeing its first-generation system launched and delivering services, there have been strong hints that second-generation satellites are in the offing.
In January of last year, OneWeb and partner SatixFy UK announced their intent to test an all-digital satellite payload in 2021 with the aim of directing capacity to hot-spots like busy airports. Development of a digital technology pathway payload, they said, will "pave the way for satellites with a higher level of flexibility to efficiently support peaks in demand without oversizing the constellation".
Airline passenger experience applications will be better facilitated by the new satellite payload, as OneWeb will be able to focus on providing connectivity to "specific planes or even specific areas of planes", SatixFy group CEO Yoel Gat told RGN at the time.
Meanwhile, in connection with the completion of its restructuring process, OneWeb has appointed Neil Masterson as CEO. Masterson formerly worked as co-chief operating officer at global news provider Thomson Reuters, where he enjoyed a 20-year career. He succeeds Adrian Steckel, who continues as an adviser to the board.
"I am looking forward to helping the OneWeb team deliver and commercialise their vision to provide Internet access across the globe. OneWeb has a strong social purpose to improve the world's access to information, which I share. It has great talent, a compelling commercial opportunity, and is supported by committed and knowledgeable owners and investors," says Masterson.
"Our December launch puts the UK firmly in the global space business, alongside acknowledged Indian telecoms experts, Bharti Global. OneWeb will be a model for responsible co-operation in space."
UK Secretary of State for Business, Energy and Industrial Strategy Alok Sharma adds: "This strategic investment demonstrates Government's commitment to the UK's space sector in the long-term and our ambition to put Britain at the cutting edge of the latest advances in space technology.
"Access to our own global fleet of satellites has the potential to connect people worldwide, providing fast UK-backed broadband from the Shetlands to the Sahara and from Pole to Pole."
Related Articles:
Featured image credited to istock.com/shironoso