Global Eagle's top brass recently suggested that airlines are seeking to offer a "minimal viable" IFE product amid the COVID-19 pandemic. Many carriers have decided not to update their entertainment content during the crisis, said the content service provider. And some operators even opted to shut off systems for a spell. Now, Indian low-cost carrier SpiceJet appears to be giving "minimal viable" a whole new meaning, and its latest IFE initiative begs the question – should we expect more of the same from other financially-strapped LCCs?
On 10 August, SpiceJet introduced a new complimentary wireless IFE service on board ten 737NG aircraft. The SpiceScreen-branded solution uses two off-the-shelf Android devices onboard to support the streaming of pre-loaded content to passengers' own personal gadgets. It was developed by SpiceJet's in-house team, along with a local start-up, reported by APEX as being a company called VuLiv.
"The phones perform the dual role of Wi-Fi servers and content hub," explained SpiceJet founder and chairman Ajay Singh in a statement.
Weighing 200gm, the unique Android-based portable Wi-Fi solution is being positioned as more cost effective than the Lufthansa Systems BoardConnect Portable wireless IFE previously offered. SpiceScreen costs "barely 1% of the cost that we were paying previously to foreign service providers", said Singh.
All BoardConnect Portable units have been removed, SpiceJet told RGN, and plans are in place to add SpiceScreen to 22 Bombardier Q400 turboprops.
It is important to note that Lufthansa Systems stopped providing service to SpiceJet long before the COVID-19 crisis and the introduction of SpiceScreen, so this initiative is not an outright IFE replacement program. In short, it doesn't speak to a deficiency on the part of Lufthansa Systems.
"We have not been working with SpiceJet on IFE for a while now so cannot comment on any specifics or how their comment on pricing is to be interpreted," Lufthansa Systems head of passenger experience solutions Jan-Peter Ganse told RGN.
Ganse continued:
My feeling is that looking at the solution they chose, it raises some interesting technical questions (e.g. battery life time, concurrent streams in a meaningful quality, storage…) – at least looking at the specs published of the used mobile phones it seems strange.

But let's assume for a moment it works as announced, I don't think it makes a big difference [in cost]. Even in their announced setup, you need two mobile phones. Compare that to one portable unit and spread the cost difference out over 36 months (or more); it becomes a very small number.

Key cost drivers are around software/support/operations/content of the equipment. Especially with a portable IFE solution (when not used in an aircraft powered operations), it's the logistical efforts that drive complexity and hence cost.
Regarding whether airlines are gravitating to more cost effective IFE offerings given their significant financial challenges, Ganse said he believes the COVID-19 crisis will trigger: "The need for a reliable and cost efficient onboard solution that drives passenger engagement and provides a platform for digital services including ancillaries, onboard sales. Airlines, IFE providers, content providers, onboard retail partners and others will have to work very closely aligned in a professional and focused way to make this happen and get the maximum output of the technical capabilities."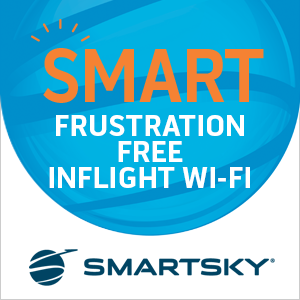 Just two years ago, airlines began tightening their contracts for portable wireless IFE boxes, as they eyed inflight connectivity hardware retrofits which would have required the onboard installation of servers and WAPs and negated the need for portable units. Now Ganse believes COVID-19 has extended the usefulness of portable wireless entertainment, triggering a delay in aircraft retrofits.
"Whilst I still believe IFEC is what airlines want in the long-term, we will probably see a delay for retrofits, thus extending the portable IFE market even beyond 2025. I believe we will also see more airlines opting for an aircraft powered solution to reduce operational complexity as they now will look at it more longer term," he told RGN.
Back at SpiceJet, the carrier said SpiceScreen will stream Bollywood, regional blockbusters and TV programs, and that 40 passengers can stream content at the same time. Asked by RGN if SpiceJet plans to obtain Hollywood studio approval for its Android-based IFE solution so that it can ultimately stream Hollywood content to passenger PEDs, the carrier said it will not add anything to its costs at this time, and declined further comment.
SpiceJet also has an arrangement to provide Inmarsat GX inflight connectivity on its Boeing 737 MAX twinjets, 13 of which have already been delivered with the inactive connectivity kit.
Indian budget operator IndiGo, meanwhile, said it has no plans to offer IFE during the current crisis as it would increase its expenses. And struggling no-frills carrier GoAir told RGN that survivability is a major issue and nothing new will be looked at until the pandemic is over.
With additional reporting by Mary Kirby
Featured image credited to istock.com/DaniloAndjus
Related Articles: