After many years of discussion and strong support for a recent change.org petition, the Greater Rochester Airport (ROC) in upstate New York is being renamed to honor Frederick Douglass.
Douglass was an author, orator, abolitionist leader and former slave who lived in Rochester for more than 20 years, from 1847 to 1872. He started his anti-slavery newspaper "The North Star" in Rochester and is buried there, in Mount Hope Cemetery.
The petition notes that during the time Douglass lived in Rochester, he also served as an advisor to President Lincoln, fought for the adoption of constitutional amendments granting voting rights and other civil liberties to African Americans, and advocated for women's suffrage at the Seneca Falls Convention of 1848.
Greater Rochester Airport is owned and operated by Monroe County, so it was the Monroe County Legislature that voted to change the airport name. Their 11 August action will change the name of the airport from the Greater Rochester Airport to the Frederick Douglass – Greater Rochester International Airport.
Paperwork will be filed with the Federal Aviation Administration for the name change, but the airport code – ROC – will remain the same.
In passing the bipartisan bill for the name change, county legislators noted that "There is potentially no greater symbol of our image than our Airport, which serves as the front door to our community."
To that end, in addition to the new name the bill directs the airport authority to put educational materials inside the airport terminals that will help travelers learn about the life and legacy of Frederick Douglass.
"Each time residents and visitors arrive to our airport they will be reminded of Douglass's life and legacy of fighting oppression," said Monroe County legislators Vincent Felder and Karla Boyce in a joint statement issued after the vote.
Direct descendants of Douglass are pleased and honored by the Rochester airport name change.
"I can't wait to hear the captain say, 'Welcome to Frederick Douglass Greater Rochester International Airport," said Nettie Washington Douglass, the great-great-granddaughter of Frederick Douglass and Chair of the Rochester-based, Frederick Douglass Family Initiatives (FDFI), in a statement.
"Frederick Douglass was one of the most well-traveled Americans of the nineteenth century so, there's no doubt, he would be a frequent flier in the twenty-first century," said Kenneth B. Morris, Jr., President of FDFI and the great-great-great grandson of Frederick Douglass.
"Douglass called Rochester his home and he chose this as his final resting place. By honoring this particular historical figure in this way, I believe that Rochester is saying something important about itself: it wants to be a national center for individual rights and justice."
While the airport name change is a significant step in honoring Frederick Douglass, this is not the first time the airport has acknowledged Douglass' role in the city history.
According to the ROC website, when a new terminal was completed in 1991, Concourse A was named in honor of Frederick Douglass. Concourse B was named in honor of Susan B. Anthony.
At that time, the airport installed metal plaques at the entrance to each concourse commemorating the historic contributions of both Douglass and Anthony.
Other recent airport name changes
There are, of course many other airports, airfields and airport terminals around the country named for presidents, war heroes, aviators, celebrities, and other well-known people with strong connections to their communities.
The list includes JFK International Airport (JFK), John Wayne Airport (SNA) and Charles M. Schulz Sonoma County Airport (STS), to name just a few.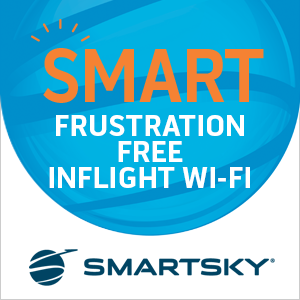 In January, 2019, the Louisville Regional Airport Authority Board voted to rename Louisville International Airport (SDF) for native son and sports legend Muhammad Ali. The new name is Louisville Muhammad Ali International Airport.
"This tells the world how proud we are to associate 'The Greatest' with not only our great city, but our great airport," said airport authority board member Jim Welch, at that time.
In 2017, more than a 15,000 Mister Rogers fans signed a petition urging Allegheny County Airport Authority to change the name of Pittsburgh International Airport (PIT) to Fred Rogers International Airport in honor of the television pioneer who hosted the popular Mr. Rogers' Neighborhood children's television. That campaign failed.
Related Articles:
Featured image credited to Courtesy Greater Rochester International Airport. Soon to be Frederick Douglass – Greater Rochester International Airport