Successfully delivering a new inflight connectivity package to the market in the midst a crushing crisis is certainly noteworthy. And that's exactly what modification and MRO provider GDC Technics accomplished last month when it introduced an 'all-in' Ka-band IFC package for a Hillwood Airways-operated Boeing 737-700 in collaboration with antenna-maker ThinKom Solutions, Kontron and Hughes Network Systems.
For EchoStar subsidiary Hughes – which is providing the Modman, a dual high-performance aero modem and server, and high-throughput satellite capacity from the JUPITER 1 and JUPITER 2 satellites as part of a managed service – the Falcon 300-branded package offers yet another solid avenue for it to reach the aviation market. Tests aboard the Hillwood 737 emphasized maintaining a "typical" performance bundle of 25 Mbps with the ability to go far higher if needed.
In an interview with Runway Girl Network, company vice president Reza Rasoulian said GDC is now "surveying the airline community" to gauge interest in the Falcon 300 solution.
While GDC is lead on the program, Rasoulian said:
What I can say is that what I understood is their target is pretty broad. The 737 is an initial STC that they were able to get, but I think they have plans to continue to evolve into A320s, A319s, 787s, 777s and so forth. So I think GDC has a pretty cohesive plan to continue to evolve this solution.
Hughes has placement and positioning on other IFC projects, of course. Together with SES, it is a key partner in the Thales IFC implementation at Spirit Airlines, and what is believed to be the IFC for Air Canada's grounded Boeing 737 MAX fleet.
Without divulging particulars, Rasoulian expressed optimism that the Thales antenna issues are being worked out. "I do know in the case you brought up with Thales, as those aircraft start flying, I believe there's a great solution in place and things should be back to normal," he said.
In general, with respect to the 737 MAX worldwide grounding, he added that Hughes is "eager to have them flying again" as the grounding has been difficult "across our customer base". Global Eagle, which boasts Air France, Southwest and other airlines as customers, is among the inflight ISPs that uses Hughes technology.
Bringing JUPITER hardware and capacity to aero
Continuing to take an agnostic approach – and with the broader goal of 'connecting the unconnected' – Hughes is also happy for its JUPITER-branded hardware to support IFC installs around the world via various service providers. So, whether an aviation service provider "wants to use our platform or other satellites that are leased or owned, we're happy with that, or we can offer – in the GDC case – a managed megabit service", said Rasoulian.
He noted that the JUPITER gateway works on Ku and Ka frequencies. "We're band agnostic and we also have a Ku/Ka antenna system as well for those widebodies that go into areas where there is only Ku capacity, or if a Ku-only system, we can support that as well. So our strategy is to work with our partners, both satellite operator partners as well as ASP [aviation service provider] partners to blanket the world with the JUPITER waveform and the JUPITER  ground system that lends itself to the JUPITER experience, which is our ultimate goal."
Hybrid networks
Before the GDC project, Hughes already had what Rasoulian describes as "a rich history" with ThinKom Solutions, as they've executed on several IFC integrations to date, including with Thales and SES to test MEO/GEO hybrid IFC capability last year. "I think ThinKom has done a great job, and we've been very, very pleased as we learn more and do more work with the team. They're very astute and results oriented, it's all about the integration and the system to create the optimal connectivity for the passengers," he said.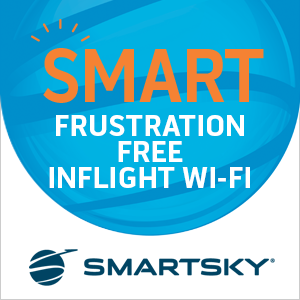 That testing was also a good primer for things to come. Hughes recently announced it has agreed in principle to invest $50 million in the winning consortium acquiring OneWeb, as led by the UK government and in partnership with India's Bharti Enterprises.
Both an early investor in OneWeb and tapped to provide the gateway sites for the program, Hughes' fresh investment in OneWeb makes strategic sense. The company has worked closely with the UK government through its London-headquartered Hughes Europe division and sister company EchoStar Mobile Limited, and its majority-owned subsidiary, Hughes Communications India Ltd, (HCIL) and telco Bharti Airtel are in the process of combining their satellite broadband operations in India
"We absolutely believe in the OneWeb mission and are happy to continue being a partner in OneWeb," said Rasoulian, adding: "There is a lot of more exciting news to come."
A hybrid network involving LEOs and GEOs is "absolutely part of our forward thinking and strategy. We believe there is a critical need for layers of networks, so having just one aspect serving a specific part of the market, or a specific hemisphere alone is not going to cut it," he said.
"We're all about having multiple layers of capacity focused on where people are, or leveraging partner assets to create the global footprint, and that's where our work in the LEO space really lends itself to that." That includes using hybrid networks to support the aviation sector. (Hughes previously told RGN that OneWeb service is part of its aero plan.)
Meanwhile, Hughes continues to bolster its GEO capability. Its JUPITER 3 satellite is still on track to launch in 2021, said Rasoulian, and with it will bring over 500 Gbps of additional capacity. With JUPITER 3, Hughes will have "over a terabit of capacity" over the Americas over several satellites, including for use in aero.
This deep pool of capacity is among the reasons why Hughes continues to see a lot of potential for supporting more aircraft in the Americas, even though it is coming a bit later to the high-capacity IFC game than, say, Viasat.
"We look forward to enabling many, many tails," Rasoulian told RGN. Together with its JUPITER hardware and partner ecosystem, Hughes has what it reckons will be a "very interesting proposition for the aero community".
Related Articles: