Communications & Power Industries' recent acquisition of SATCOM Technologies from General Dynamics Mission Systems brings both military and commercial applications with it, including nextgen antenna work for commercial aviation.
"They do a fair amount of antenna work for commercial providers, earth stations as well as small aperture work," CPI chief operating officer Andrew Ivers said of SATCOM Technologies' work.
He added:
Although they were owned by what you would normally think of as a big defense contractor, they are a really nice fit for us because they serviced a lot of the same customers on the commercial side.

That business is approximately 50% programs, more DOD-ish sorts of things, and the other half is products, and the products sell for both commercial and back into the military programs.

And in some cases, they're doing programs for commercial antennas, where they're designing nextgen systems.
Ivers was not yet at liberty to discuss certain program specifics, but it's noteworthy that a company which counts aircraft radome manufacturing among its competencies – through its Radant Technologies Division – is already conducting nextgen antenna development work for commercial aviation through its newly acquired business.
"I think we are excited by the new acquisition and the opportunity to bring more pieces together and really bring a more complete system to our customers and really focus on solutions now, whereas I think traditionally, some of our business has been more [as a] component supplier. So, we now have the full gamut – components, products, solutions. So, it's a nice way to think about our business and our organization," said Ivers.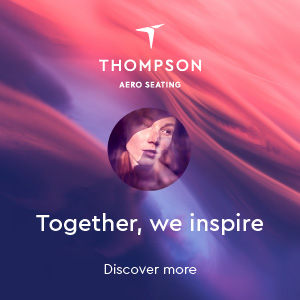 The SATCOM Technologies business, which consists of approximately 1,000 employees, as well as facilities in the US, Europe and India, is now called CPI Satcom & Antenna Technologies Inc. Developing some synergies with CPI's existing antenna systems business, CPI Malibu Division and Orbital Systems LLC, is a focus for the foreseeable future, Ivers told Runway Girl Network. The organization's executive management team has remained in place, and reports to Ivers.
But what will future commercial satcom systems require? Is the universe going to be dominated by geostationary satellites with very high capacity or are the LEOs and MEOs going to play? That is, of course, the question that many inflight connectivity stakeholders are asking themselves, including CPI.
"We try to address both markets," noted Ivers.
But the bigger question, said Ivers to RGN, is when will consumers get on a crowded airplane again? "And that's really hard to forecast. It could be as soon as this fall or it could be next fall, or further out than that."
Ivers was easily a 250,000 miles-per-year business traveler before the COVID-19 crisis. "Learning to work from home and not travel for months is probably going to change behaviors, and the impact on the industry from that is hard to predict, but it's clearly not going to be good," he said.
When travelers do return, Ivers believes the appetite for inflight connectivity "will be very high, and again learning to work remotely is going to be make more people want to be connected when they're on that airplane." And whether or not they'll be permitted to hold Zoom meetings in-flight, they'll expect connectivity to be "accessible", and capable of supporting high-bandwidth functionality.
CPI's Radant radome portfolio, meanwhile, also happens to include a stable of tail-mount business aviation solutions. They're custom-made and unique, and while the volume is not akin to commercial, the firm might extract some benefit if corporations pivot to business aviation due to the crisis. It stands to reason that the new CPI Satcom & Antenna Technologies unit has applications that could ultimately translate here as well.
Related Articles:
Featured image credited to istock.com/shironoso