Amid a crisis that has brought the inflight connectivity sector to its knees – highlighted by the recent warning from Global Eagle that "there is a substantial risk" it may have to seek Chapter 11 bankruptcy protection – a new name has suddenly emerged in IFC: NXT Communications Corporation.
The metro Atlanta-based firm has designed a flat-panel satellite antenna for commercial aviation and defense, after collaborating with Georgia Tech Research Institute to use GTRI's patented fragmented aperture technology.
Runway Girl Network interviewed company CEO David Horton and newly appointed CTO Carl Novello to learn more about the new electronically steerable antenna (ESA). Dubbed AeroMax by NXTCOMM, the antenna's entry point in commercial aviation is expected to be on single-aisle aircraft: regional jets like the Embraer E1 and E2 and the Bombardier CRJ700/900, as well as larger narrowbodies like the Airbus A220 and the Boeing 737, they said.
Both men have ample experience in IFC. Long-time industry veteran Horton most recently oversaw connectivity and antenna technology strategy for Panasonic Avionics' Global Communications Services in Lake Forest, California. Prior to that, he worked at Tecom (Smiths Interconnect) which provided the Ku antenna for Global Eagle/Row 44. He also lays claim to being "the guy at EMS technologies that formed the partnership" with Israel's Starling Advanced Communications that ultimately kicked off Panasonic's antenna business in the first decade of the 21st Century.
Novello, who manages NXTCOMM's work with GTRI, previously served as vice president of solutions for Kymeta Corp., where he led design of the company's flat panel ESAs for mobility.
Notably, both men's prior employers have tried to bring flat panels to commercial aviation without achieving the desired result. Panasonic and Kymeta also previously worked together on a maritime product but later parted ways.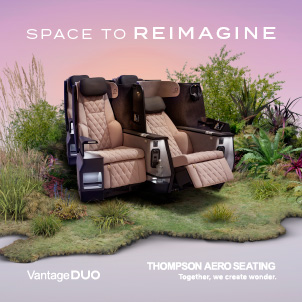 "NXTCOMM was and is made up of a significant number of industry veterans who I think were all equally challenged and frustrated by what we were seeing in regard to so many attempts at meeting the flat panel market needs. And we all know who those folks are, and we know they're doing absolutely everything they can to get there and we know the tough challenge," Horton told RGN.
He said NXTCOMM was formed to introduce a transformational antenna product, in partnership with GTRI, that delivers "all of the benefits promised through the years to the airlines" from antenna providers, OEMs and service providers.
One of the key building blocks of GTRI's work is the concept of "fragmented aperture" – the part of the phased array that "nobody likes to talk about" – i.e. the radiating elements that communicate with the satellite, said Novello. The core aperture that drives the antenna is field and flight tested, having been deployed in defense aviation and ISR applications. "The tech is very solid, this is not a science product," assured Horton.
While most of the in-operation applications are classified, Horton said this prior work means there's virtually a "risk reduced opportunity" that allows NXTCOMM to productize the antenna around scale and cost, including for commercial aero connectivity.
A Ku flat panel first
According to NXTCOMM, the modular design of AeroMax allows for a scalable, lighter-weight solution with better gain, thermal efficiency and reduced power consumption. The first AeroMax aero antenna will support Ku-band connectivity. "The reason we launch in Ku first is there's more available capacity in Ku, to allow an easier time to test our product in a wider variety of use cases," said Novello.
NXTCOMM is looking to have a prototype ready for testing by the Q3/Q4 timeframe, with a rough target of "end of Q4 2021" for a certified Ku aero product.
Though not as advanced as the Ku antenna, a Ka-band antenna is also in the works, with NXTCOMM noting that the core technology is applicable to virtually any frequency band.
Targeting cost in line with mechanically-steered installs
As readers are all too aware, the high cost of many ESAs has stymied their introduction in the commercial space. Panasonic famously backed away from a Boeing Defense-made phased array product, given its high price point (estimated at $500K).
So, is NXTCOMM able to offer its ESA at roughly the same cost – or below – that of traditional gimbaled antennas?
"Knowing the price points of a totally installed solution," said Horton, NXTCOMM's rollout and introduction of pricing is not just a simple "it's going to be this price" because, if you think of the technology as a lego, it can be scaled to a customer's needs "to support a fuselage of any type aircraft, including general aviation aircraft".
He conceded however, that: "Our targeting is certainly in line with expectations of currently mechanically-steered installations of the current service providers."
To further keep costs in check, NXTCOMM will offer a "drop-in replacement opportunity" for operators with current ARINC 791 IFC installations, enabling them to adopt the AeroMax ESA without the modification costs associated with a rip-and-replace and ARINC 792 package. That is, he said, "exactly what the industry wants; they don't want to have to spend half a million dollars or around that to take off." [Note: Safran previously suggested that its in-development nextgen ESA for Inmarsat GX would accommodate the same.]
Moreover, said Horton, this configuration allows NXTCOMM to "make this attractive to the collective connectivity providers, without having to double up on cost and engineering time and install time and affords an attractive price point that obviously they've been palatable with [for mechanically-steered antennas]".
The modular phased array design leverages an advanced silicon-based chipset and a novel combining network that allows the antenna to be manufactured on a single PCB. "We're not implementing esoteric manufacturing methods," said Horton.
Phased array solutions have trouble connecting to geostationary satellites while flying north or south of 55 degrees latitude.  One way to help address this issue is to maximize the real estate under the radome. But like so many other ESA makers seeking to break into aero, NXTCOMM believes new LEO or MEO constellations "or hybriding them", as Novello described it, will change the game for this type of architecture.
NXTCOMM is firmly in the camp of building hardware that is agnostic to the various forthcoming constellations (OneWeb's prospects appear rosier, as the UK government and Indian mobile network operator Bharti Global have placed the winning bid for the bankrupt company. OneWeb and Bharti are members of the Seamless Air Alliance.)
But Novello isn't placing any bets on which LEO or MEO satellite operator will succeed. "If I was to place a bet on the horse now, looking at it five, ten years in the future, I'd be wrong," he said.
Regarding the radome and associated install kit for AeroMax, NXTCOMM has been in discussions with "several partners or potential partners and we're wrapping up contractual relations with them now on all aspects of the radome, adapter plate and the configurations to support multiple aircraft types including STC and the installation services so we do offer a turnkey solution for the antenna, hardware, installation, etc, so this is not something that has to be piecemeal." Novello said the firm will announce those relationships in the near-term.
And what of relationships with the inflight ISPs? Noting that many of the service providers are facing revenue challenges and that COVID-19 put them into an even more difficult financial position, Horton said: "What are they going to do now? How are they going to get out of this hole? Our total solution offering will give us a chance to be highly competitive, and we have not been approached by any service providers to date to discuss our offering. We certainly would welcome the opportunity to be in talks, but we're prepared to engage the market directly and proceed down that path."
Related Articles: