A new protection shield for aircraft seats could be the first of its kind to receive EASA certification, in as little as two weeks.
Made by RAS Completions, a London Biggin Hill Airport-based aircraft interior and exterior specialist, the so-called Personal Protection Window (PPW) is made from transparent aircraft-approved polycarbonate, and allows airlines to keep the middle seat available for passengers.
It is specifically designed to "shield passengers from lateral person-to-person droplet transmission, particularly when used in conjunction with IATA endorsed biosecurity measures, such as face masks", says the firm.
Roger Patron, business development manager at RAS Completions, notes that the PPW can be quickly and easily fitted to almost all types of economy and premium economy seats, without modification of the existing seat.
"Material straps secure the PPW between the seat arm and seat back on both sides of the centre seat. A latch around the seat back holds two semi-rigid polycarbonate protective screens to either side of the centre seat," he explains to Runway Girl Network.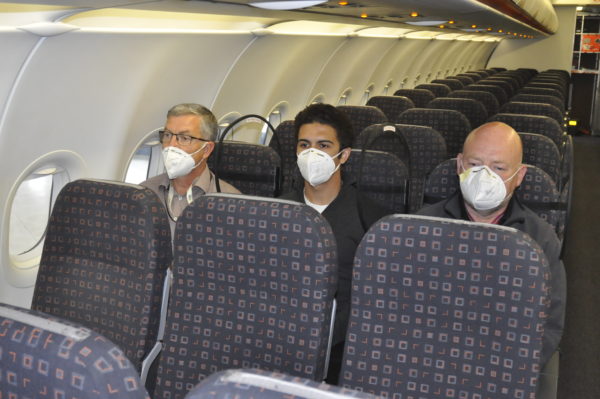 In recent weeks, a number of aircraft interiors stakeholders have proposed shield and screen solutions, including but not limited to Vision Systems, Aviation Glass, Aviointeriors and Safran Seats. And Factorydesign has tabled a recyclable cardboard design that could be sold at the airport or supplied by the airline.
RAS Completions believes its new PPW product, which is undergoing EASA approval, will be the first to be certified.
"They believe this will be certified within two weeks, so yes, that is the hope," a spokeswoman tells Runway Girl Network.
After converting aircraft for medevac use amid the COVID-19 crisis, the RAS Completions team was inspired to create a solution for struggling airlines. "We want to give people confidence to return to the skies, and firmly believe this product will help them to feel protected while retaining much of the flying experience they are used to," says Patron.
RAS Completions reckons that protection solutions that remove the use of the middle seat aren't a viable, long-term financial option for most airlines.
Related Articles: