The airline industry has seen an unprecedented drop in demand due to the COVID-19 pandemic. Full recovery could take years without widespread testing or a vaccine. A material portion of the public is uncomfortable with the thought of air travel right now, and blind people are no exception to this trend.
Aira, which connects blind and low vision users with remotely-located trained agents who provide visual interpretation, in March conducted a survey of its users (PDF) about how they are affected by COVID-19. At least 93% of respondents were, at minimum, mildly concerned that they or a member of their family would contract COVID-19 (and of this amount, some 22% of respondents reported being "extremely concerned").
In contrast to the 93% figure, some 66% of the general public expressed at least mild concern of contracting the virus (based on a separate survey conducted by the Associated Press-NORC Center for Public Affairs Research).
One aspect of daily life that is integral in the blind or low vision community is the reliance on tactile exchanges, noted the Aira report. A participant in the study explained how the reliance on the sense of touch can be risky in a pandemic like COVID-19:
….with having no vision, you touch things a lot more whether they be counter surfaces or what have you, and that's a concern.
How do I know if other travelers are social distancing?
As a blind traveler, I too have been trying to imagine what a post-lockdown flying experience involving social distancing will be like for blind and visually impaired people. Personally, having no real ability to judge distances and being more reliant on touch make it complicated. I'm not alone.
"I don't know if others are wearing their mask and staying 6ft from me," explained Karen Hughes, who describes herself as totally blind. "I'm in the high-risk category so I am more apprehensive about being around others."
While many blind travelers have some apprehension about flying right now, the individuals who Runway Girl Network interviewed for this piece all seem to believe precautions like requiring passengers and airline personnel to wear masks are a positive step. "I welcome this and am in support of it," said Holly Scott-Gardner, who is blind. This makes me feel a little more comfortable, though I don't enjoy the prospect of wearing one for so long."
Will my sighted guide be eager to assist?
Some blind travelers are concerned about the willingness of airline or airport personnel to provide assistance, including sighted guide technique (PDF), which consists of a blind person holding on to a sighted person's arm just above the elbow and walking to their side half a step behind them.
"I am less comfortable requesting it because of concerns [that] airline or contracted personnel might have about providing the assistance," said Ron Brooks, who traveled weekly for work-related meetings before the pandemic. "I have no concerns because there is nothing inherently unsafe about … taking someone's arm, assuming that I and the person with whom I walk are using masks and hand-washing appropriately."
There are some potential alternatives to relying on sighted guide assistance for navigating an airport. "If you are getting assistance, try to follow them [the guide] visually or auditory by having them talk to you, suggested Taylor MacDonald, an orientation and mobility specialist. "That will help keep the distance between you and the person."
Are accessibility apps the answer?
Certain airports offer free access to Aira through the Aira Access program. Through an app on the traveler's smartphone, Aira delivers instant access to visual information at the touch of a button. However, feelings about using the service in an airport setting are mixed.
Scott-Gardner, who often asks for directions from airport staff in lieu of assistance, believes Aira could be useful to her. "If the service is available, I see myself making use of it more than I typically would," she said. "I could get agents to download required maps in advance and give me the information that I would normally receive by asking questions."
Hughes, a high-risk person, said being able to use Aira for free could put her at ease. "I'm hoping that more airports will offer Aira service for free. I would feel at ease knowing that I could arrive at the airport and confidently get through security and to my gate quickly and efficiently without having any physical contact with a human," she said.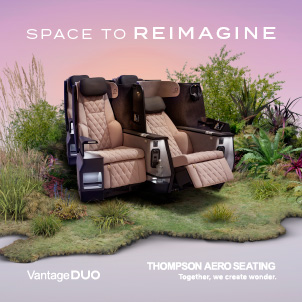 But Brooks said he has had "extremely mixed and subpar experiences with Aira when traveling – both in terms of the quality of assistance and the quality and resilience of the signal. Without Google Glasses [which is no longer supported by Aira], using it has gotten even less convenient."
While Hughes and MacDonald could not anticipate flying soon and Scott-Gardner is unsure, Brooks said he is ready to do so once in-person meetings between his employer and perspective clients resume.
"I am not in a hurry, but I have no reservations about my safety," said Brooks, noting that he anticipates a reduced passenger experience when he returns to the skies.
"I have low expectations about the quality of the flying experience, but they do not cause me concern – only a low level of disappointment because my status won't get me much in the way of inflight perks."
Related Articles: