As we consider how the coronavirus pandemic will alter the design of the aircraft cabin experience, and look at industry innovations that could support a recovery, it's critical to consider the future of inflight catering.
Earlier this year, before COVID-19 was officially named a pandemic, the Civil Aviation Authority of China (CAAC) published a set of guidelines for Chinese airlines, suggesting that food-preparation procedures for "medium-risk" flights, for instance, should be simplified; pre-packaged food should be provided; and cold meals and edible ice cubes should be canceled.
For high-risk flights, the CAAC suggested: "It is recommended to provide pre-packaged food and bottled water before or during passenger boarding. Except for special needs, catering service should not be provided on board."
As China begins the recovery phase, it's clear that airlines around the world are following its lead. Inflight service has been greatly simplified or, in the case of Southwest Airlines, eliminated altogether in the near-term. But in the longer term, it's possible we'll see some mid-coronavirus protocols retained in a post-pandemic world. It will be especially important to manage inventories carefully to ensure tracking and food safety.
Pictured at top, Priestmangoode's Zero bento-box inspired meal tray, a 2020 Crystal Cabin Award (CCA) finalist, might support a pre-packaged meal kit model that is neat and self-contained, while reducing waste disposal at the end of the meal. All the elements of this elegant kit are edible, compostable and/or biodegradable.
AIM Altitude's ARCA Galley System, also a finalist for this year's CCAs, takes a very boxed-up approach to overall meal storage and delivery. "ARCA stores the meals in aesthetically pleasing full-height fridges. Boxed in sets of 16, the meals are easily moved to a reusable folding cart for meal service. Repurposed into waste containers, the carrier boxes can be used for recycling collection and separated compacting, enabling zero-landfill flights," explained AIM Altitude industrial designer Helena Teichrib in the firm's CCA submission. "The galley area and even the boxes themselves are fully customizable."
Notably, because the space savings achieved by ARCA is equivalent to a destination monument or an extra row of seating, its use might also further aid onboard social distancing in seating.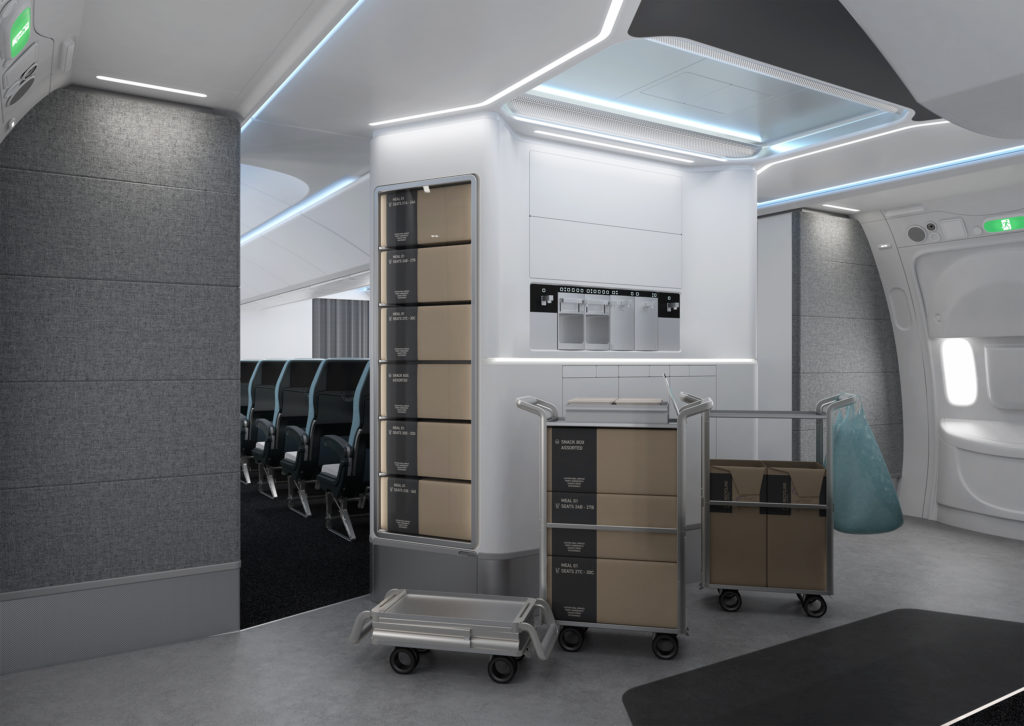 Industry as a whole would also benefit from smart aircraft systems. The latest is the 2020 CCA-shortlisted "Intelligent & Smart Cabin" (i+sCabin) project, developed through a collaboration between Boeing, KID-Systeme, Bühler Motor, Diehl Aviation, Jeppesen, Safran Cabin, Etihad Engineering and the Hamburg University of Technology & Baden-Wuerttemberg Cooperative State University.
Presently installed on the Boeing ecoDemonstrator, the i+sCabin integrates sensors to monitor galleys and lavatories, helping airlines manage new service requirements that will give passengers peace of mind and restore confidence in air travel. For instance, airlines might want to inform seated passengers if there is queuing in front of lavs.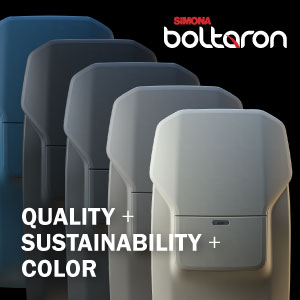 Safran's SOPHY Smart Trolley tracker, a 2020 CCA finalist, can facilitate inventory management and food and beverage distribution by offering real-time insights on the location and status of trolleys, including handovers, cleaning and maintenance, and inflight service rounds.
So too can the Caterflow system for galleys and trolleys from Airbus and BIBA (Bremer Institut für Produktion und Logistik GmbH at the University of Bremen), which uses data from passengers, cabin crew, the airline caterer and others to better manage inventory and help plan food distribution prior to boarding.
In the coming months, we can expect that airlines will see fewer passengers returning to the skies initially, during the period when COVID-19 is still an active threat, and until there is a vaccine. As new protocols emerge, including for catering, IATA has said it will be working with governments, regulators, and stakeholders to ensure a uniform process. Aircraft interiors, IFE and catering specialists have a host of great ideas on offer to address the new normal.
Related Articles: