In recent weeks, aircraft interiors designers and manufacturers have tabled a variety of new economy class seat isolation screens and dividers to better facilitate onboard social distancing and privacy for passengers. But a key concern for airlines is whether or not these new solutions will require a costly and lengthy seat recertification process. Aerofoam Industries, which manufactures aircraft seat cushions, covers, plastic components and machined aluminum, has unveiled a removable seat blocking device called The Sentinel that it believes will not require any additional certification.
First, some details about The Sentinel, which Aerofoam calls a "functional accessory". It comes in two configurations. The so-called Sentinel Shield includes a clear plastic divider that attempts to provide a sanitary space between passengers while ensuring that cabin crew members can effectively visualize and communicate with passengers. The second configuration, the Sentinel Standard, does not include the divider partition, yet still provides a physical object to more formally block the seat. Some might liken the Standard to an easily-removable version of a Eurobusiness-style middle seat console.
The Sentinel Shield and Sentinel Standard utilize the existing seatbelt as the sole securing mechanism, allowing for rapid seat reconfigurations, if needed. Both designs also provide adjoining passengers with additional cup holders and recessed compartments which Aerofoam says "are perfect for stowage of mobile devices, wallets and other loose items passengers typically keep within close reach". And they feature a foam pad integrated into the bottom of the console.
"The foam is upholstered in a synthetic leather to avoid any unnecessary friction between the cover material and the console. This upholstered section also provides branding opportunity for the airline customers by allowing them to choose different trim colors," Aerofoam technical sales and program manager Nathan Barrett tells Runway Girl Network.
Asked if the full seat would need to undergo certification again with the console installed, Barrett says, "No. Since the original design of the TSO (technical standard order) seat is in no way being altered or modified, we believe there is no additional authority certification required. Some carriers may choose to perform their own tests, but that is at their discretion. Our device is properly and safely secured using the existing seat restraint system, which is certified to withstand much greater loads."
In Aerofoam's estimation, the divider should also not affect passenger egress in the event of an aircraft evacuation. "Our divider is placed in a position that allows passengers of all body types to safely egress from the window seat," he notes.
Moreover, Aerofoam designed the device with contact injury in mind. "In our concerted product testing we have found that our design should be able to handle any expected turbulence. The optional divider has a polished and blunted edge which would not injure a passenger during egress, or accidental movement," says Barrett. "Other materials used in the design have been flying on multiple air carriers and have previously passed flammability testing. The materials are designed for human interaction and pose no additional safety risks."
Head impact should also not be a concern, notes the Aerofoam executive. "Since the seat which has our device installed will be blocked and unoccupied, HIC is not applicable. Our design does not in any way modify the backshell of an existing seat structure." In that sense, the Sentinel Shield differs from, for instance, the PlanBay seat separation kit conceived by French company EarthBay.
There is debate in industry about whether plastic isolation screens for seats can do anything to help stop the spread of communicable disease or if they simply address the perception of a safer living space on board. "The best impediment to the spread of communicable diseases is the public's adherence to the CDC and governmental guidelines. We have confidence that we have created a device that will assist the airlines and passengers to do exactly that," says Barrett.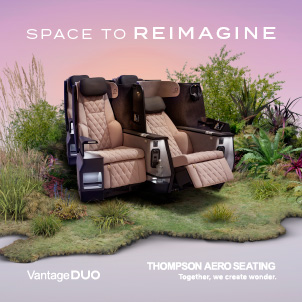 He continues, "All the components of our system can be cleaned and sanitized. The addition of a physical blocker in a seat can promote greater social distancing in a very tight enclosed space. Unfortunately, there is no foolproof solution when it comes to air travel, but we believe we are assisting the traveling public as well as air carriers with a product that can help ease the tension of flying during these difficult times."
In addition to blocking middle seats and providing an isolation screen between two passengers, the Sentinel Shield could be used to block aisle seats so that passengers traveling together – in their own "bubble" – could be seated in their own living space in a seat triple, or indeed a quad on a widebody aircraft.
"If the airline chooses to offer this option it would work perfectly. The Sentinel is removable and attaches solely with the seatbelt. Airlines would have the liberty to choose any configuration they desire. For example, an airline with a 4 pax economy layout would be able to choose exactly which seats they'd prefer to have this device," says Barrett.
A California-based manufacturing company with a high degree of product design capabilities, Aerofoam counts Delta, WestJet and a bevy of prominent aircraft seatmakers as customers. It believes it is uniquely positioned to understand and design around aviation-specific concerns such as materials and ease of fabrication.
"With a vertically integrated operation, our design team is able to adapt and configure the Sentinel to any airline brand identity in record time, including those operators utilizing multiple seat models, aircraft, or cabin layouts," says Barrett.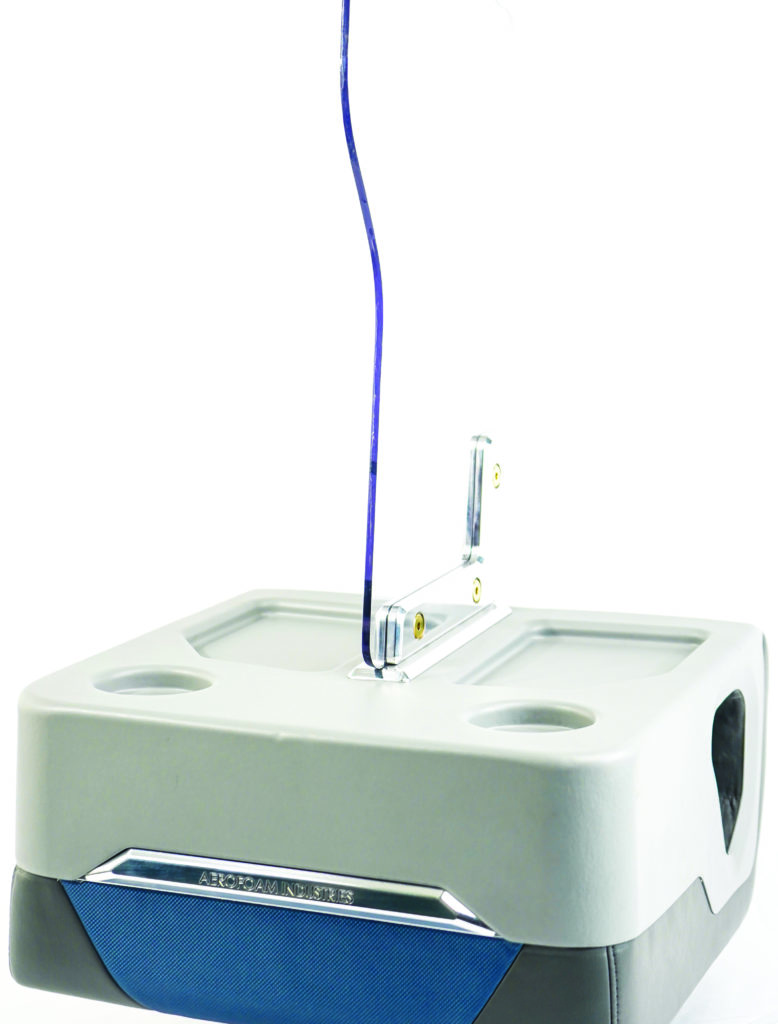 All images credited to Aerofoam Industries
Related Articles: