Airbus has launched an internal initiative to ensure that the future of air travel is "not only comfortable but also safe in terms of viruses in the cabin", company vice president cabin marketing Ingo Wuggetzer revealed today. Working with airlines, the European airframer is studying adding antibacterial coatings across aircraft interior surfaces, employing more touchless technology on board, and using cabin IoT data in creative ways to promote passenger wellness.
During a FlightPlan live broadcast event, hosted by Inmarsat and the Airline Passenger Experience Association, Wuggetzer said the new internal initiative aims to "rebuild trust" in air travel by creating ideas and using technologies to find solutions to the challenges posed by the crisis.
On board aircraft, Airbus sees "a lot of opportunities" to better disinfect cabins, said Wuggetzer, including with the use of ultraviolet light, fogging, and "heating to a certain extent". Mirroring hospital practices to disinfect surfaces is feasible, he suggested. "But we'll find out from airlines together what's the best way to proceed."
Last year, Airbus showcased how it is designing self-aware cabins for the near future. Elements like smart overhead bins, equipped with sensors and connected to an aircraft IoT system, can save time at boarding, identifying space available at a quick glance, the airframer highlighted at the time. Today Wuggetzer noted that sensor-laden overhead bins can be touchless. So too can more lavatory fixtures on aircraft. He also said IoT cabin data can be used to inform passengers if there is queuing in front of lavs.
Lav queue information could be presented to passengers over the onboard IFE system, whether wirelessly to their own devices or to seatback screens, allowing passengers to better time their visits to optimize social distancing on board.
Inflight wellness was already having a moment before COVID-19 changed air travel as we know it, with Panasonic Avionics last year proposing a number of solutions on this front.
Participating in today's FlightPlan event, Panasonic Avionics director of innovation and design Sebastian Petry said sensors on board can do a lot to inform crew about passenger wellness, as they can "help us understand passenger discomfort". For instance, if a passenger is not feeling well, sensors can notify the flight attendant who can then "support the passenger with the right potential remedies".
"Think about how that supports the brand and safety of everyone," he urged.
Onboard systems such as these, which monitor passenger health, might prove attractive to airlines in a post-pandemic environment. But Lufthansa previously told RGN it was concerned about the potential of opening itself up to litigation if it were to actually provide health information or advice to passengers. It will be interesting to see if the COVID-19 pandemic has changed airlines' view on this issue.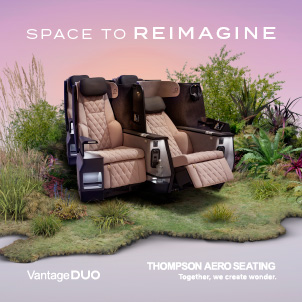 Airbus, meanwhile, also sees a potential opportunity to extend antibacterial coatings to other surfaces in the aircraft. Wuggetzer said today that Airbus already uses such coatings "in all our lavs", but that this could be extended to sidewalls, seats, and plastic surfaces.
Seating can also be adjusted, added the Airbus executive. "Can we have more cocooning? Can we have some devices that separate you from the environment? All of those ideas, up to air filters in place, contribute to really deliver a clean aircraft environment that people can feel secure and safe in the future." Italian seatmaker Aviointeriors has already presented some new seating concepts that incorporate thermoplastic dividers.
Like many aviation stakeholders, Airbus together with airlines is also studying changes to the on-the-ground passenger experience. Under this new internal initiative, it is eyeing the best methods for sanitizing airports, promoting social distancing, and conducting pre-flight health checks.
Creating global guidelines, especially for medical checks, will be key going forward, according to some observers. SimpliFlying CEO Shashank Nigam suggested during the FlightPlan event that perhaps a dedicated Transport Health Authority could be created, with guidance from ICAO and IATA.
Related Articles: