As the coronavirus pandemic pummels air travel demand and airlines respond with reduced schedules, passenger experience (PaxEx) stakeholders are coming to grips with the knock-on effect to their businesses. Inflight connectivity provider Gogo put some color around the challenges during its fourth quarter and full-year earnings conference call on 13 March.
Traffic on some of Gogo's largest commercial airline customers was already down by 15% in the days before US President Donald Trump's travel ban went into effect for foreign nationals flying between the US and the 26 Schengen countries in Europe. But in an internal memo to employees, shared last night by CBS, Delta Air Lines CEO Ed Bastian said the carrier intends to slash 40% of its capacity in the next few months, and will park 300 planes.
Delta is Gogo's largest customer. Gogo also counts British Airways, Japan Airlines and Virgin Atlantic as clients, among others. Its commercial inflight connectivity division will "obviously be negatively impacted as airlines take planes out of service. How badly we're hit will depend on what happens with load factors and how long travel is impacted by the virus," said Gogo CEO Oakleigh Thorne.
Commercial aviation is responsible for roughly two-thirds of Gogo's revenue, noted financial services firm William Blair. Quite simply, the significant reduction in passenger volumes will negatively impact the number of passengers who pay to use Gogo's inflight Wi-Fi service, it said.
But Gogo's Thorne also warned of a reduction in IFC equipment installations on aircraft.
We also anticipate that there could be a reduction in installations and equipment revenue as airlines cut back on capital spending, though perversely that could help cash flow if those are older, subsidized equipment deals.
His concerns are certainly warranted. Bastian's internal memo details a planned reduction of capital expenditures by at least $2 billion for the year, including a delay to aircraft modifications.
Gogo has roughly $204 million cash in hand in the bank. It is "taking immediate steps" to preserve liquidity, said Thorne, including the CEO's decision to defer his 2019 bonus until "happier times".
The Chicago-headquartered company is not providing guidance for 2020. It is the second PaxEx firm to take this approach; in-seat power leader Astronics Corporation last month rescinded 2020 guidance due to the protracted grounding of the Boeing 737 MAX. The coronavirus pandemic and the MAX grounding are proving to be a one-two punch to the aviation industry.
One small potential upside for Gogo is that the business aviation sector might benefit from the commercial airline capacity reductions. While Gogo has seen no impact on its business aviation connectivity unit yet, Thorne noted that some analysts believe current events "could drive demand for private aviation in the future".
Gogo may face other headwinds, however. The company alerted investors that Delta might opt for a multi-source IFC supplier approach as it moves to offer free inflight Internet browsing to passengers, which will greatly increase the amount of satellite capacity required.
Thorne said plainly:
Under today's turnkey contract, we subsidize the installation of Delta's jets, we charge Delta's passengers for connectivity and then we pay Delta a royalty for access to their aircraft. In a free model, that will completely change and assuming we come to terms, Delta would pay for equipment and pay us for passenger connectivity. However, as Delta will now have to pay for connectivity, Delta will want to make sure it is getting competitive pricing and competitive service levels, hence may want to move to a multi-supplier model for domestic mainline aircraft.

Though we would not relish the idea of having a competitor join us at Delta, we coexist with competitors at most of the airlines we serve, and we compete very well on price and customer satisfaction at those airlines. We expect demand to grow significantly when Delta goes free and though no agreement has been reached, we and Delta expect us to grow our revenue from Delta in a post-free environment, even when you include the impact of some planes potentially moving to a competitor.

We further believe that Delta's move to free service will be a catalyst for other airlines to provide free service, thereby driving more demand for our product, and more revenue and cash flow for Gogo.
He noted on the call that Gogo has contracts with Delta that run through 2027 and while there are some "outs" in those contracts for Delta, Gogo has arguments as to why they wouldn't be valid. "It's a negotiation."
The Gogo CEO added that the turnkey contract currently in play with Delta does not contemplate a free model and Gogo wants to "get out of hemorrhaging cash on equipment sales".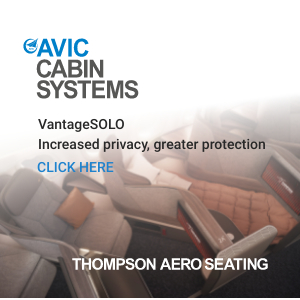 Delta in 2017 confirmed it was evaluating different proposals to provide inflight connectivity on its 100-strong order for A321neo twinjets, as reported by RGN Premium at the time. When pressed by an analyst on yesterday's call, Thorne said Gogo is "planning to be linefit on the A321 when the first one rolls off at Airbus" in reference to the firm's 2Ku satcom solution.
The first A321neo for Delta is scheduled to be delivered to the carrier in the fourth quarter of this year. It will be configured with 194 seats, including 20 in first class, 42 in Delta Comfort+ and 132 in the main cabin.
In addition to high-speed Internet, the aircraft will feature a new first class seat designed by Recaro and Factorydesign, as well as Delta's in-house wireless seatback IFE system. Passengers should also expect expansive, 25%-larger bookshelf-style overhead bins and full spectrum LED cabin lighting, according to Delta.
Related Articles: