Air Canada's sparkling new Signature Suite at Vancouver International Airport opens today, providing a comfortable oasis for qualifying business class travelers.
The lounge is located above Air Canada's Maple Leaf Lounge by Gate 52 in Pier D, and can be accessed via stairs or an elevator, the latter being essential for passengers with reduced mobility.
Consistent with the airline's policy for Signature Suite entry, international business class passengers will not be able to enter the unique lounge using points. A ticket must be purchased.
"The suite is accessible and fully complementary to Signature Class customers, excluding upgrades and point redemption programs," an Air Canada spokesperson told Runway Girl Network after your author received a tour of the space as a guest of the airline.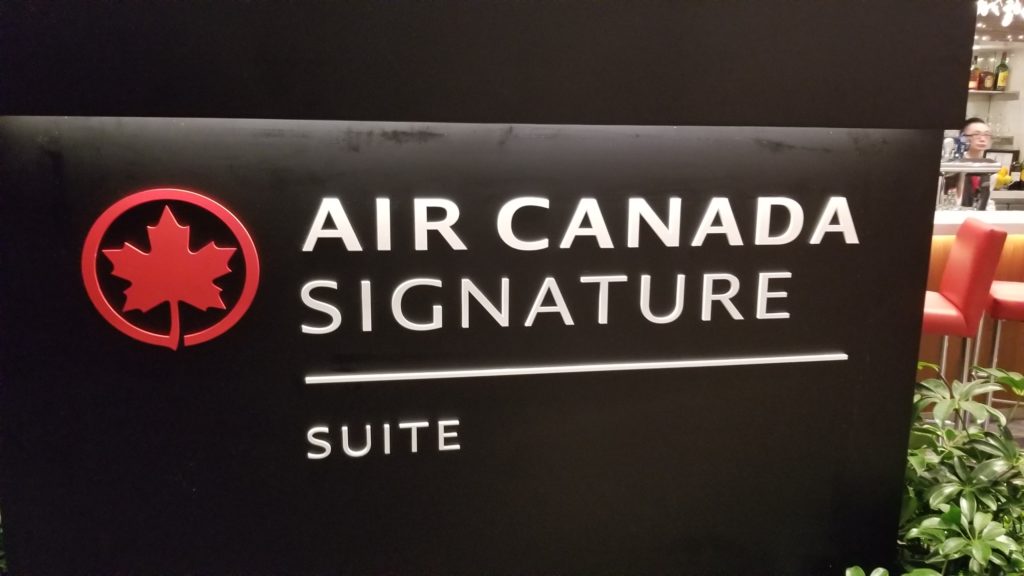 Passengers who ascend the stairs can take in the beautiful overhead Cloudscape chandelier, created by acclaimed Toronto design firm Moss & Lam. Once inside the doors, they are greeted by a Signature Suite employee.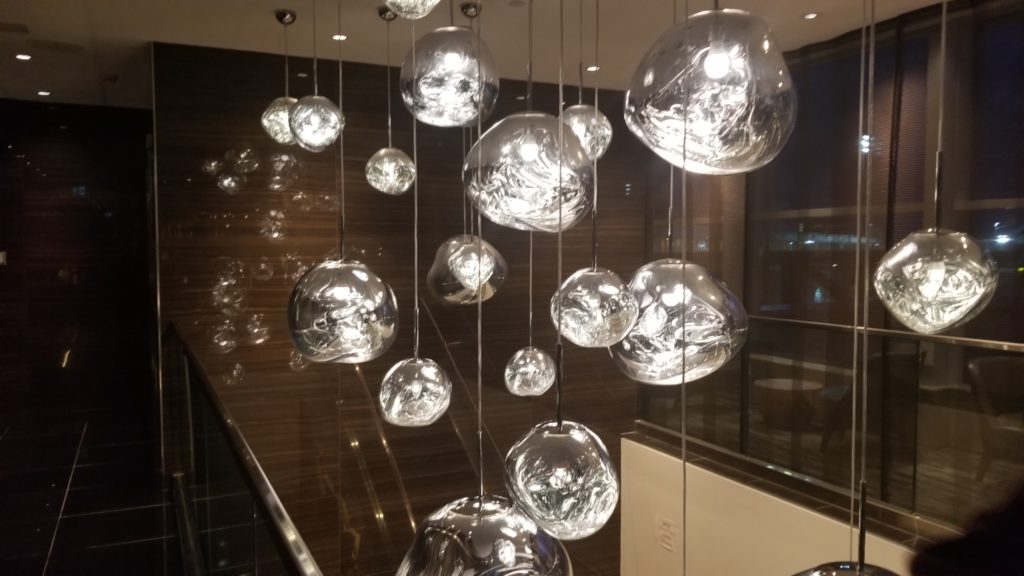 There are multiple seating styles and arrangements, including small tables to accommodate dining for two, booths and large tables for groups. The seating is akin to what you might find in a luxury restaurant.
A private room with a table and chairs can accommodate an impromptu business meeting before a long flight. Leather chairs in an array of deep fall colors provide a comfortable setting to work or relax while enjoying a gorgeous view of the Rockies. On a clear day, it can take your breath away.
Air Canada brought nature into the à la carte dining room setting by featuring a large greenery centerpiece. Aviation enthusiasts can also enjoy some plane spotting with a great view of the ramp.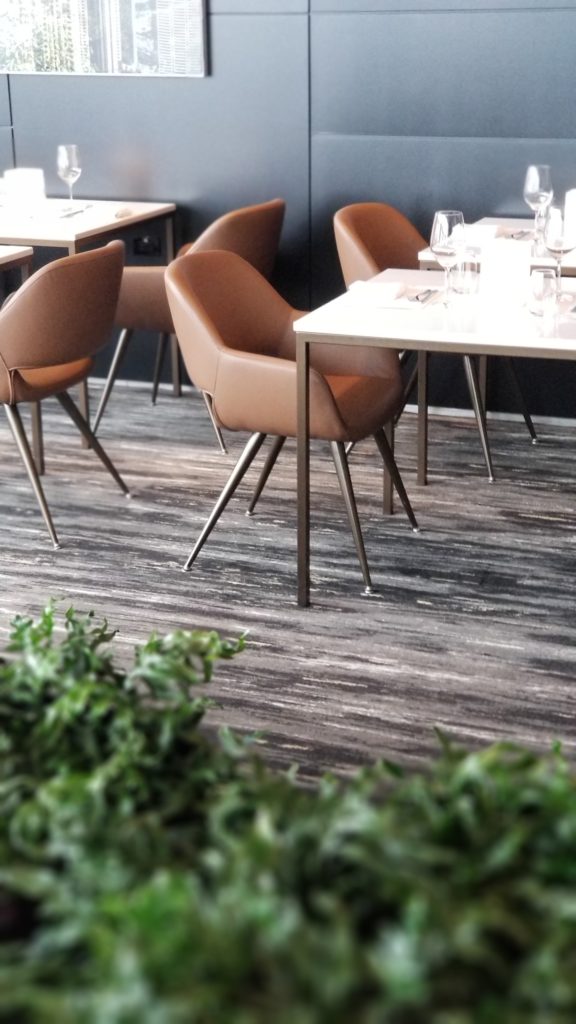 A unique and exclusive dining experience is on offer, as the menu was designed by celebrated culinary expert Chef David Hawksworth.
A collaborative partner with Air Canada on its inflight dining menu for international business class, Hawksworth has also guided caterers at the carrier's Maple Leaf Lounges and the Signature Suite in Toronto, which opened in 2017.
A buffet featuring meats, cheeses, salads and various hot meals, including curry, was on offer in Vancouver.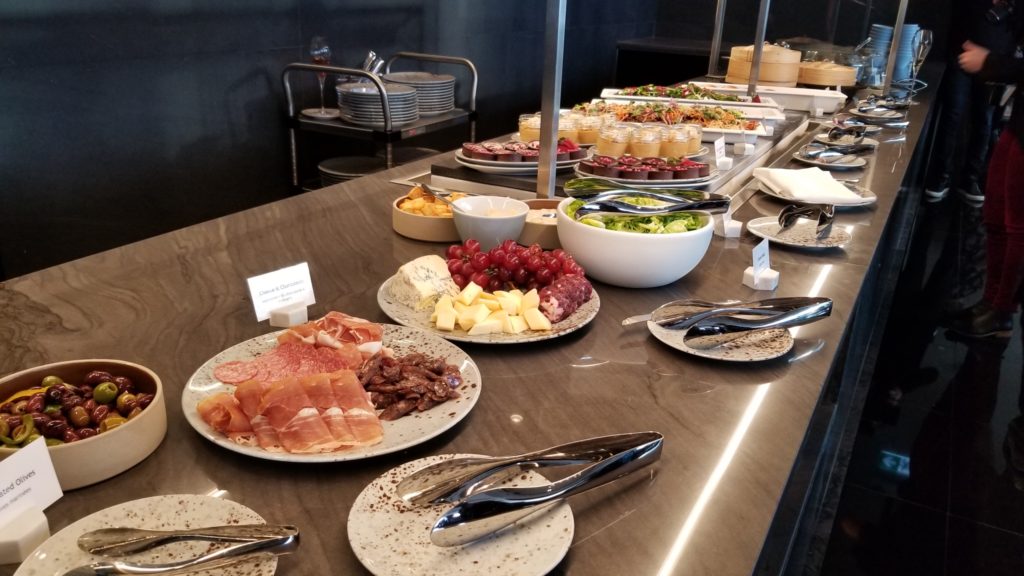 But for those who want the à la carte experience, there is a nice selection of meal choices. The menu identifies vegan options but your author was unable to get clarity on whether the menu can accommodate other dietary needs such as gluten- or dairy-free.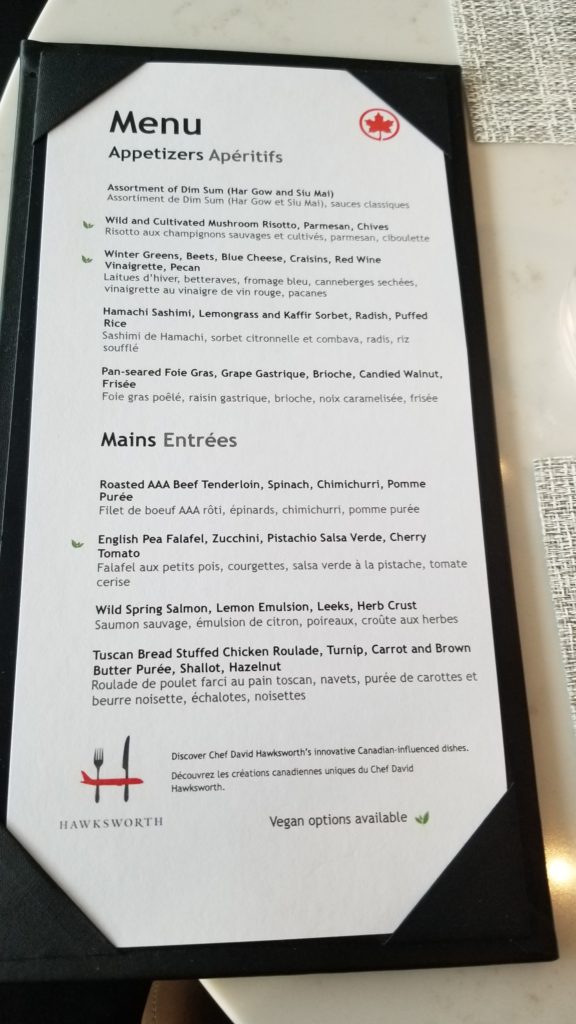 A full service bar on premises offers a unique drinks menu that includes custom cocktails, local wines and beers, and Moët & Chandon Champagne both in brut and rosé.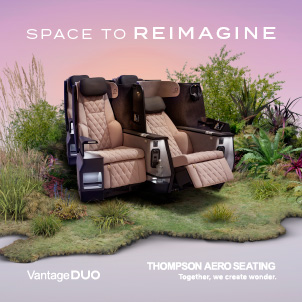 As with its popular Maple Leaf lounges, Air Canada focused on maintaining a Canadian feel to the Signature Suite space.
Tlupana Blue Marble, which was quarried on Vancouver Island, and locally produced bronze wall panels feature prominently.
"Throughout the Signature Suite, a heightened sense of quality is conveyed through the display of noble materials, the intricacy of its details and craftsmanship, as well as proudly showcasing Canadian craftsmanship, furnishings and art," said Air Canada in a statement.
The Signature Suite is an elite experience that respects Canadian heritage through design and culinary delights. Air Canada has succeeded in creating an exclusive atmosphere for its most discerning customers.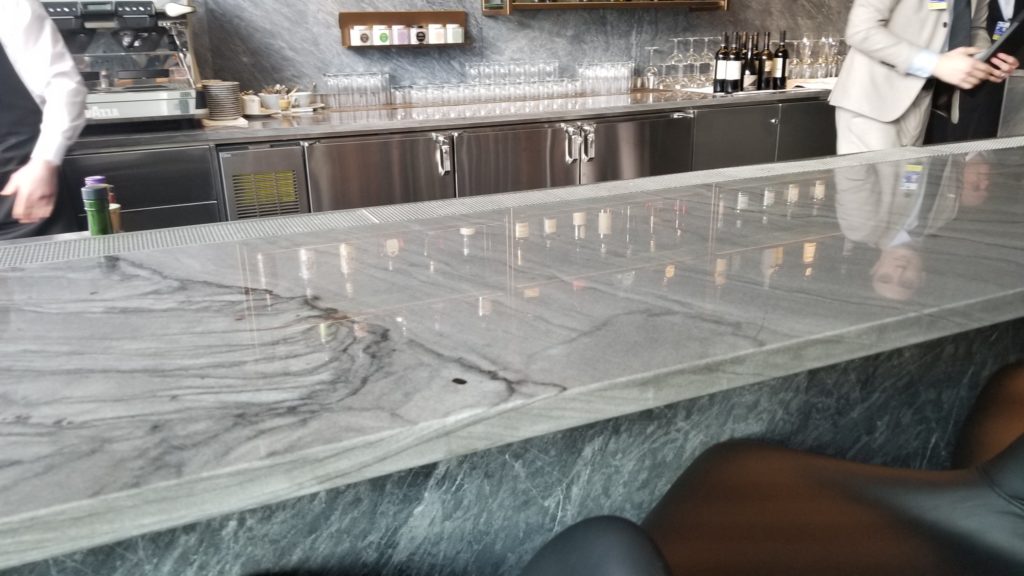 Related Articles: