Global cabin integration and avionics specialist Diehl Aviation is challenging the notion that "external waste bin access" for aircraft lavatories is a novel concept in the aviation industry.
"Aisle-serviced lavatories have been an option for nearly all Diehl-produced lavatories (flying on Airbus aircraft, notably A320, A330 and A380) since decades," Diehl senior manager cabin integration Sebastian Tivig told Runway Girl Network after ST Engineering debuted a prototype update to its Arc lavatory with cubbies that slide out into the aisle so they can be serviced without entering the lav.
Tivig said airlines can choose Diehl's "external waste bin access" functionality during the definition phase of their aircraft interiors.
"The availability of the option is dependent on the lavatory's position inside the aircraft, other items around it and personal preferences. It can be retrofitted, if so required," he noted.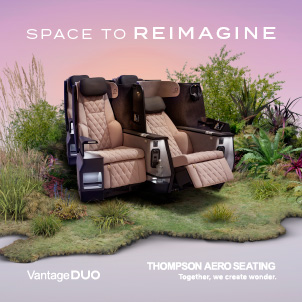 Diehl did not provide immediate comment on whether it believes the ST innovation, specifically, treads on its IP.
But Tivig noted: "I guess Diehl is a bit of an odd player, since we've been delivering lavs for all Airbus aircraft (except A350) since over two decades – and since Diehl has bought the company plus the 'old IP' from Airbus, our oldest designs are now from the early 80s (the A310).
"And indeed we had the exterior waste bin access on that airplane, in the 80s."
For its part, ST proposes Arc for the A350, as well as for the Boeing 777 and 787. During its interview with RGN at the Singapore Airshow, ST cautioned that its updated Arc innovation is still conceptual.
Image credited to Diehl Aviation
Related Articles: