Alaska Airlines found itself in a weird position when it acquired Virgin America. Virgin operated an all-Airbus fleet that Alaska didn't want, featuring inflight products it also didn't want. On top of that, Virgin was the global launch airline of the Airbus A321neo, which has its own new cabin amenities. A few years have gone by and Alaska is well on its way to completely erasing the Virgin America brand and product, with the A321neo now featuring Alaska's latest and greatest PaxEx.
On a recent New York JFK to Seattle flight, I had the opportunity to see what PaxEx products Alaska used to replace the seatback screens and on-demand food ordering system that were the hallmark of the Virgin America experience. The nearly new A321neo (less than a year old) was the last of 10 deliveries originally slated for Virgin America, and came directly from the Airbus factory with Alaska's latest hard product already installed on board. Most earlier deliveries were retrofitted to meet the same standard.
I had booked Alaska's Saver fare, which I find to be the most punitive of the "basic economy" options in the United States. Seat assignment was not an option for my booking or even at check-in, unless I wanted to pay $119 to upgrade to Premium Class on top of a $160 fare. Although I was assigned a middle seat, I finagled my way into an exit row windowless window seat at the last second.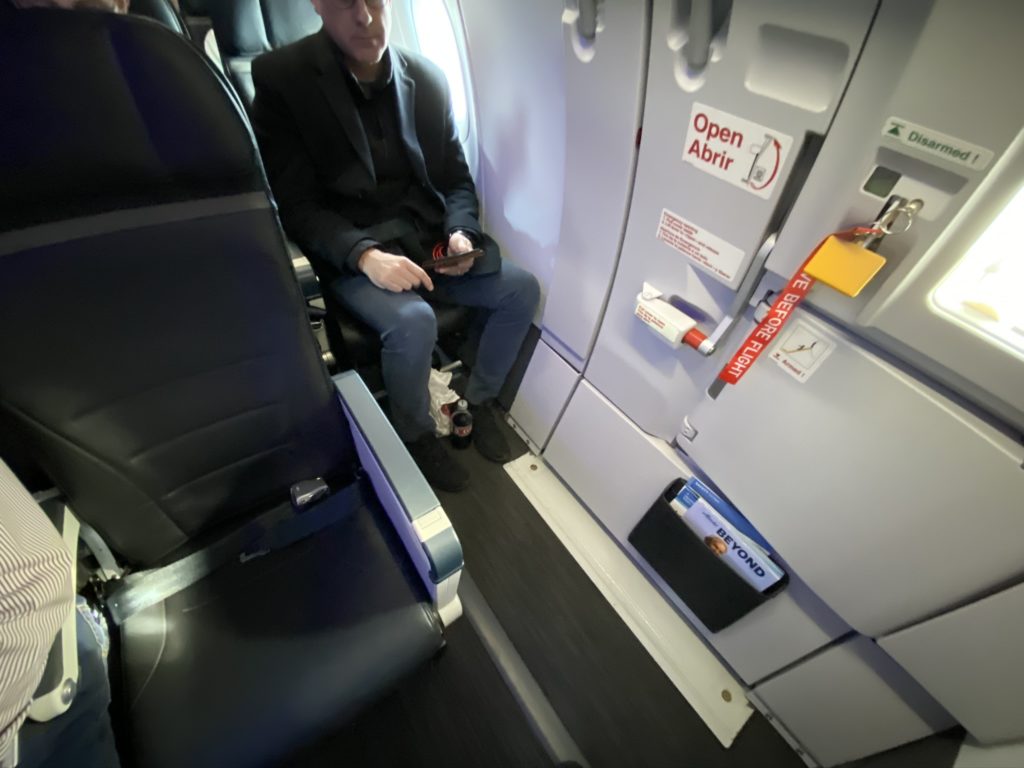 Alaska's A321neo features a seatback device holder and USB port in lieu of the seatback IFE screens Virgin once provided. My exit row seat was located behind a bulkhead, and for this rather long transcontinental flight I was concerned that I would not have the device holder. Thankfully, Alaska added a very sturdy device holder into the armrest-stowed tray table and a traditional power and USB outlet under the seat. Unfortunately, said power and USB ports did not function for the entire flight in my row.
Propped up on that device holder was my trusty iPad, connected to Alaska's "Beyond" streaming entertainment system. Alaska's content catalog remains extremely impressive, featuring hundreds of movies and entire TV show seasons.
I especially enjoyed the fact that Alaska loaded unedited versions of movies, as I try to avoid watching movies that have been meddled with in ways that possibly ruin the movie.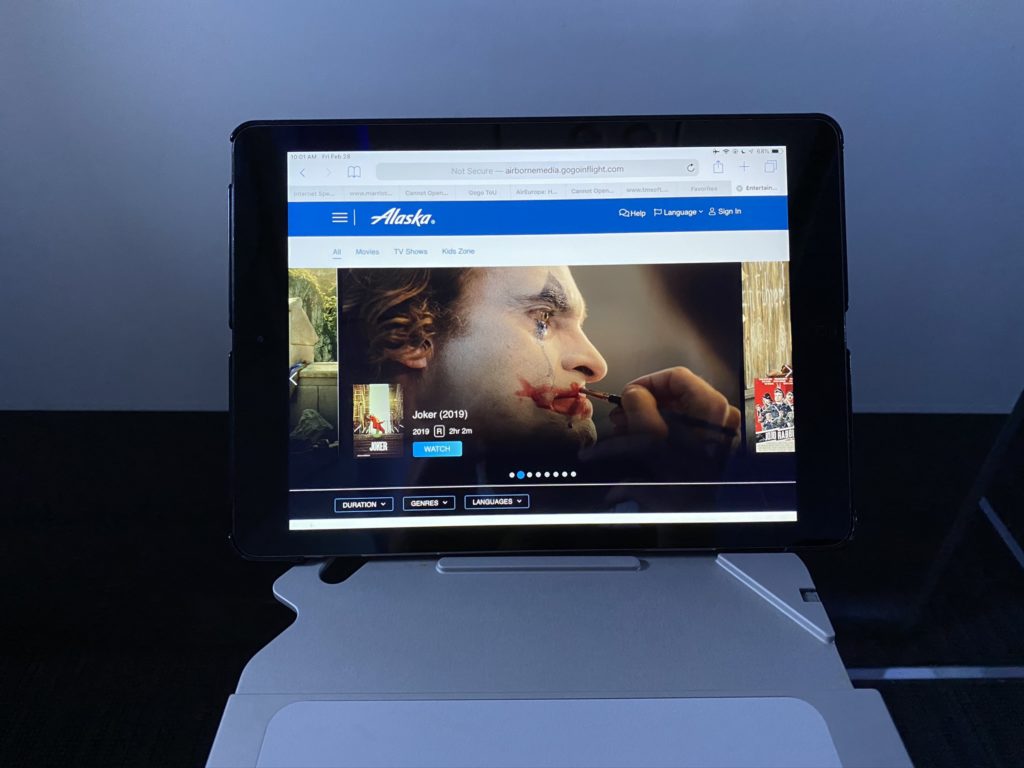 Alaska still uses Gogo's rather clunky app for movie playback rather than baking it into its own app, and I'd like to see that change. The airline also still makes tablets available to rent for $10, though I didn't see any takers.
Alaska is also making good strides on installing Gogo's 2Ku broadband Internet system across its fleet, with all A321neo aircraft now online. 2Ku performed well during most of my flight, with download speeds in the mid-20 Mbps range but with some heavy-handed traffic shaping on YouTube. I was able to watch whatever I wanted after some buffering.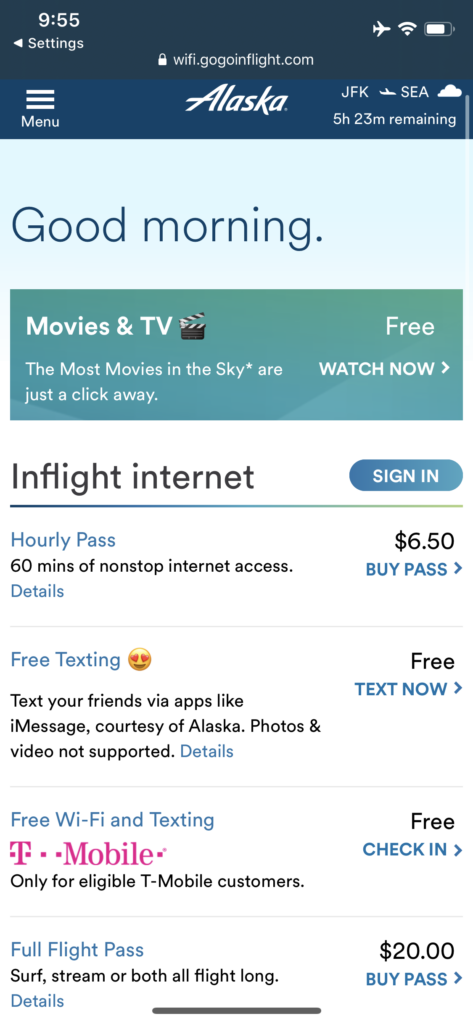 A few days before my flight, I had "reserved" the Sunrise Breakfast Sandwich" via the Alaska app, but reserving the meal didn't seem to actually do anything. It doesn't take payment and the flight attendant wasn't aware of my reservation, so I'm not sure what it does, if anything.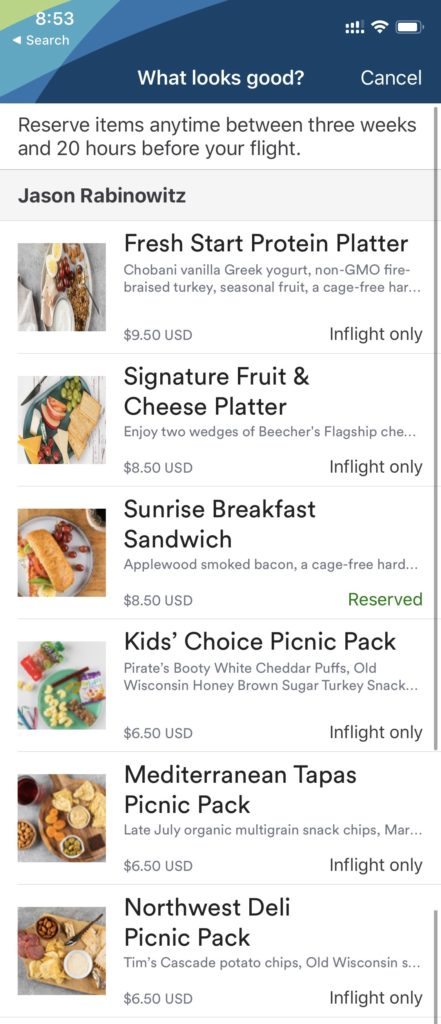 The $8.50 bacon, avocado and hard boiled eggs sandwich was a clear step down from the havarti cheese and bacon breakfast sandwich I had on Alaska a year prior. The price was right, but hard boiled eggs are an odd choice that I didn't care for.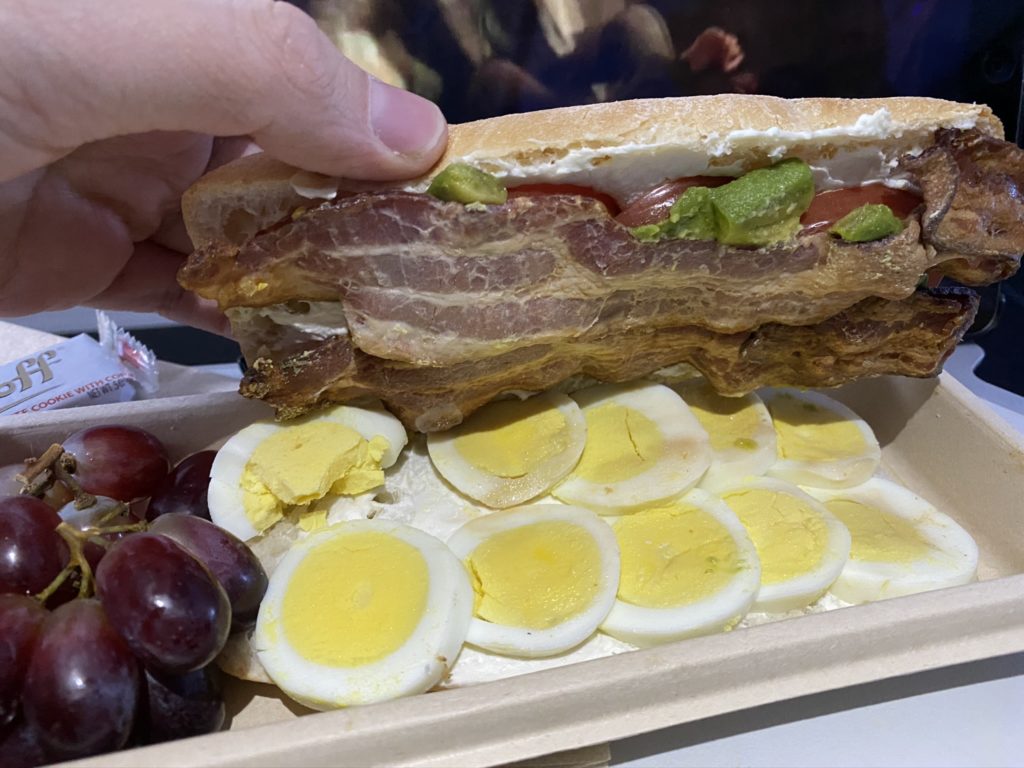 One glaring issue with this aircraft is the size and condition of the lavatories. I cannot stress enough how small these lavatories are. I am an average sized human, but even I struggled to even open the inward folding door to exit the lavatory, and that's downright ridiculous.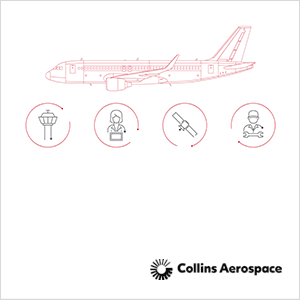 On top of the diminutive size of the lavatory, it featured a few glaring design issues and mechanical issues. The trash bin wasn't labeled at all, leading to crews handwriting "trash" on a sticker placed next to the lid.
The paper tower dispenser is located below the sink basin and is virtually impossible to spot in the tight space, leading to passengers using the (admittedly soft) tissues in the wall mounted unit instead. The wall-mounted unit must have had broken latches, as the entire thing was held together with a liberal amount of what appeared to be blue painter's tape. This was a really bad look for a seven-month-old aircraft.
Alaska boasts that its latest slimline seats feature memory foam comfort. My seat aboard the A321neo may have been a bit more comfy than the older seat, but not so comfy that I really noticed in the moment, in complete candor. At 18 inches in width, the seat is wider than those found on Alaska's Boeing 737s, per the wider cross-section of the A320 family of aircraft. Every inch counts when it comes to living space.
All in all, Alaska's latest hard product is pretty great. Ample entertainment content, fast Wi-Fi and tablet holders make for a nice #PaxEx combo, though, as mentioned, the tiny lavs are tight!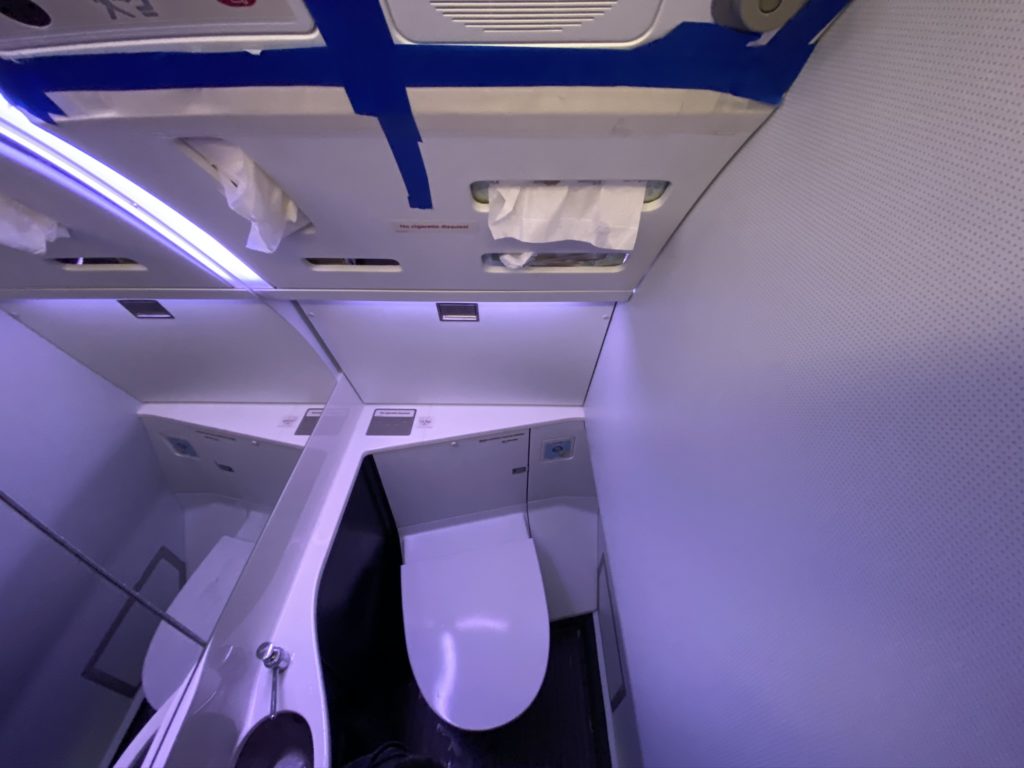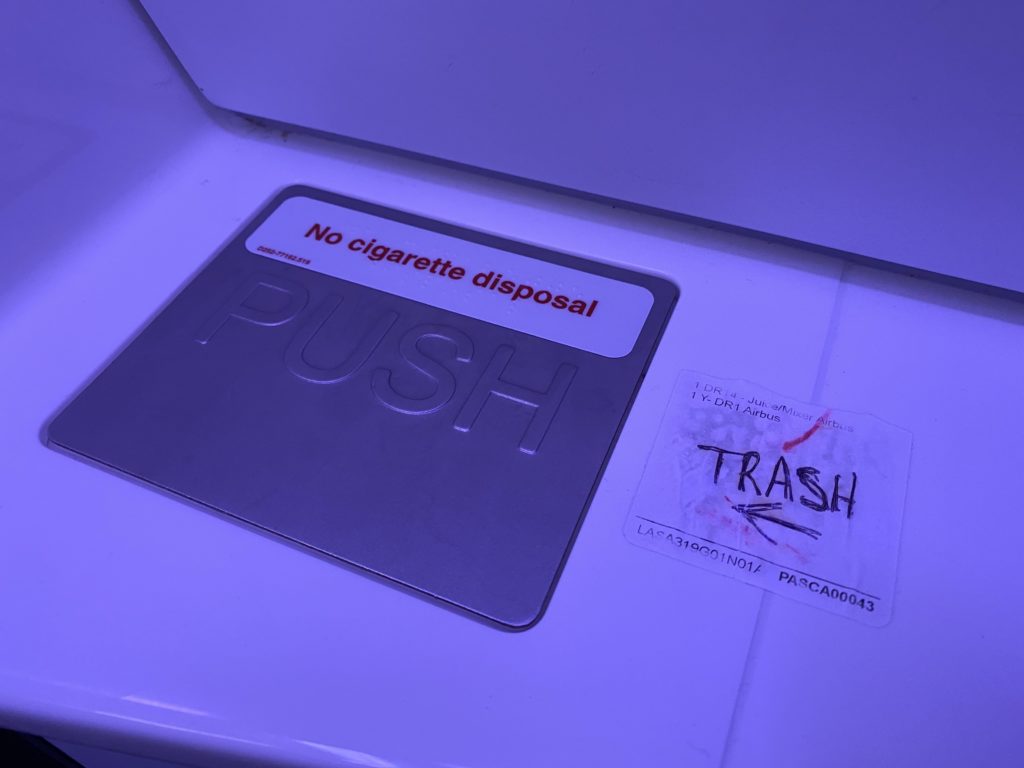 All photos credited to Jason Rabinowitz
Related Articles: