The uncertainty of coronavirus and its impact on aviation might appear worse as airlines quickly retire aircraft fleets. There may be memories of the post 9/11 market when airlines sent aircraft to the California and Arizona deserts.
Initial retirements are American Airlines' Boeing 757s and 767s, KLM's Boeing 747s, Virgin Atlantic's Airbus A340-600s, and likely Singapore Airlines' Boeing  777-200ERs.
These retirements – and any more to come – are occurring after the aviation industry reached a 20-year low of aircraft in long-term storage (in terms of share of total fleet).
Over the last two decades, airlines maximized growth and used older, cheaper assets to fly marginal routes. Aircraft had never been busier even before the Boeing 737 MAX grounding put pressure on the spare fleet.
There were approximately 1,400 aircraft in long-term storage at the end of 2017, according to the latest Airbus figures available. That represented about 7% of total commercial aircraft. Boeing last year said the share had come down even further to a 20-year low.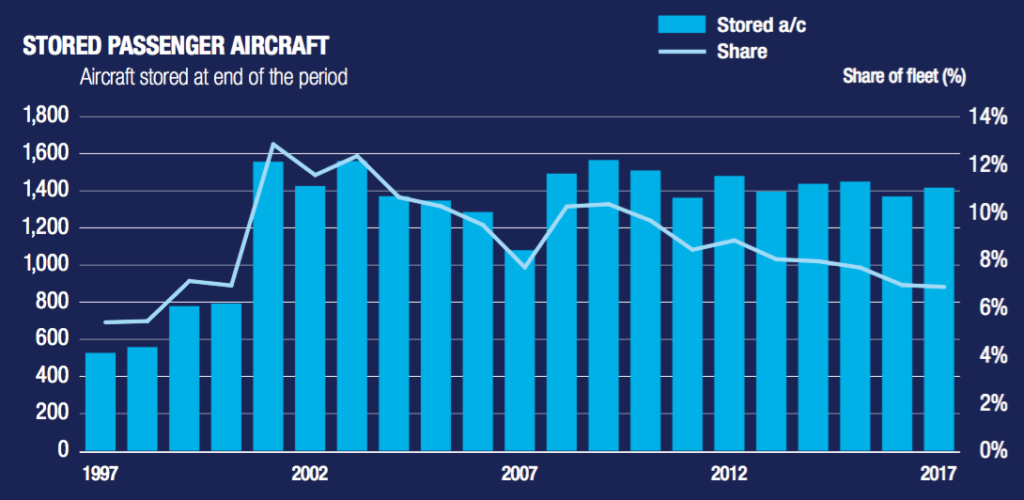 Unlike past crises, aviation entered the coronavirus downturn with strength.
Parked aircraft increased by about 100 in 2003 after SARS and the Iraq War, but came down in 2004. That is partially reflective of parked aircraft being dismantled, but that is also part of the industry's lifecycle.
Before 9/11, the number of stored aircraft increased by 150 between 1998-2000. That grew the share of parked aircraft from 5% to 7%. There were 800 aircraft stored at the end of 2000 but 1,500 at the end of 2001 (12% of the commercial fleet). The post-9/11 environment coincided with changed consumer mindsets and volatile oil.
Some aircraft retirements after 9/11 were unplanned, with aircraft sent to the desert despite recently being repainted or undergoing a heavy maintenance check, usually indicating they will remain in service for at least the medium-term.
Even with recent OEM manufacturing problems (737 MAX, A321neo, PW-powered A321neos) and decreasing aircraft production rates, more aircraft are being built now than in 2001. And unlike the en masse fleet retirements after 9/11, retirements in this downturn so far mostly involve the few aircraft left of already dwindling fleets. An exception is American's 757 and 767 fleet.
Retirements are now less of a fundamental shift and more of an acceleration
KLM's 747s could leave by the end of March 2020. This was previously pegged for 2021 but was creeping forwards: last month at its annual results, Air France-KLM mentioned 747 retirement as a 2020 priority.
Similarly, Singapore Airlines planned to operate 777-200ER flights until May 2020, but its schedules show no -200ER flights after April. SIA has not yet confirmed retirement. SIA in 2012 planned a $78 million retrofit for 10 -200ERs used on thinner long-haul markets, since replaced with Airbus A350s. The -200ERs serve regional destinations.
American Airlines is accelerating retirements slightly faster. It planned to retire 767s, which mostly fly to smaller European markets, by the end of 2021, but they will be grounded in May 2020, American says. The 757s will be retired no later than after the 2021 summer. American originally intended to have 24 757s at the end of 2021.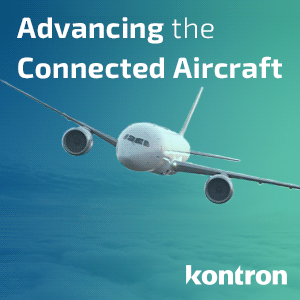 Even though American planned to retire the 767s by the end of 2021, in 2014 it started installing new business seats as part of fleet-wide improvements. The seats were lie-flat but did not have embedded IFE. American later installed Panasonic satellite connectivity on the 767s.
Virgin Atlantic's last three A340-600s were sent to storage in March. The aircraft were retained to cover for 787s grounded by Rolls-Royce Trent 1000 engines, whose repair time has been lengthened and become unpredictable. Virgin's schedules initially withdrew the A340 at end of last October, then December, and then early January.
Delta earlier this month flagged it could accelerate retirement of some older MD-88s, MD-90s, 757s and 767s, according to the Points Guy. Delta is sending widebody aircraft to the desert, but only for temporary storage.
Health outbreaks have not typically produced structural change. Coronavirus may buck this trend. Time will tell.
Image at top credited to Jeremy Dwyer-Lindgren
Related Articles: