Six years ago, Thales first unveiled Avionics 2020, an advanced cockpit concept designed to display open world information alongside information from secured avionics in an integrated manner. Since then, countless words have been written about Thales' vision, which entails managing aircraft in increasingly-crowded skies by exploiting inflight connectivity on a level not yet seen on current-generation flight decks.
But a concept is just that – an abstract idea. A possible plan for the future. To enter the realm of reality, the concept needed a core, or to use Thales' own words, a "brain" capable of keeping pace with today's digital age. This week at a media briefing in Toulouse, for which Runway Girl Network was a guest, Thales unveiled the brain. Known as PureFlyt, the new Flight Management System is what the French multi-national corporation calls "an entirely connected FMS, designed to offer airframers and airlines the best combination of safety, security, and fuel and operations efficiency".
PureFlyt won't be available next year. The moniker Avionics 2020 has proven to be rather ambitious insofar as the timeline for availability of the FMS, specifically, is still roughly five years away. Thales says it intends for PureFlyt to be available both in the retrofit and linefit arena by 2024.
A key part of PureFlyt is that it integrates the FMS with a pilot Electronic Flight Bag (EFB), which accesses connectivity to deliver real-time weather and other performance-enhancing applications. Alternative trajectories can be calculated by the system, ensuring pilots are armed with the right information at the right time.
In the near-term, if a satcom pipe is connecting the EFB, it will likely be powered by L-band satellites, as both Inmarsat and Iridium are approved for cockpit communications and safety services today, and are making gains with their new SwiftBroadband-Safety and Certus solutions, respectively. But if Thales has its druthers, broader-band cabin connectivity pipes will ultimately be employed, perhaps even someday its own FlytLIVE high-capacity Ka-band solution.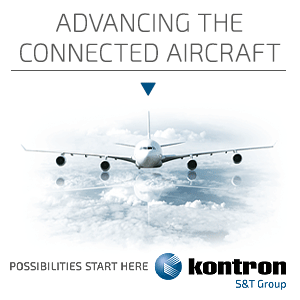 If your first response to learning this news is to ask – what about cyber security? What about the potential for spoofing? You're not alone. When your author tweeted about Thales' news this week, more than a few individuals expressed their concern. Said one: "[It] helps the hackers open a portal to critical aircraft systems…"
Thales, whose FMS systems are installed on over 6,000 aircraft, says it is drawing on its 40-years-worth of air traffic management and FMS expertise to ensure safeguards are in place to prevent attacks. But what if a bad actor manages to circumvent these infosec protections and sends a nefarious command to the connected EFB and ergo the FMS? The pilot will, first and foremost, decide if a suggestion from his or her docked, fully-connected EFB makes sense, say executives with the firm. So the information must first pass muster with the human sitting behind the flight displays. If the message passes the pilot's scrutiny, then it is processed by the PureFlyt FMS, which itself will determine whether it is appropriate. According to Thales, the FMS would block a command that seems suspicious, ensuring an added layer of redundancy.
The EFB is a sort of door, and the pilot and/or the FMS can close that door if something unusual is happening. But the EFB may not be the only door in the future. "Ultimately, the FMS may be able to source connectivity from multiple tracks," says Thales VP, head of commercial avionics Peter Hitchcock. This is the type of ultra-connected and digitalized ecosystem that will be required if commercial aviation ever moves to a single-pilot or fully autonomous future.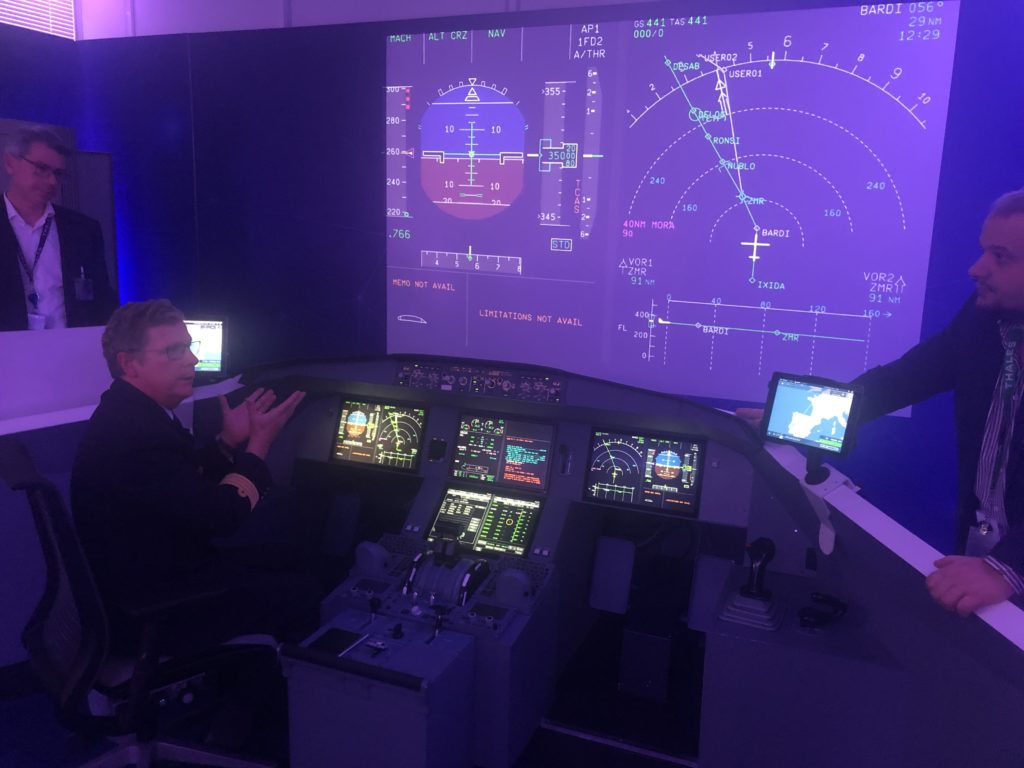 Why introduce this sort of technology in the first place? Shouldn't we keep a more closed loop system on the flight deck? "The point is to close and to manage the security," says Hitchcock, but "be as connected as possible, and secure as necessary."
The reason why Thales believes this approach is necessary is because the global commercial aircraft fleet is forecast to double by 2030, and the use of drones is also set to rapidly grow, so "we will be entering an era in which millions of aircraft movements are recorded each day". Rather than shrink away from introducing open-world data to the cockpit, Thales is gravitating towards it, strategically, with the aid of what it calls "massive testing" involving many pilots and engineers "and artificial intelligence technologies" which have simulated 2 billion test cases – the equivalent of 100 million actual flight hours.
Thales explains in a statement:
One of the core innovations making PureFlyt a game changer in the FMS world is its ability to draw on both onboard and open-world data, such as weather information. By combining the integrity of the FMS and the agility and power of Electronic Flight Bag flight functionalities, aircraft trajectory can be permanently controlled, adapted and enhanced, resulting in optimised flight, decreased fuel consumption and improved passenger comfort.

Cyber-secure by design, PureFlyt has also been designed to be future-proof, accommodating the implementation of concepts such as the Initial 4D (I4D) trajectory management methods currently being researched by SESAR (Single European Sky ATM Research) in the EU and NextGen in the US. By increasing the accuracy of flight in four dimensions [latitude, longitude, altitude and time], the fourth dimension being time, PureFlyt will enable more effectiveness in maintaining optimal distance between aircraft, particularly in the demanding phases of departure and approach.
A fifth dimension – 5D – is aircraft weight, and can ultimately be calculated in-flight via the FMS to enable fuel burn optimization, says Thales.
Thales will work with airline partners to accommodate their choice of EFB hardware and software, though Thales stands at the ready to provide its own Aviobook EFB software, which easily syncs to PureFlyt.
As readers are all too aware, modern EFBs are based on everything from Apple iPads and Samsung Galaxy tablets to Microsoft Surface and Panasonic ToughBook tablets. But peripherals can be built to support EFB docking, charging and integration with the PureFlyt FMS, confirms Hitchcock, and these can be designed to be swapped out if another choice of EFB hardware is made for a flight deck.
To be clear, both the PureFlyt FMS and EFB are using the same trajectory model, though the EFB "has an ease of use factor and a a connectivity factor that we want to profit from", notes Hitchcock. "There's no sense in reinventing an iPad in an avionics world. It would cost a lot of money to do the same job."
Though other Thales executives spoke excitedly about the prospect of ultimately using a secure, segregated channel of broadband cabin connectivity pipes to ensure high-bandwidth applications can be supported, Hitchcock tempered enthusiasm a tad, noting that a lot of standards and regulatory work still needs to be done before we can even consider such a reality. Any true safety services, as defined by ICAO, will continue to be transmitted over approved pipes which include Inmarsat and Iridium satcom. Non-safety data may be moved over cabin connectivity pipes, however, as occurs today in a more limited fashion.
Thales sees its initial version of PureFlyt as the entry point for having deeper conversations with airlines and airframers about what is possible in the future when true broadband connectivity is paired with EFBs and PureFlyt, or even just directly with PureFlyt. Asked if those connections might include Thales' FlytLIVE solution in North America, which boasts Spirt Airlines as its first customer, Hitchcock says coyly with a smile, "We wouldn't connect it to a system we didn't feel was secure." The inference is that FlytLIVE is being built with security in mind, and might make sense for some level of cockpit comms in the future.
Disclosure: The author was a guest of Thales at its media briefing in Toulouse. Thales provided flights and hotel accommodation. 
Related Articles: