Crew member uniforms are a hot topic at present. A number of US carriers have been sued after flight attendants reported having serious allergic reactions to the materials in their new uniforms.
The use of top designers and big name manufacturers have not insulated airlines from these challenges. Delta, for instance, tapped designer Zac Posen and manufacturer Lands' End to deliver its flight attendant uniforms. But its Passport Plum uniform project has turned into Passport Glum, and Delta has announced that a new uniform will be given to attendants and above-wing airport customer service employees by late 2021.
That is why, when airlines roll out new uniforms, Runway Girl Network now poses the safety question. For instance, Aer Lingus has revealed a new uniform for cabin crew, representing the first redesign in 22 years and the 11th uniform in the airline's history. The uniform wardrobe includes 25 redesigned garments in a combination of "Kenmare Green" and "Midnight Navy" colors.
In reference to the safety of Aer Lingus' new uniforms, company director of marketing and digital experience, Dara McMahon, tells RGN:
Our uniforms have been sourced from factories in Europe by our French manufacturer, Cepovett.

Cepovett are a uniform specialist supplying uniforms to airlines for many years. All manufacturing plants used have passed all EU requirements for fabric standards.

The uniforms have been rigorously tested by staff in 'live environments' both in the air and on the ground over a six-week period and no issues were encountered.
Indeed, it was important to Aer Lingus to see the uniform perform well in real situations and in all climates. Crew members were directly involved in the rigorous testing process, providing feedback on comfort and whether the clothing was suitable for the extended hours of the job and the many tasks they have to complete, including key safety functions.
"We held extensive workshops with cabin and ground crew," says McMahon. "Feedback was very clear in terms of a need for a practical yet stylish uniform. They are going to work, so practical elements like trousers for women were incorporated."
Allowing crew who identify as female to finally choose a pants option is important, not only because skirt/dress-only limitations are retrograde, but because there are safety considerations to wearing hose in safety-critical situations. Impressively, Aer Lingus' new maternity wear also includes both a skirt and trouser option.
"Obviously all materials must be inflammable, skirts and dresses have to be fitted, excess material that could get caught during an emergency situation is not allowed. So you won't see any A line dresses or full skirts," explains McMahon. "Flat shoes must be worn during the service on board, again for health and safety. Traveling to and from the aircraft, there is now a choice of heel size. This is for comfort rather than an EU or airline authority regulation."
As a result of the testing, tweaks were made "and we are confident the uniform will perform very well", she says.
The uniforms were designed by Louise Kennedy, the iconic Irish fashion designer who also worked on the airline's previous uniforms in 1998. They incorporate modern trends, while still benefiting from Kennedy's elegant and understated styling.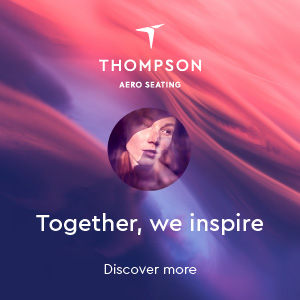 While the design of the new uniforms was put out to tender, the airline's previous experience working with Kennedy influenced her selection for the project. "Louise Kennedy was chosen for a combination of continuity, reliability but above all a confidence that she would deliver a stylish and modern uniform," McMahon tells RGN.
A lot has changed in the 20 years since Kennedy designed the last uniforms, including advances in materials, which were incorporated in the new design. Women's blouses are now non-iron, and men's shirts are easy-iron.
"Innovation in fabric over the last 20 years has meant that fabrics like polyester have been transformed. Polyester is used for the women's blouses making them very comfortable and practical. The incorporation of elastane into fabric means there is stretch in the trousers," says McMahon. "Great progress has been made with sustainable materials and progress continues. This means that reorders can be even more sustainable going forward."
To mark the launch of the new uniforms, the airline released a set of digital stickers for Instagram featuring cabin crew waving and interacting, and even doing the floss.
RGN asked McMahon about the inspiration behind the campaign. "We are a modern international brand and we want our crews' personalities to shine through," she says. "This has been achieved by relaxing hair styles and makeup options, from no, little or full makeup. The choice is theirs. The addition of the Instagram stickers just adds to these personalities shining through." It's a progressive stance from the flag carrier of a country which is adopting progressive ideals.
Other leading Irish fashion names who worked on Aer Lingus uniforms over the decades include Irene Gilbert, Neillí Mulcahy, Digby Morton, Ib Jorgensen and Paul Costello. Aer Lingus' first-ever uniform, designed by Sybil Connolly in 1945, was a military-style rich brown suit which was later produced in a green fabric from 1948.
Related Articles:
Featured image credited to Jeremy Dwyer-Lindgren