KLM's Boeing 747 fleet, not unlike others around the world, is on its way out. With less than ten remaining, and plans to discontinue the jumbo on KLM service to Los Angeles this summer, the window to catch this aircraft easily from the US west coast was closing. I couldn't let the opportunity pass, and a good off-peak fare sale in October sealed the deal. I booked an outbound to Amsterdam in economy, which we'll look at today.
Thanks to my Delta Platinum status the economy seat was bumped up to Comfort+ after booking, which was an unexpected surprise. From what I can tell, there's no distinguishable difference between the two, aside from legroom.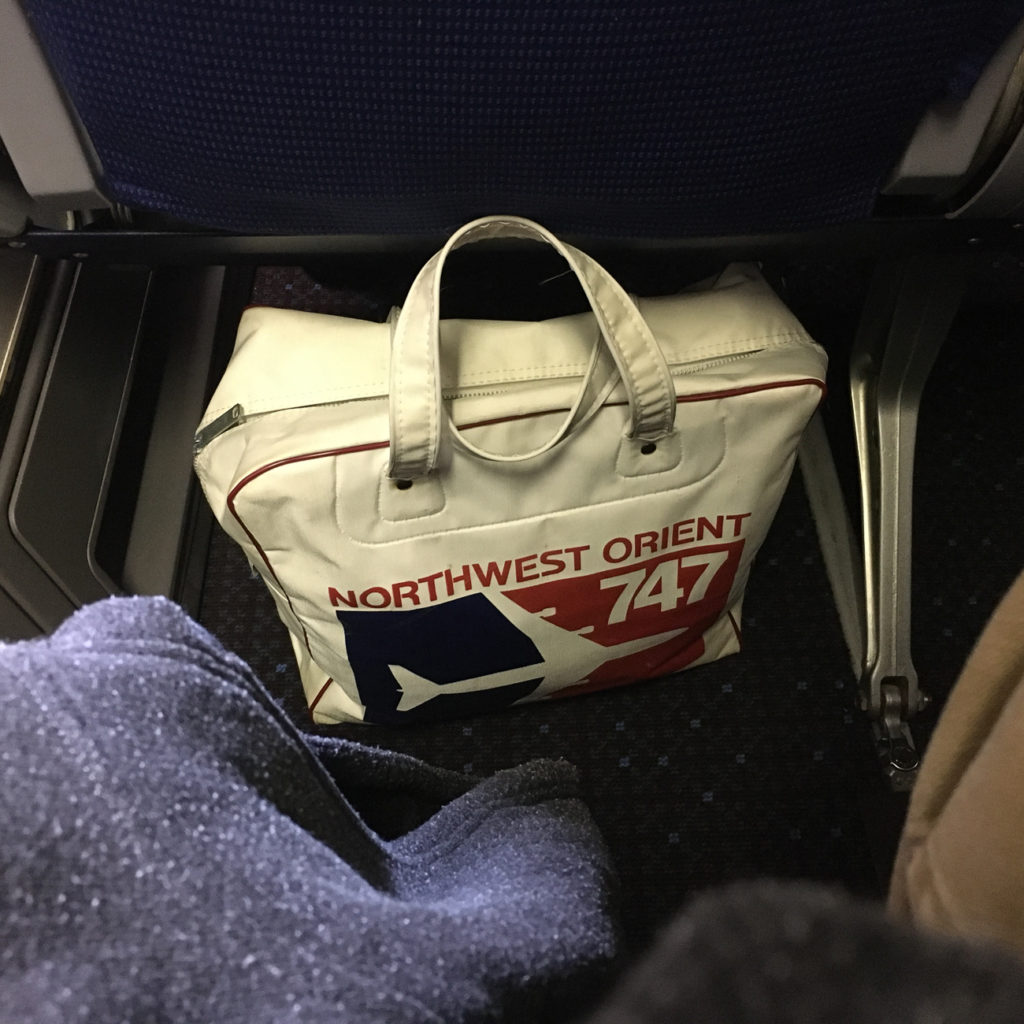 Finally the day came, and the big blue widebody pulled into the gate at the still gorgeous Tom Bradley International terminal. Comfort+ passengers board in group two. I settled into 17A, the very last row of the section, and immediately began drooling over the view out the window with that beautiful wing and those four engines…and, uh…ahem.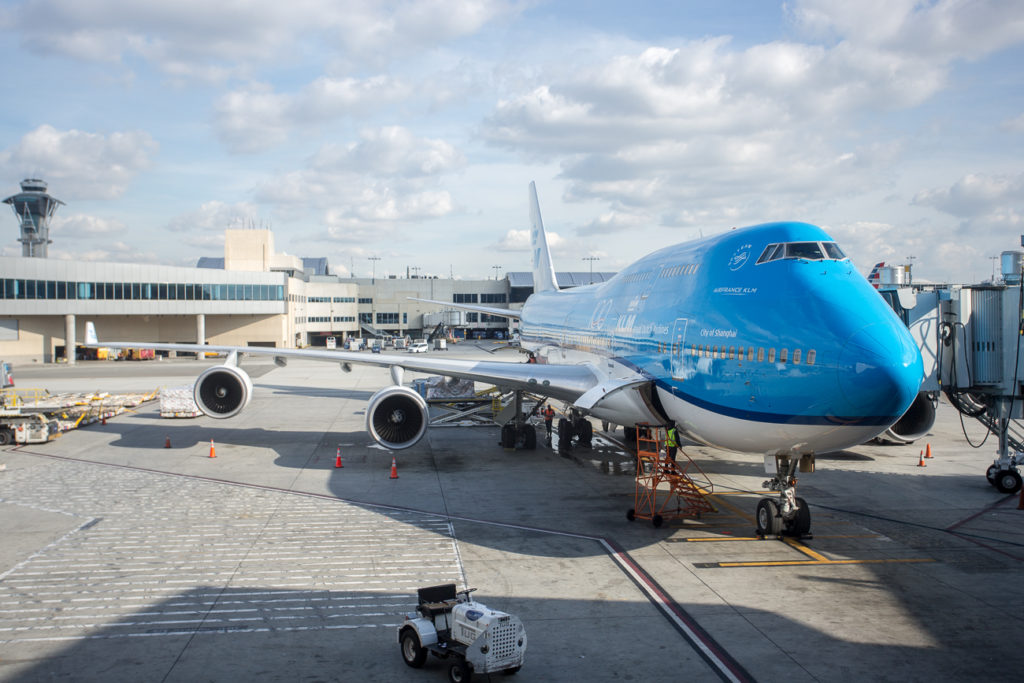 The cabin is arranged in a 3-2 layout. If that strikes you as peculiar, that's because it is. This particular 747 is a combi, with two-thirds of the main deck holding passengers while the back third holds cargo (often horses, though not today). That cuts down severely on galley space, which KLM chose to rectify by installing a large length-wise galley on the right side of the plane between the first and second doors. The result is a small cabin with a very private feeling.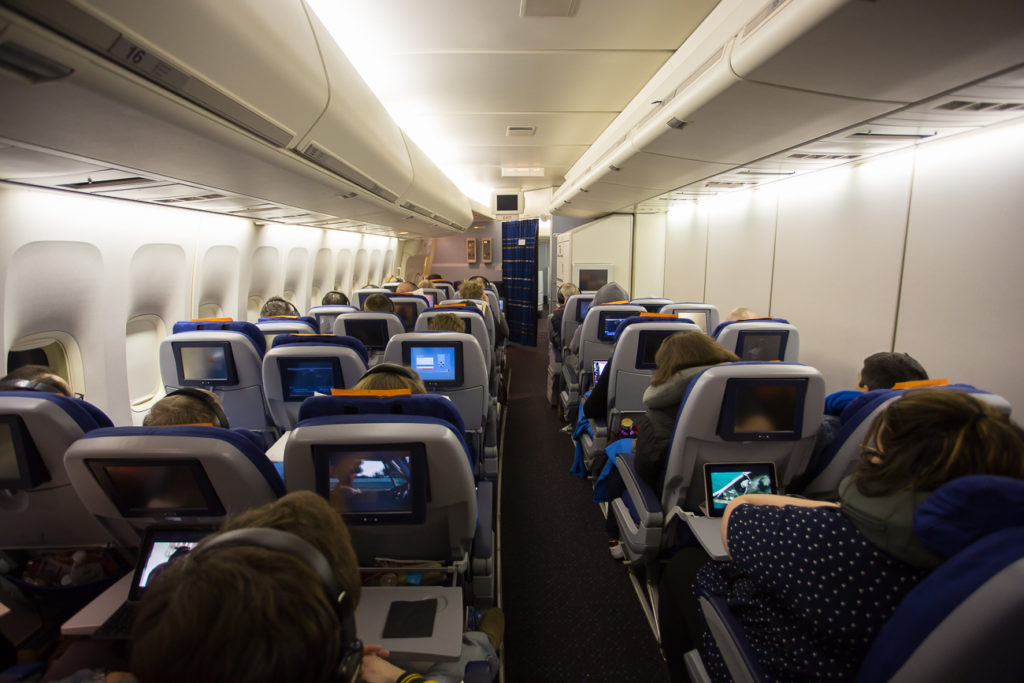 The airplane is remarkably clean, but it's clear that KLM stopped investing in the passenger experience on board some time ago. While business class was previously updated, economy was left untouched. This turns out to be a mixed bag.
On the plus side, the seats are old-school comfortable with generous padding and even more generous recline. This made a big difference when it came time to sleep, and it was noticeably better than the KLM Boeing 787-9 I flew on a few years ago. The increasingly elusive overhead air vent was also a nice plus, and its sheer blasting power was a welcome improvement over the mere wisps others provide.
On the downside, there are no power ports. This hurts for such a long flight, doubly so since KLM offers streaming content directly to your device. The AirFi service works wonderfully with multiple options for TV and movies, and your personal device is almost certainly much better than the aged seatback screens. But if you don't have a power bank you may be out of juice by the time the credits roll on the first movie.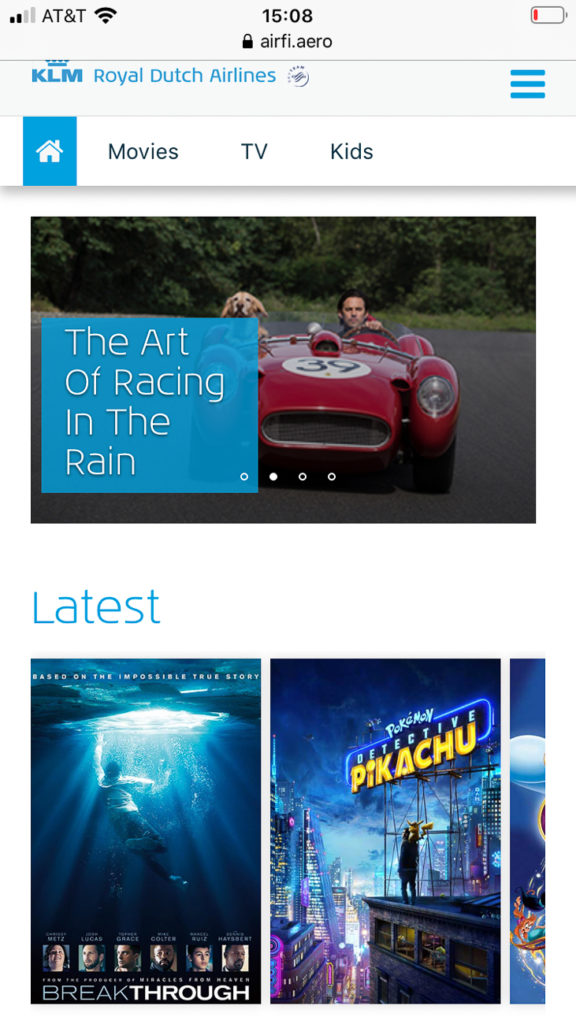 Without power, you're left with the seatback entertainment system, yet another mixed bag throwback to #PaxEx days of yore. Like most older systems it is terribly dim, and on daytime flights the shade must be shut in order to see anything. The low resolution doesn't help either. It is also in an annoying 4:3 aspect ratio instead of the modern 16:9. That said, the dark screens were unexpectedly fantastic on a red-eye, making the cabin much darker and less contrasty than it would have been otherwise
Viewing options were surprisingly on the modest side, with maybe a few dozen choices per category. I expected more. The airline provided headphones, which I needed thanks to having stupidly left mine on an earlier connecting flight (godspeed, little buddy). For free headphones I was pleasantly surprised at how good they were.
The system is controlled via a tethered remote that tucks into the armrest. Despite its age, it worked fine. It was best left hanging out, as it was otherwise easy to bump into with your hip, and hit buttons you didn't intend to. Another fun blast from the past, the backside of the remote was at one time a seat-to-seat phone, though KLM had disabled it.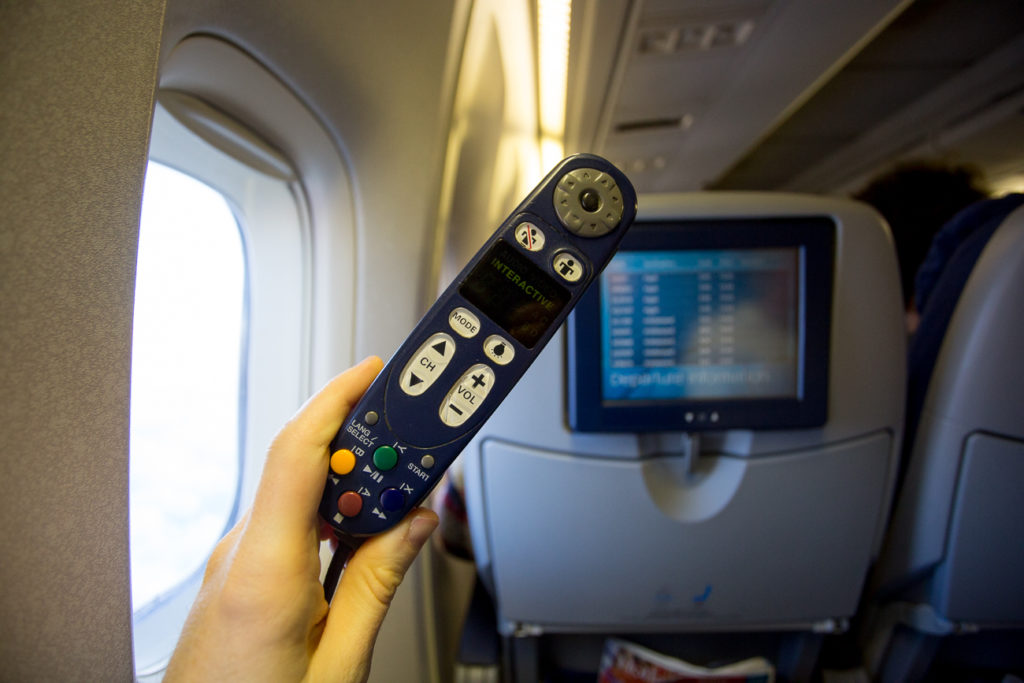 Like most intercontinental flights there were two meal services, a dinner shortly after departure and a breakfast not long before arrival. No menus were provided. The vegetarian pasta dish was better than expected, anchored by a delightful chocolate brownie. Breakfast, which frequently disappoints in every class of service, was quite good with a well-cooked cheese omelet. A stroopwafel snack was provided mid-way through the flight for those still awake.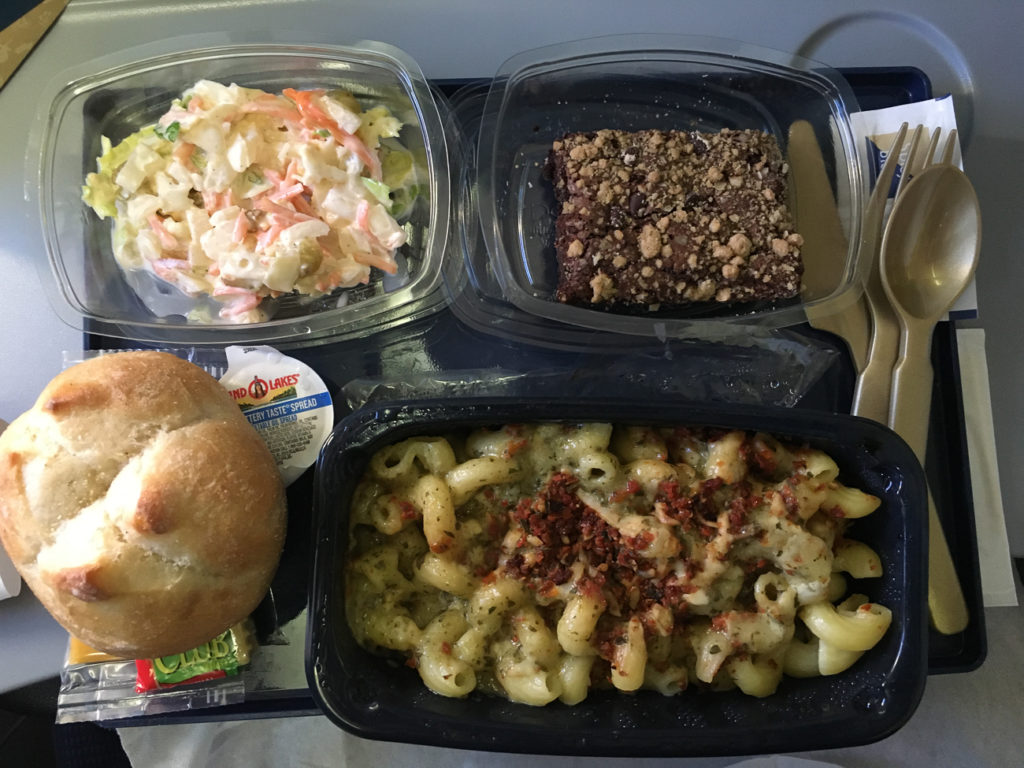 The crew were friendly and engaging (I had a few great chats with them mid-flight), but I expected a bit more presence in the cabin with water, coffee, etc – something I've found to be common on most airlines. Maybe I just slept through them.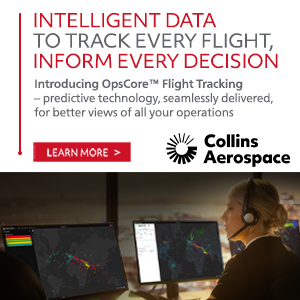 The flight landed in a sunny Amsterdam only a hair late, and offloaded quickly.
From a non-AvGeek passenger experience perspective, I can't say I'd recommend it. Had the airline installed newer IFE screens and power ports during the last refit – or frankly just one of the two – I'd almost certainly be writing a different conclusion. But it didn't, and for a flight time of nearly twelve hours, the lack of amenities is glaring versus the competition and even its own fleet. Which I guess will be a moot point soon, at least in LA. But a handful of other cities will continue to receive the jumbo for up to another year, including New York JFK.
From an AvGeek perspective though, the combi was great fun and absolutely worth it. It has a handful of unique quirks that lovers of the plane will enjoy finding, from the purser station to the unusual crew rest location and more. And the view from 17A, watching those Krueger flaps come out on arrival…oh my. So great. If you've can swing the time and the money, I highly recommend it at least once.
Everybody else? Maybe pass.
All images are credited to the author, Jeremy Dwyer-Lindgren
Related Articles: