With fiber optic cable business poised to grow in aviation, some stakeholders see a strong case for fiber-to-the-screen embedded IFE to make a comeback. Global Eagle owns all the intellectual property of Lumexis, the defunct supplier which introduced a fiber-to-the-screen "FTTS" entertainment system to the market with flydubai as its premier customer. Now Global Eagle tells Runway Girl Network it would welcome industry participation as it evaluates possibilities for using the Lumexis IP.
Asked by RGN if Global Eagle owns the fiber-to-the-screen intellectual property, and if it has any interest in re-launching the product or licensing the IP to interested parties, company VP marketing & communications Duncan Abell stated:
Global Eagle does indeed own all the IP that Lumexis owned, including IP related to the FTTS entertainment system.

Since the untimely demise of Lumexis we have entered into several licenses to utilize the IP we acquired, principally in an effort to provide continuing support to then-existing customers of Lumexis.

We continue to regularly evaluate our options with respect to the best utilization of the Lumexis IP, in particular given our unique knowledge of the effort it took for Lumexis to develop such an innovative product and how essential the Lumexis IP is to utilization of a fiber based IFE system.

We plan on continuing to conduct our regular evaluations of potential product offerings utilizing the Lumexis IP and would welcome industry participation in those evaluations.
Lou Sharkey, who held roles as president and COO at Lumexis, recently explained to APEX why FTTS was groundbreaking, noting that it "offered heretofore unheard-of bandwidth" and "effectively future-proofed the IFE system, since airlines could upgrade the system using the fiber network installed without ripping out wires and replacing them".
When Lumexis suspended operations in mid-2016, many observers in industry believed Global Eagle would make a natural acquirer, given that then-Global Eagle chairman and investor Ed Shapiro of Par Capital also chaired Lumexis. Global Eagle and Lumexis also worked together on a connected IFE project at flydubai.
But while the ultimate arrangement did not lead to a continuation of Lumexis' operations (a number of former Lumexis executives bounced to Delta Flight Products), Global Eagle is nonetheless uniquely positioned as owner of the FTTS IP should fiber-to-the-screen make a comeback. According to fiber optic cable companies CarlisleIT and W. L. Gore & Associates, there are clear reasons why it should.
"Video on demand requires significant bandwidth so the use case for fiber is strong in applications like IFE. Pushing fiber further from the electronics bay to the screen offers significant advantages in available bandwidth and weight of the installed system," CarlisleIT director of product management, integrated products Jeff Behlendorf told RGN when asked if the firm believes there is a role for a fiber-to-the-screen IFE solution in the market. TE Connectivity is understood to have provided the fiber for Lumexis' FTTS system.
Lumexis' premier customer, flydubai, was a vocal fan of the IFE system. Image: flydubai
As part of a broader interview about fiber applications in aviation, Behlendorf noted that "extant Ethernet standards define transmission speeds to 100 Gbps (gigabits-per-second) across fiber and draft standards will soon see specifications for 400 Gbps and 1 Tbps (Terabits-per-second) across fiber. This huge bandwidth headroom across a single cable will allow system designers enormous flexibility, bringing things like high-resolution video signals across simplified network architectures in IFE, CMS, avionics and other aircraft systems."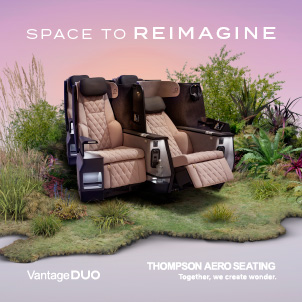 There are other benefits to fiber, noted the CarlisleIT executive. "Fiber optic cable is also not susceptible to electromagnetic interference (EMI) and is practically immune to signal crosstalk which precludes the need for heavy shielding and cable isolation. This further reduces installed weight and offers installation flexibility and safety, especially as more high-frequency and high-powered cables are also being integrated into future aircraft platforms."
Like CarlisleIT, Gore naturally has a vested interest in seeing FTTS-type IFE systems make a return. But product manager, aerospace fiber optics Jeremy Moore suggested as part of a wider interview that Lumexis might have just been "a little bit too early" for its time. "And I think now we are starting to see people really get into the realms of speeds that require fiber optic cabling." 4K IFE could help drive that push.
"I wouldn't be surprised if there was ultimately a fiber-to-the-seat solution again. To me that just seems to make sense to minimize how much space you are taking up within the seat. And there's also a lot of concern about EMI immunity as well [for IFE]," he said.
Related Articles: