David Bartlett, who until recently served as chief technology officer of Panasonic Avionics, is not discussing the reason why he has left the inflight entertainment and connectivity (IFEC) giant, telling Runway Girl Network he has "no comment on my departure" after PaxEx.Aero broke the news.
In a statement forwarded to RGN, a spokesperson for Panasonic Avionics said: "We can confirm that David Bartlett left Panasonic Avionics in January in order to relocate closer to his family. We are grateful for the important role David has played in the evolution of our company in recent years, and we wish him well for the future."
His exit comes roughly two months after Panasonic Avionics named Ken Sain as chief executive officer. Previously with Boeing, Sain succeeded Hideo Nakano, who had served as CEO since 2017.
Sain arrives at Panasonic Avionics after the Lake Forest, California-headquartered firm has experienced some challenging years. It had to pay hefty fines to the US government to resolve FCPA charges. It faced complaints from disgruntled inflight WiFi customers. And notably, at the end of 2018, Southwest said Panasonic and the airline had made the "mutual decision" to end their business agreement for inflight entertainment and connectivity.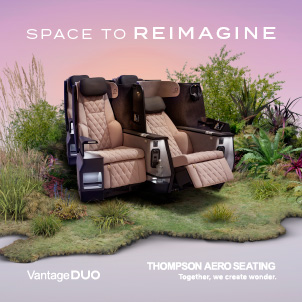 Panasonic Avionics' decision to hire executives from outside the close-knit IFEC world, including former GE chief technology officer Bartlett in August 2017, was also a source of internal complaints in certain quarters of the firm.
In the summer of 2019, Panasonic laid off some of its engineering staff in Orange County – as much as 5%, according to a source. Asked about the driver behind the cut, and whether it was part of a broader restructuring at Panasonic, a company spokesman told RGN on 16 July 2019: "As a professional business entity, we at Panasonic Avionics must, and regularly do, review and evaluate our organizational needs, to ensure that we have the appropriate skills and resources necessary to most effectively respond to the needs of our customers.
"Given the competitive nature of our industry we don't publicly discuss the details of staffing plans, however, it's worth highlighting that as Panasonic Avionics continues to grow and evolve, we are actively hiring, and investing heavily, in the areas we have identified as most valuable to our customers. Our current and former staff are of the utmost importance and we don't take any staffing changes lightly. Panasonic's standard practice is to provide such impacted individuals with transition support and severance benefits in excess of industry standard."
Panasonic is known for producing high-quality inflight entertainment systems. During Bartlett's tenure, its avionics unit placed renewed emphasis on software. The company's new Arc e-commerce and moving map solution has been shortlisted for a Crystal Cabin Award.
Related Articles: