If 2019 was the year of "Flight Shame", 2020 may just be the year of "Flight Redemption" as airlines big and small roll out (or at least, publicize) new sustainable initiatives aimed at either reducing carbon emissions, minimizing onboard waste, increasing efficiency or all three.
Qantas raised the stakes last month with its bold announcement to reach net zero carbon emissions by 2050. (The rest of the aviation industry has committed to halving its contribution to CO2 emissions from its 2005 levels.) The airline group, which includes Jetstar, Qantas Link and Qantas Freight, will double the number of flights being offset, cap their net emissions from 2020 onwards and invest $50 million over the next decade to build a sustainable aviation fuel industry. Additionally, Qantas is expected to replace its Boeing 747 fleet with Boeing's more fuel efficient 787 Dreamliners. Jetstar will also begin using re-engined Airbus 321neos next year as well.
Ethiad and Boeing announced a new eco-partnership last month to transform a specially-themed 787 Dreamliner into "The Greenliner" (not to be confused with this proposed fuel cell powered aircraft.) The Greenliner will test new products and technologies aimed at reducing carbon emissions. It will make an inaugural test flight in January from Abu Dhabi to Brussels where it will aim to be 20% more fuel-efficient than other Dreamliners in the Ethiad fleet. Overall, the two companies will inject about $215 million into this green endeavor.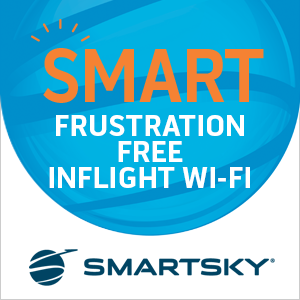 Scandinavian Airlines, meanwhile, has introduced new food packaging on its flights that will save up to 51 tons of plastic per year. This is part of the airline's larger goal to have 100% sustainable materials on board for passengers by 2030. Beyond that, SAS will begin flying eight Airbus A350s in late January. This fuel-efficient aircraft reduces carbon emissions by 30% and the noise footprint by 40%.
In an innovative approach to improving its environmental credentials, Air New Zealand has removed individual plastic water bottles from its Business Premier and Premium Economy cabins, and begun testing edible coffee cups in-flight.
These vanilla flavored, leakproof cups from Twiice, a New Zealand company, will be used to serve coffee and desserts to passengers. Air New Zealand has already switched to plant-based cups on board and in its lounges and is aiming to remove 55 million single-use plastic items from its operations
Finnair, which completed two flights from San Francisco to Helsinki over the summer using a biofuel mix of 12 percent (made from cooking oils in California), is focusing its onboard eco-efforts on recycling and reusing all PET-plastic items. Slippers found in the Business Class amenity kit as well as the Nordic Kitchen salad box are both made from recycled plastic bottles. All waste produced at Finnair's Helsinki Airport operations is either recycled or converted to energy. Unused amenity kits are saved for the next flight while unused items from the amenity kits are donated to charity. Additionally, passengers can offset their flights by purchasing biofuel through the airline's Push for Change program.
On the heels of announcing that all its 331 flights would be carbon neutral, low-cost carrier easyJet recently hired a sustainability director, Jane Ashton, who previously worked in a similar role at TUI Airways. Similarly, IAG which owns British Airways, Iberia and Aer Lingus, has announced it will offset its UK domestic flights in 2020 while investing $27 million to replace its fleet with more efficient aircraft.
In the United States, JetBlue has begun using electric vehicles for its ground operations at JFK Airport, while American Airlines is aiming to source 2.5 million gigajoules of cost-competitive renewable energy by 2025. For its part, United Airlines tested out a zero-waste cabin service, and Delta Air Lines flew the first of 20 carbon-neutral flights over the summer.
As more and more airlines go public with their green initiatives, spurred on no doubt by a little friendly competition to win passengers' affection, there's a better chance for actual change. And we can all get on board with that.
Related Articles: