During the IATA Global Media Days in Geneva, airlines, industry suppliers, and other experts came together to present the case for sustainable aviation solutions that focus on cutting carbon emissions and waste, rather than on taxing aviation or limiting growth.
The half-day of dedicated eco-aviation presentations, which followed policy discussions on the previous day, were part of a concentrated response by IATA to the 'Flygskam' flight shame movement, which is gaining ground in Europe and raising an important dialogue about the future of our planet.
It was notable that as these events were taking place, Swedish activist Greta Thunberg was being honored as TIME's "person of the year" for her courage and conviction. If anything, it shows that the merit is well earned. She and other young activists have put the climate crisis center stage and pushed the conversation to action.
Airlines are concentrating on their messaging. As Alexandre de Juniac, Director General and CEO of IATA told European reporters in a roundtable briefing, "We have been responsible for not saying what we are doing. We have a nice story to tell."
The first element of this counter-Flygskam messaging offensive is to put the focus 0n the culprit: carbon. "Flying drives prosperity. It is not the enemy," said de Juniac. "Cutting carbon must at the forefront."
Aviation has been working to reduce its carbon emissions through decades-long programs to slash fuel burn through weight savings on aircraft components and the purchase of more fuel-efficient aircraft.
Carbon emissions 'per passenger carried' have declined by more than 50% since 1990, with an annual fuel efficiency improvement of 2.3% over the period since 2009, according to IATA.
The problem is that growth must be supported by ongoing reductions in emissions. While there will be more aircraft flying, they will need to produce far less carbon. This will not happen without a series of investments and changes in policy, each of which comes with a unique series of challenges.
One immediate strategy is to offset the carbon that aviation will produce in its operations through investment in environmentally beneficial programs. The trouble with carbon offsets is that they need to be vetted. Otherwise, it's just money changing hands without evidence of environmental benefits.
ICAO's Carbon Offsetting and Reduction Scheme for International Aviation (CORSIA) will monitor the integrity of the climate programs that carbon offset purchases support to ensure that they are effective and sustainable. It is expected to deliver carbon-neutral growth on international flights starting next year, and to raise approximately $40 billion in financing for climate programs.
Sustainable aviation fuels (SAF) could contribute significant reductions – at least 70% – in carbon emissions to support growth.
But while production of SAF is advancing to ensure a steady supply, the costs for these alternative fuels are currently three times that of conventional jet fuel. Airlines are asking governments to support SAF production developments and help balance the equation, instead of imposing taxes.
While deliveries of new aircraft will continue to offer gains, IATA reports that, "After 2035, the potential to improve further on fuel economy on a tube-and-wing aircraft is likely to be limited. New, revolutionary technologies of airframe and propulsion systems are expected to take place after 2035."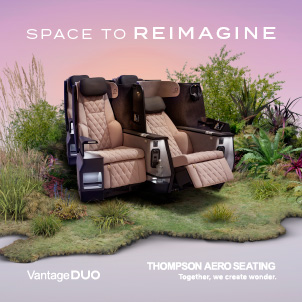 Electric propulsion would cut emissions entirely, but scaling electric propulsion to larger aircraft (100-150 seats) will be an engineering challenge and is unlikely to happen sooner than 2035.
Another strategy is to eliminate inefficiencies in airline operations through optimized flight paths and more efficient air traffic management that avoids delays and circuitous routes. This runs up against politics, especially in Europe where the SES (Single European Skies) initiative has not progressed as planned. Connected aircraft also have a potential to contribute to the environment, saving fuel by optimizing flight routes.
During the IATA Media Days, Airbus made a compelling presentation for a "fello' fly" wake energy retrieval, inspired by bird migration patterns, which would help aircraft follow the path of other aircraft on longhaul routes. It would optimize pilot assistance automation and Air Traffic Control data to ensure that aircraft remain safely in the updraft of air of the aircraft they follow. This strategy could offer fuel savings of 5-10% per long-haul flight.
Airbus is collaborating with airlines, ATC providers to develop a demonstrator program for the concept and will start flight tests on two Airbus A350 aircraft in 2020.
Also during the media event, IAG  shared details of its Flightpath NetZero program, which involves a holistic approach to CO2 reduction. That includes the airline group's own direct investment of $400 million over 20 years to development of sustainable aviation fuels.
British Airways is co-partner in the first commercial plant in Europe to convert household waste into jet fuel. It will convert 500,000 tonnes of non-recyclable waste that would otherwise go to landfill into over 40,000 tonnes of sustainable jet fuel per year. This year, BA also created the 'Future of Fuels' competition for UK universities, offering £25,000 grants to fund research into alternative fuels.
While Greta followed her principles, traveling to New York to speak before the UN and back to Europe to speak to COP25 in Madrid by a specially designed zero-emissions sailboat, this is not a feasible method of longhaul transport for most people. Around 80% of flights operating globally are over 1,500km, where there are no practical alternatives to flying.
Aviation gets people wherever they need to be every day, affordably, so that they can make a difference in the world. What the airline industry needs is the same positive energy and sheer determination that Greta embodies to be applied to these aviation sustainability initiatives.
Related Articles: