Many airlines have tried to restrict the growth of Gulf carriers Emirates, Etihad Airways and Qatar Airways by lobbying governments via economic and social arguments, or even asking for new laws. Thai Airways, however, is appealing to passengers to consider if the Gulf transit experience is actually better than stopping over in its Bangkok hub.
"Slumber, an uninterrupted journey all the way to explore Asia. Sleep tight," a Thai advertisement says in its inflight magazine. The ad shows two lines representing different routings from Europe to Asia. One line is mostly taken up by a Europe-Bangkok sector, denoted as being 11-12 hours long and with a "zzz" graphic. The line has a short continuation for a Bangkok-Asia connecting flight. The second line is split in the middle, with the Europe-Middle East and Middle East-Asia portion each being six to nine hours long, not enough for a full rest, the ad infers.
Thai is unusually direct in an industry that seldom makes explicit mention of competitors. The ad is also a brand break as Thai drops its usual style – destination photos, cabin crew imagery – to show a sheep superimposed in front of a business class seat. "Where counting sheep is not needed," the ad headline says.
Like Singapore Airlines and Malaysia Airlines, Thai must confront a structurally changed business following the growth of Gulf airlines in the Europe-Asia and Europe-Australia transfer markets, two segments that used to be the bread and butter for Southeast Asia's flag carriers.
Thai's European network last year had 24% more flown passenger kilometers than in 2008, but Europeans visiting Thailand grew 71% to 6.9 million in the same period. That means an additional 7,510 European tourists visited Thailand every day last year compared to 2008. Those visitors could have filled 20 new Thai 777 flights but instead mostly flew other airlines, largely from the Gulf.
Also a missed opportunity for Thai is growing outbound travel fueled by GDP increases. For the local traffic Thai does carry, yields are down. In transfer markets, Gulf airlines present volume and pricing challenges to Thai and peers.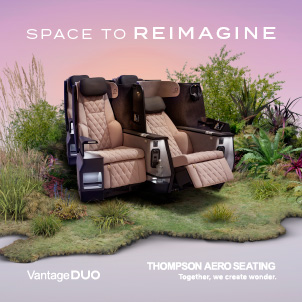 The ad campaign follows company president Sumeth Damrongchaitham asking for a review of the open skies policy that has allowed Gulf airline growth. "Thailand has opened its skies to foreign airlines, but we have found that many countries do not open their skies to Thai airlines. This is an unfair practice and will have a negative impact on our tourism industry," he told The Nation.
Thai might quietly concede it expects no government change. The objective may be to counter public criticism: Thai's heavily discussed financial challenges are partially because of liberalization benefitting the country. Problems are also of Thai's own making and government interference that has slowed fleet renewal, expansion and product refresh.
Thai's advocacy of better sleep is critical for some passengers, but not the sole factor for everyone. Passengers can fault Thai's inconsistent fleet, which includes angled business class seats without direct aisle access, which RGN contributor Jeremy Dwyer-Lindgren found to be a disappointment in a recent #NoseToTail flight review. But angled seats are also on Emirates' 777s serving Thailand. Etihad and Qatar offer a more consistent premium product.
For the ground experience, Thai's lounge massages are praised, but the rest of its lounge product can come across as old school. Qatar Airways, meanwhile, is planning further improvements to its already well-received Doha product while Etihad has yet to unveil its new mid-field terminal offering. Criticism of Emirates' lounges will not be solved by the original plan, now very delayed, to move to new airport Dubai World Central. The overall Dubai transfer experience may not be primed or pleasant like Doha, but Bangkok's unfinished concrete vibe may not be for everyone, although it was the most Instagrammed location in the world in 2012.
Passenger decisions may come down to the basics: network and price. Gulf airlines offer a greater number of one-stop city-pairs. That network reach and low fares could be from unfair practices, opponents might argue.
Thai does not position itself as totally superior to competitors. Its sleep argument is narrow and holds merit. Thai is not throwing rocks from a glass house. It has advantages to promote. But it could also – with tremendous loosening of government control – get to work on its fixer-upper of a residence.
Related Articles: