Having scrupulous investors means airlines are on the defensive, even sheepish, when explaining unit cost increases of just a single percent. But United Airlines did not hold back when unit costs went up 25% – at least in a sub-section of its business.
United is gathering the results from its "High-J" Boeing 767-300s, a sub-fleet with 46 business seats compared to the usual 30 on the aircraft. Having more business seats came at the expense of economy, although premium economy was introduced. In an era of densification, overall seat count decreased from 214 to 167.
"When we did that," United EVP and CCO Andrew Nocella said during its third quarter earnings call, "we caused the CASM of that aircraft flying from New York to London to go up by about 25%."
That increase challenges United's goal of having flat CASM, excluding fuel, in 2020 compared to 2018. But this sub-fleet is so far confined to 17 aircraft, which are fulfilling a strategic purpose but bringing mixed benefits to the passenger experience.
Anyone flying United's High-J 767 will benefit from a nose-to-tail retrofit, but getting on board is where the experience diverges. Economy passengers will have fewer chances given the seat count decrease. There are more options for premium passengers paying outright or through upgrades and award redemptions.
The twinjets so far fly to London, where United wants to grow premium revenue and de-risk competitive economy, improving overall revenue quality. "We reconfigured those aircraft to get higher RASM," Nocella said.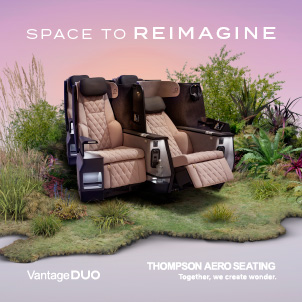 Scott Kirby entered United as president with the view that United was under-achieving internationally and could grow more. But adding London flights is a costly discussion about Heathrow slots. Besides, there was a change in the transatlantic market: Norwegian was growing from London while other airlines were targeting the lower end of the market.
British Airways swapped a New York flight from Heathrow to Gatwick, and used a denser configuration. Changing one flight is comparatively small since BA and joint-venture partner American Airlines have 15 daily New York-London flights on 21 October, with 803 business seats for an average of 54 per flight (a more representational figure could be higher given BA's large first cabin and upgrades).
The comparison is more interesting between United and the Delta-Virgin Atlantic partnership, which has eight New York-London flights with 294 business class seats for an average of 37.
United's five daily flights are all on the High-J 767, giving it a total of 230 business seats. Before launching High-J, a sample United fleet mix last March gave United about 180 business seats. The High-J essentially lets United add nearly two widebodies' worth of premium seats without additional flight cost and Heathrow slots while reducing exposure to an increasingly competitive economy cabin.
All of United's other widebodies have more premium seats than the original 767-300. But using them to grow premium revenue would have introduced more economy seats, too. Three of the High-J 767s were bought from Hawaiian Airlines used, reducing capital expenditure. The High-J 767 has two more business seats than United's 787-10, but that was bought new.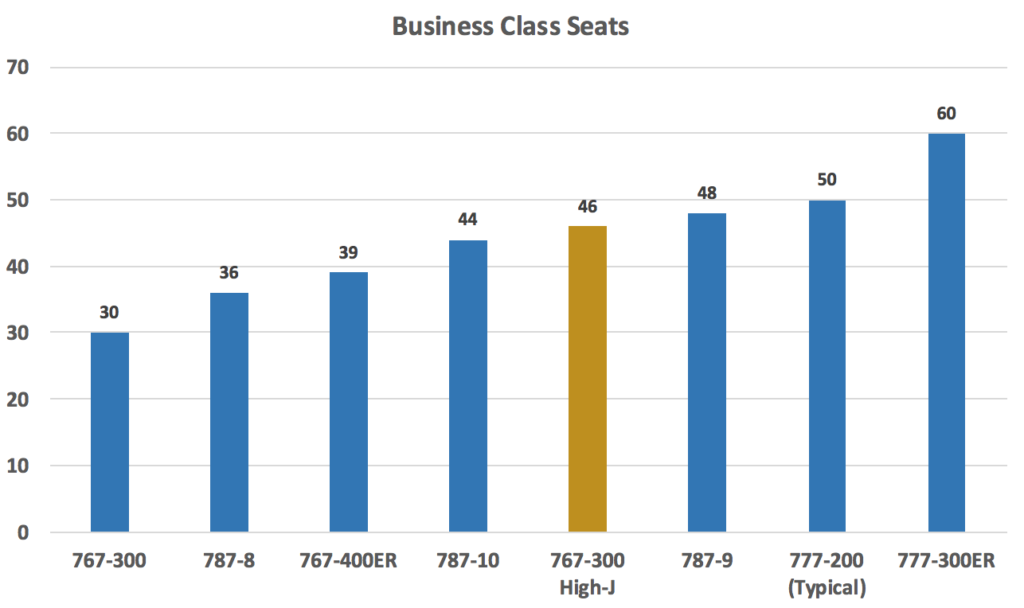 Before Delta's partnership with Virgin, United was a close competitor to Virgin's premium capacity. United was far bigger than Delta, but then fell behind after Delta and Virgin's JV. The High-J 767s bring United greater relevance to its corporate customers in the largest premium market in the world. That in turn bolsters United's overall corporate relevancy.
The New York-London market has its own dynamics, but United sees room elsewhere for the High-J, which operates two of three daily Chicago-London flights.
"Our [RASM] performance as we look forward is going to be well in excess of the increase in CASM," Nocella said of the High-J. Aircraft numbers dictate that United will have to expand the High-J 767 beyond London and continue to prove RASM will outstrip CASM since, as Nocella said, "Otherwise, we would not have done it."
Image at top credited to Jason Rabinowitz
Related Articles: