The APEX EXPO and Aircraft Interiors Expo (AIX), Americas are set to open their doors this week in Los Angeles. The co-located shows are always an interesting counterpoint to the larger and busier AIX in Hamburg in April.
In advance of these exhibitions, some IFEC and interiors news and themes are emerging which will color some of our questions to industry stakeholders. They're highlighted below.
Global Eagle on PAC replacement, Air France streaming
Southwest Airlines seems to be wasting no time in replacing Panasonic Avionics' Ku-band connectivity kit, after the two companies mutually agreed to part ways late last year. Global Eagle management tells RGN that the firm has been working very closely with Southwest to retrofit the carrier's PAC-equipped aircraft with its own connectivity solution. It says it is looking at "end of year" to have a full Global Eagle-fitted fleet at Southwest. This is in line with Southwest's original timetable for PAC kit removal. And it sounds like nothing is being retained of the PAC hardware, as "it's 100% our systems", according to Global Eagle. Whether Southwest will eventually offer a streaming class of service – or indeed support free Internet browsing, as passenger expectations grow – remains to be seen.
But across the pond at Air France, Global Eagle assures it will ready if/when the airline decides to launch a streaming class of connectivity service on its medium-haul fleet. While this is a commercial decision to be made by the airline, stresses CEO Josh Marks, Global Eagle's European network is capable of supporting streaming today, as the company has been rolling out the new Jupiter HT modem and three-axis antenna on Air France's A320 family aircraft. Air France wanted to launch inflight live television first – and has since done so – so Global Eagle will look towards launch of the final IFC tier, streaming, as soon as it receives the green-light from the carrier.
IFC SLA standardization – agreement or no?
Service level agreement (SLA) standardization is on airlines' radar now that the Airline Passenger Experience Association's Connecting Working Group (CWG) is seeking to establish uniform measurements for the effectiveness of IFC, a move endorsed by Lufthansa Technik and others. But there appears to be some disagreement on the matter, and whether SLA standardization will simply set a "bottom level" of expected IFC performance.
SmartSky Networks chief commercial officer Nancy Walker tells RGN that SmartSky is far more focused on what the typical user experience is going to be like, "and that feels like where we'll shine" because each SmartSky ATG-equipped aircraft doesn't share beams with other aircraft on its system "so managing SLAs doesn't make sense. It's about unique user experience."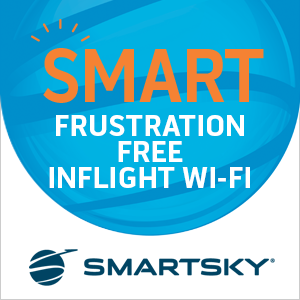 Walker adds, "When you look at SLAs and try to compare different networks out there, don't manage to the minimum, let's set and perform to a higher user standard."
Another longtime industry veteran tells RGN that SLAs which have already been signed by service providers have a flexible interpretation of what IFC "availability" means, and few of them measure what capacity is actually available at each passenger device, i.e. "the reference point that strongly influences the passenger experience".
When the the APEX CWG sets SLA standards, will industry adhere to them? We're hoping to gain clarity at the APEX EXPO.
Bluetooth for IFE audio: has this been fully fixed?
It's been three years since Apple killed the 3.5mm headphone jack with the iPhone 7, and aviation is still figuring out what it's going to do about the problem. In the consumer world, the situation has largely been resolved in the favor of Bluetooth, with other phone manufacturers following Apple's lead as usual, allowing the fruity phonemaker to cop all the flak and then falling into line. No matter what your thoughts on the matter, many people's only 3.5mm-jack headphones or adapter remains for inflight use, often with a second or third adapter for the two- or even three-pin world.
Bluetooth in the cabin is an order of magnitude more problematic than a car rental pickup lot. The problem is two-fold. First, density: a couple of hundred other passengers, within the same ten minutes, trying to pair their airpods with their individual seats, and having a poor customer service experience while flight attendants, trying to secure the cabin for takeoff, are already dealing with onboard wifi troubleshooting requests, let alone "what is pairing" and "why are my headphones not working with my phone now".
Some solutions have been proposed, by newly-named Safran Passenger Innovations (the previous Zodiac Inflight Innovations outfit) which says it has cracked the code; Panasonic Avionics (from whom we hope to learn more details at the the APEX EXPO); IFPL, and others. But will they be persuasively passenger-proof? One has to hope that there is some solution around partner smartphone applications (along the lines of Singapore Airlines' Panasonic implementation), where the phone can tell the IFE system which of the visible Bluetooth cans to use. Or will some airline just hold its hands up and say "look, the IFE industry is so far behind consumer electronics that it can never actually catch up, we're going to go back to handing out wired headsets"?
Finding the solution to narrowbody lavatories — for every passenger
It was surprising to many that the main passenger "ugh" factor about spending ten hours on an Airbus A321XLR was around lavatories, but that was the Paris Air Show this year: surprising.
The answer won't just be Airbus' Flex Zones, allowing lav and galley hookups on more of the footprint of the A321's longhaul fuselage. It will be about designing cabins so that the inevitable queues are manageable and don't block the aisles entirely. This is the sort of detail that would not be surprising to pop up at the APEX EXPO or AIX, Americas.
Crucially, there is also a growing awareness that there are currently no regulations requiring lavatories be accessible to passengers with reduced mobility (PRMs) on single-aisle aircraft. Even if this had been acceptable in years past when narrowbodies flew only a few hours, it is clearly unacceptable now. Passengers with disabilities are as mobile, social and vocal as the rest of the passenger mix today, and if the industry does not get out in front of this with self-regulation then it seems almost certain that the regulation will be imposed upon it by governments facing pressures to do the right thing.
And quality of those lavatories remains a subject of much interest. Speaking with Airbus on the subject of the A321neo, A321LR and A321XLR earlier this summer in France, the airframer was keen to highlight that it uses a different lavatory supplier — Diehl — to the now-infamous Safran Cabin (formerly Zodiac Aerospace) lavatories on the A350. Supplier diversity is a way to fix some of this overreliance on too few key suppliers, so look out for smaller exhibitors to be setting out their stands.
Holding regulators' feet to the fire on key #CrewLife and #PaxEx measures
The President of the Association of Professional Flight Attendants (APFA) Lori Bassani in late August penned an Op-Ed for CNN in which she laid out what she believes new FAA Administrator Stephen Dickson needs to do to keep air travel safe and passengers and flight attendants comfortable. Specifically, Bassani's Op-Ed focused on the FAA Reauthorization Act of 2018, which passed last October but has yet to be fully implemented.
As she described for CNN:
"The Reauthorization Act is a law intended to protect the safety of flight attendants, pilots and passengers through several key safety provisions, including a 10-hour rest minimum for flight attendants. But despite a 30-day deadline to implement these rest requirements, 10 months later many of the key provisions of the law have not been enacted. In July, I told members of Congress that it is urgent that the FAA formally review seat size and evacuation plans, monitor cabin air quality, and ensure those flight attendant minimum rest times to protect passenger and crew safety.
"Just about anyone who flies these days knows exactly why. As economy class seats get smaller, legroom more limited, and aisles narrower, air travel has become an uncomfortable experience for many passengers and poses ever more evacuation dangers. It's not just an issue that leads to more air rage."
RGN journalists were among the early chorus of voices to question whether ultra-tight seating configurations would inhibit aircraft evacuations. We tackled the topic in a 2017 video, and are eager to move the needle on this story in the event that the FAA drags its feet.
But another key requirement of the FAA Reauthorization Act of 2018 –  that the agency explore the feasibility of bringing in-cabin wheelchair restraint systems on board – also appears to be moving at a snail's pace. As RGN contributing editor Marisa Garcia reported for us on 5 September, the FAA was given two years to conduct the study and this October will be one year of nothing done. Meanwhile, the number of wheelchairs damaged in cargo holds by US carriers, alone, is staggering.
Rather than wait to see what happens with the FAA's study, non-profit organization All Wheels Up has been working with science and technology company Calspan to conduct 16G dynamic testing on wheelchair tie-downs. All Wheels Up reports that the fastener system has received passing results, but as Garcia notes in her report, the problem is that the test results cannot be recognized for certification because there's no standard to support certification.
During prior exhibitions, RGN sought comment from aircraft interiors stakeholders about the feasibility of allowing disabled passengers to remain in their own mobility devices in the cabin if they so choose. The answers we've received, often off record, suggest that industry is reluctant to spearhead change unless it is forced to do so. RGN is hoping to learn whether industry has evolved on the issue at both the APEX EXPO and AIX, Americas.
Interiors supplier crunches continue to bite
The 737 MAX grounding has posed ongoing problems for the IFEC and interiors industry. But interiors stakeholders, specifically, have their own problems in delivering to time and quality in several ways. Most notable is a crunch around the Airbus A321neo, largely around premium seats, it seems, which is odd given that the A321 cross-section largely offers decade-old seats, principally the Thompson Vantage and Collins Diamond.
Thompson's Vantage débuted on Delta's 767s a decade ago, shortly before Swiss' A330 and A340 widebodies, and has been on the A321 airframe ever since the late lamented bmi (British Midland) selected it for the "midhaul" routes it operated to the Middle East and Central Asia. British Airways has operated the product on those A321s ever since, and it has subsequently been seen everywhere from JetBlue's Mint to Aer Lingus to TAP. Collins' Diamond, meanwhile, was developed by the former B/E Aerospace for United (Continental at the time) and has also seen extensive use on the Airbus A320 family cross-section: American Airlines, Qatar Airways, La Compagnie, and so on.
Likely candidates for direct aisle access have been absent so far, with the exception of American Airlines' Safran Seats Cirrus in the first class cabin of its transcon A321s. It will be interesting to see whether the smaller seatmakers exhibiting at the colocated LA events will unveil anything new, or whether the larger seatmakers will do so in conjunction with Airbus or the larger IFEC exhibitors.
Will Airbus be unveiling a new slate of seats to go with the A320 Airspace cabin, which should be entering into service next year?
Linefit Consideration: Small Airline Drift
The thorny issue of linefit installations of seating is once again raising its head, flagged up most recently by tiny French South Pacific airline Aircalin, which noted a marked lack of interest by larger seatmakers in supplying the premium cabin across the two shipsets of its new Airbus A330neo fleet.
Aircalin went with Airbus subsidiary Stelia's compact staggered Opal seat, and while Stelia has not responded to followup emails from Runway Girl Network (in fairness, business in France is essentially shut in the month of August) it would not be surprising if one of the benefits of an airframer owning its own seatmaker were to ensure provision of seats for every customer. It wouldn't be right to call either Opal (an impressive seat in its own right) or Stelia (which has a strong pedigree even among larger airlines) a seat or seatmaker of last resort, but it may well be that it is fulfilling this role.
Meanwhile, there are certainly smaller seatmakers that would be interested in the lower-volume work, but there is a chicken-and-egg problem in achieving linefit: the expense and work aside, a seatmaker must generally have a customer for its product to enter into linefit consideration, but customers are encouraged (whether passively by the market or actively by airframers) to select seats available for linefit. AIX Americas often has a strong focus on both Latin America, where the retrofit market is proportionally stronger, and where smaller seatmakers are as well. It will be fascinating to see the evolution of their thinking on the subject.
Reporting by RGN editor Mary Kirby and RGN deputy editor John Walton. Photo at top of Airbus' Airspace lavatory is credited to Airbus.
Related Articles: