As an increasing number of personal electronic devices eschew the long-lived 3.5mm headphone connector, passengers are traveling with Bluetooth wireless headphones rather than a wired pair with the traditional audio jack at the end. In the three years since Apple's iPhone 7 dropped 3.5mm and many competitors followed suit, the inflight entertainment industry has been struggling to resolve the inherent problem with trying to pair an aircraft full of Bluetooth headphones at the same time.
Inflight interface specialists IFPL have a new option: a low-power, no-button option that allows airlines to skip any graphic user interface integration with their IFE systems.
Mark Reed, director of business development for North America, explains that the key for the market of airlines that do not wish to upgrade in-seat GUIs, or create data lines into the IFE system, is to enable the pairing by touch. "It's all about proximity. You put the unit into pair, you put the Bluetooth headseat in close proximity to the device, and pair as you would normally, a little bit like near-field if you will."
Essentially, pairing is activated by placing a finger over a sensor embedded in the audio jack (which remains for passengers who do still carry a 3.5mm-cabled pair of headphones), which IFPL was showing embedded neatly at the end of a seat armrest cap.
The Bluetooth transmitter enters pairing mode and automatically pairs with the nearest Bluetooth headset that is also in pairing mode.
This proximity is the crux of the matter: whereas a GUI-based interface may offer fifteen versions of "X's Airpods" to scroll through, IFPL's jack picks the closest one. "To limit the number of seats you can pair with we've backed the power off to the lowest level permissible by the Bluetooth forum," Reed says, noting also that the lower power level is a positive for net aircraft power requirement.
In terms of the proximity problem, the actual radius of devices "is determined by the headset that you're using," Reed notes. As a general rule, a higher quality headset — he suggests segment leaders and traveler go-tos Apple and Bose in that category — will have a better range, so would potentially be more conflicted during a regular pairing process.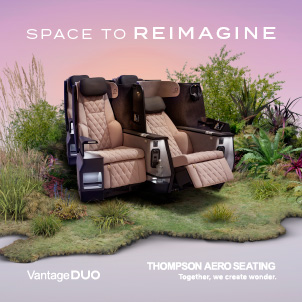 To experience conflict, people sitting within a very short range "generally would have to go into pairing mode within milliseconds of each other. We've had airlines come in and say they've done tests with consumer devices, and they said, putting it politely, it was messy. But in truth we're not concerned about it, because if anybody knows how to pair something they're going to be reasonably tech savvy. If they can pair their phone or anything else they will have done it at least once in their life, so hopefully it won't be too alien to them."
This hope about people being familiar with pairing may be somewhat over-optimistic, though. Apple's AirPods product alone has some sixty percent market share, and Apple doesn't refer to the term "pairing" at all in the documentation of its much-praised process for making Bluetooth headphones 'just work' in its signature way of implementing technologies. It will be interesting to see how much passengers need to be guided through this process.
The Bluetooth jack will drop the device after a period of disconnection — which can be specified — allowing passengers to get up to, say, visit the lavatory and return without necessarily having to start the pairing process over again.
In certification terms, IFPL's Bluetooth audio jack is currently offered on a business jet, and while that customer did its own certification, Reed is upbeat about commercial certification. "Everything we do is designed for this market," he says, joking that "this is not our first rodeo. We know how to certify things for aircraft, so it's designed with that intent to begin with. As a design process, internally we have our own EMI chambers, our own test equipment as we go to certify. We're fairly confident when we go to the likes of ITL and TUV [the test laboratories in the US and Europe] that we are in a good position to pass that test."
Related Articles: