Air France has revealed its completely revamped and more spacious lounge located in the heart of Washington-Dulles International Airport (USA), near the boarding gates.
The new lounge welcomes Air France La Première, Business customers and Flying Blue Elite Plus members in a completely revamped, more elegant and modern setting. Spanning a total surface area of 6619 sq. feet, on two levels, the lounge can accommodate up to 155 customers.
Subtly combining comfort, creativity and French-style elegance, the lounge reflects the Air France brand identity. Through its choice of materials, furnishings and range of bright colors, the Air France lounge has a sleek and elegant feel.
The New Night Service – Dine in the Lounge and Sleep on Board
At the heart of the lounge, a new dining area will be home to the airline's Night Service, which is offered to Business customers on the daily 21:10 AF027 flight from Washington to Paris-Charles de Gaulle.
The Night Service anticipates customers' needs to enjoy a good night's sleep on night flights. They can enjoy the same gourmet French meal in the airport lounge as the one served on board. A full meal comprising a starter, hot dish, cheese, dessert and a wine as well as a Champagne list is served at their table.
During the flight, customers can enjoy a good night's sleep in the comfort of the Business class cabin. A quiet, private cabin guarantees a peaceful night's sleep in a seat that transforms into a lie-flat bed. When they awake, as the French coast looms on the horizon, breakfast is served before landing at Paris-Charles de Gaulle.
The Iconic Bar Area in the Lounge
Dressed in a lacquered metal structure and completely open to the lounge, the bar offers a selection of wines, Champagnes and spirits, served by a bartender. For the first time in an Air France lounge, customers can also enjoy cold draught beers.
A New Dining Experience
As part of its ongoing effort to offer its customers the best possible service, the company has also revamped its dining area to highlight French gourmet cuisine.
Designed in the spirit of a Parisian brasserie, new furnishings and circular benches have been custom designed to provide conviviality and comfort. Customers can enjoy a self-service buffet with cold, sweet and savoury selections.
Starting in September, Air France Business customers will be able to enjoy three new Signature dishes created by Daniel Rose, an American Michelin-star chef with a love for French cuisine.
A Cozy Environment
The second level offers customers a genuinely cozy environment. In a relaxing light-filled atmosphere, where light screens perfectly mimic sunlight and the colour of the sky, customers can relax comfortably in chaises lounges or other seating of their choice. A snacking area completes this moment of well-being.
A Custom-Designed Experience
The new Air France lounge also includes dedicated areas for a tailor-made experience –
A VIP area with a cozy and private atmosphere, dedicated to customers travelling in the La Première cabin;
An area reserved for Ultimate customers.
Not Forgetting the Essentials
A lobby equipped with new eligibility kiosks, for smoother access;
A co-working space;
Free Wi-Fi access and electrical/USB outlets close to each seat;
A lounge area reflecting the architectural design of the latest Air France lounges – wide bench seating, brightly-colored individual seats that give the lounge its own distinctive identity;
A press kiosk offering French and international newspapers and magazines, in addition to the digital offer available on the "Air France Play" app;
Freshen up and relax thanks to an invigorating shower.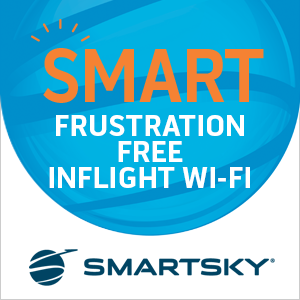 About Air France  
Air France, a global airline of French inspiration, with high standards and a caring attitude, turns the flight into a moment of real pleasure on all its daily operations in France, Europe and worldwide.  Air France-KLM is the leading Group in terms of international traffic on departure from Europe. It offers its customers access to a network covering 314 destinations in 116 countries via flights operated by Air France, KLM Royal Dutch Airlines and Transavia. With a fleet of 548 aircraft in operation and 101.4 million passengers carried in 2018, Air France-KLM operates up to 2,300 daily flights, mainly from its hubs at Paris-Charles de Gaulle and Amsterdam-Schiphol. 
Its Flying Blue frequent flyer programme is one of the leaders in Europe with over 15 million members. 
Air France-KLM and its partners Delta Air Lines and Alitalia operate the biggest trans-Atlantic joint-venture with more than 275 daily flights.  The Group also offers cargo transport and aeronautical maintenance solutions.  
Air France-KLM is a member of the SkyTeam alliance which has 19 member airlines, offering customers access to a global network of over 14,500 daily flights to more than 1,150 destinations in more than 175 countries.