Acro Aircraft Seating, the UK based manufacturer of Economy Class and Premium Economy Class aircraft seats, has moved a step closer to initiating additional production capabilities in China.
The company established a facility in Shanghai in Q4 2018 with the intent to supply the Chinese civil aviation market with Acro's innovative seating products.
Chris Leese-Wood, Acro's CEO and Accountable Manager said: "We are delighted with the progress that both our UK Quality and Shanghai Production teams have made to realise our production capabilities in China. The Shanghai facility will be initiated under existing Acro regulatory approvals, with the intention of firstly servicing Asia's retrofit market and with linefit programmes to follow later."
Chris Leese-Wood adds: "I would like to thank our teams in both the UK and China for their efforts to advance our strategy to realise our China production capabilities which will enable us to supply the high quality and class-leading designs that the Acro brand is renowned for."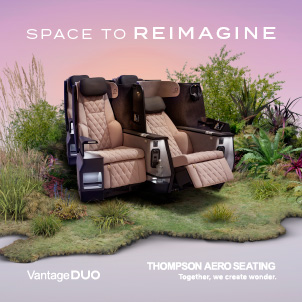 Earlier this year, Acro announced that it has secured its first Chinese carrier with the selection of by Spring Airlines as part of a major linefit programme, comprising of forty five Airbus A320 and fifteen A321 narrowbody aircraft. The company has also been selected to supply another Chinese carrier with its next-generation Series 6 Economy Class seat.
ACRO Aircraft Seating is an EASA Part 21 approved organisation (Approval number UK.21G.2585) and holds AS9100D Quality accreditation (approval number LRQ 00006260).
About Acro
Acro Aircraft Seating is a UK based manufacturer of passenger seats for commercial aircraft. Founded in 2007, Acro has designed, certified and manufactured over 130,000 seats for more than 500 aircraft, with installations on B717, B737, B747, B757, B767, A319, A320, A321, A330, Fokker, ATR and Saab aircraft.Acro is an Airbus approved supplier and currently serves more than 35 airlines throughout the world with customers including Air New Zealand, Spirit, Allegiant, Frontier, KLM, Hawaiian and Thomas Cook Airline Group amongst others. The company's head office and main production facility is located at London Gatwick Airport with customer support operations in Shanghai, China; Miami, USA; and Singapore, Asia.