"Stop, collaborate and listen," wrote recording artist Vanilla Ice in his seminal 1990 work "Ice Ice Baby", and this principle was well and truly on point at the Aircraft Interiors Expo in Hamburg.
The evolving role of the northern hemisphere spring's AIX #PaxEx show — and indeed its smaller northern winter counterpart APEX, colocated for several years now with the AIX Americas event — is inside baseball for many, but one fascinating aspect this year was the growing need for a space for the growing numbers of participants in passenger experience design, manufacturing and purchasing to meet and collaborate in person.
This list of participants is growing as airlines seek to customize their passenger experience across cabins, pushing the limits of what is possible (and sometimes sensible or feasible) within the aircraft as the variety of actors figure out how to integrate brand new inventions in the cabin safely, at the desired quality and at the right time in increasingly tightening productions schedules.
From the airlines themselves to airframers to seatmakers; from integrated monument manufacturers to lighting and wiring component makers; across the growing spectrum of inflight entertainment and connectivity providers and sub-suppliers; from safety component-makers to companies making switches, signage and air conditioning; from thermoplastics producers to industrial design houses; from maintenance, repair and overhaul providers to systems integrators — all of these and more need to work together for a product to take wing.
The all-too-visible consequences of failing properly to integrate all these aspects o the cabin have been made blindingly clear in recent years. Airlines are using strategies such as co-creation to avoid past pitfalls, but one crucial question is where to meet to have those planning sessions.
As ever, where that meeting happens gives one (or more) of the collaborators an upper hand.
One option is at facilities like the Airspace Customer Definition Centre at Airbus' Hamburg Finkenwerder production site — but, naturally, using space designed by an airframer comes with a certain set of implications for the way the airframer views the process and the wider world of passenger experience. Moreover, not every player has the facility or the "well, we were here anyway" factor that Airbus does.
That's why an event like AIX, which is essentially a third-party event made up of hundreds of individual exhibitor spaces, is so valuable. The ability to wander around viewing the wares of every lighting manufacturer in the business, hand in proverbial hand with other participants in the design of a seat and cabin, has always been vital.
The hand-in-hand approach has always been the case for an airline and its partner design house. But it has been fascinating how many of the airline passenger experience executives at this last AIX could be seen working not just with their design partners, but in deep discussion with suppliers and sub-suppliers, and how many of them were happy to be seen doing so.
The collaboration between the variety of participants in the product design process is growing, and so are the numbers of spaces to do so beyond simply having fabric X, lighting Y or thermoplastic Z on stand to show options.
Kydex, the new-old-new rebranding of Sekisui, was not only showing off its latest backlit aviation thermoplastic Lumina in the upper room at its stand, but was also providing a space for its partners to meet and work together.
MGR Foamtex, the upholstery manufacturer, was hosting the Crystal Cabin Awards finalist Moments seat from France's Style & Design at its stand, perhaps unsurprisingly given that the seat uses some of its products, but the ability of visitors to ask detailed "but can we do this, or "would that product work?" questions and get answers — on this stand and elsewhere — has grown.
More widely, numerous larger stands have evolved to include co-working space, either instead of or in addition to the traditional meeting room/lounge area split: while the new Independent Aircraft Modifier Alliance had its own tiny booth, its meetings took place around the tables at the Lufthansa Technik stand.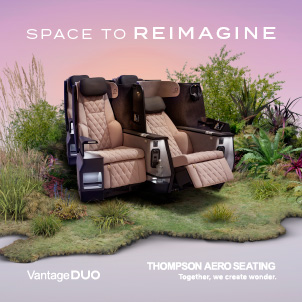 Giving a rather neatly fitting coda to the Passenger Experience Week, as organizers at AIX (and the three other concurrent shows: the Passenger Experience Conference, Passenger Technology Solutions, and the World Travel Catering & Onboard Services Expo) Reed Exhibitions are now calling the week of events in Hamburg, it was at that very collaboration zone during the last meeting on Thursday evening that your journalist encountered a product — the color-matched GuideU floor path marking system from LHT — that I'd first seen at Airbus' ACDC co-creation facility at the beginning of the week.
In the twentieth anniversary year of the first AIX in Cannes in the year 2000, it's not just reassuring to see this kind of partnership in action: it's exciting. Closer working among all the participants in creating passenger experience can only be a good thing.
Related Articles: