Northern Ireland's aerospace cluster has seen its share of news headlines of late due to Bombardier's decision to sell its Belfast plant, which builds wings for the Airbus A220 (formerly known as the C Series). Safeguarding jobs is obviously top-of-mind as the airframer seeks a buyer. But beyond Bombardier's facility, Northern Ireland boasts a vibrant and resilient aerospace supply chain, which is responsible for manufacturing as much as one-third of the world's commercial aircraft seats.
Among the firms that have made a name for themselves in aircraft interiors is Carrickfergus-based IPC Mouldings, a 25-year old company that supplies tooling and plastic injection moulded parts and assemblies. If you're sitting on a seat manufactured in Northern Ireland, chances are strong that IPC Mouldings manufactured the visible plastic parts of that seat, from the latch assembly and seat trim to the armrest or endbay. In 2018 alone, IPC Moulding's content supported the movement of 900 million airline passengers.
"We're a small business in Northern Ireland and I suppose it's like everything else in the Northern Ireland supply chain, we are very stealthy, we keep ourselves to ourselves. We are not out there promoting but we are going to be looking at what we have in Northern Ireland, built around not just Bombardier aerostructures [or its new owner] but built around the seating manufacturers we have there as well," IPC Mouldings managing director Joanne Liddle told Runway Girl Network at the Aircraft Interiors Expo in Hamburg.
Those manufacturers include heavy hitters Collins Aerospace and Thompson Aero Seating. And recently, Pitch Aircraft Seating Systems tapped Causeway Aero to manufacture its slimline economy class seats in Northern Ireland.
With a career in finance, Liddle joined IPC Mouldings in 2008 to sort out accounts and cashflow, and work alongside her father and brother, both engineers. She credits her brother with playing a material role in teaching her the engineering side of the business, even after he became ill in 2009. "[H]e taught me what to look for when the engineers were treating me like the silly woman. Many was the time spent taking a photograph of a mould and going back to him and saying 'I am told this is 80 percent of the way there, would that be right? And he'd say 'no'," she recalled. Her father is still working and advising on engineering within IPC.
Liddle quickly made her mark, ensuring IPC Mouldings could meet international standards for a quality management system (ISO 9001). In 2011, Liddle took a cold hard look at the business, and found that while IPC Mouldings had great contracts, it needed a clearer strategy for winning new business, becoming more relevant in the future and securing a succession plan. She devised a new strategic plan, which saw the company double down on its quality management, work to understand pain points in the business, improve relationships and build teams to collaborate more with customers.
The firm became a member of UK trade organization ADS, and in 2015, B/E Aerospace (now Collins Aerospace) asked IPC Mouldings if it would like to participate in the Supply Chains for the 21st Century (SC21) program, which accelerates the competitiveness of the aerospace and defence industry, and is managed by ADS.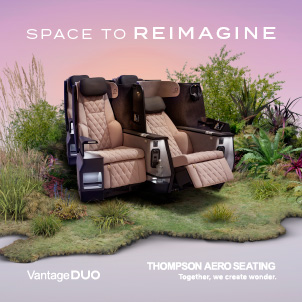 "We looked at that in 2015," said Liddle, "and by January 2016, we said, 'you know what, we're going to go for this.'" In order to participate in the program, IPC Mouldings had to reach certain milestones, including achieving AS9100 accreditation, ensuring an effective quality and risk management system was in place.
IPC Mouldings was so focused on achieving supply chain excellence that by the time the Farnborough Airshow rolled around in 2016, it was awarded Bronze under the SC21 awards program. Management came back from Farnborough and thought "you know what, our scores can be Silver. We are just sitting there right on the edge [of Silver] so we made a very quick decision after Farnborough, 'you know what we are going for Silver.' We started Silver then, the following January. We had it within six months, again which hadn't been done before. We went from nothing to Bronze to Silver within such a tight timeline. The Silver was a game changer for us because there were only 38 other companies in all of the UK at that level," said Liddle.
Though IPC Mouldings was investing in people, new machines, and training, it realized in 2016 that it wasn't quite shouting about its successes as much as it should. So it hired PR expert Jackie Logan, who serves as managing director of Naked PR. "With Jackie coming in, we just had everything I suppose that we needed to create that perfect atmosphere. We're very well supported at every point now with Jackie coming in," said Liddle.
Noting that Northern Ireland is a hub for the aviation industry – no fewer than 12 Northern Ireland companies ventured to Hamburg this year for the Aircraft Interiors Expo – Logan admitted that the Irish don't always talk about themselves enough. But there is, in fact, much to discuss. The Tier 1 companies are coming to Northern Ireland for a reason, noted Logan, as local aircraft interiors companies are known for their resilience, agility and ability to rapidly and reliably respond to requests.
If a customer needs a quick-turn solution, for instance, "anytime of the day or night", IPC Mouldings will find a way to make it happen, said Liddle,
The company manufactured 2.5 million parts in 2018 alone, and is very much part of Northern Ireland's impressive growth narrative in interiors due in no small part to Liddle's leadership. "It's a business built on engineering, but how we do business has turned on its head," she told RGN.
Regarding the uncertainties created by Brexit, Liddle said, "Well, we all want certainty as businesses. We want certainty. So whatever happens, we will keep our heads down and we will get on with it and we'll do what needs to be done. It's hard to gauge what's going to happen. Things change so widely and where we're sitting now, we could have not foreseen that. It's just everyday, wow, this has happened. The goalposts have moved again. I don't know how it's going to affect us. We would plan ahead. We would try to cover every risk. But no matter what happens, we'll put our heads down. We're not isolated in that thinking. And I think again, it's a Northern Ireland mentality."
Related Articles: