Inflight Dublin (IFD), a global provider of inflight entertainment content and wireless solutions, has won new IFE content services business with three carriers – SriLankan Airlines, Icelandair and tourism group TUI.
Under its contract with SriLankan Airlines, Inflight Dublin says it will support the provision of a "substantial collection" of Hollywood new-release titles, choice classics, international movies, popular television shows and a diverse selection of audio content.
"We are very excited to begin this new chapter with Inflight Dublin. Inflight entertainment is a key area of improving passenger experience and by working with IFD we will now be able to offer a superior level of service. All the latest content being made available to our passengers supports our goal of providing our customers with truly a unique travel experience," says SriLankan Airlines CEO Vipula Gunatilleka.
John White, CEO of Inflight Dublin, adds in a statement: "We are delighted that SriLankan Airlines recognizes Inflight Dublin's experience in the area of content and innovation, and we are very proud to have been awarded the contract. We look forward to providing them with the highest standard of service for the benefits of its passengers."
Separately, Inflight Dublin's partnership with Icelandair will see the Irish company offer an extensive catalog of fresh content that aligns with the airline's desire to provide the best entertainment for its customers.
Content will include an inventory of recent Oscar-winning films as well as a large selection of family-favorite classics, along with the choice to view numerous popular comedy and drama television boxsets, according to Inflight Dublin. The passenger-pleasing offering will also include a collection of locally produced movies, television shows, audio albums, and audiobooks in native Icelandic.
"The new contract with Inflight Dublin is a great step forward for us. Our commitment to delivering the best travel experience to our passengers will be enhanced by offering the very latest movies, television shows and audio programming on our flights," says Birna Osk Einarsdottir, chief sales and customer experience officer at Icelandair.
Inflight Dublin's White says the Dublin-headquartered firm is proud to work with such a recognizable brand as Icelandair.
In a third, separate new award, Inflight Dublin will provide the latest IFE content to TUI, which owns five European airlines and is the ninth largest airline operator in Europe.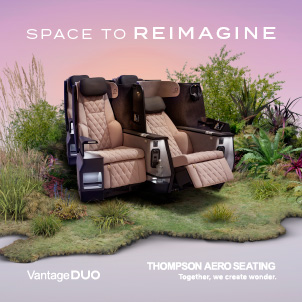 The collaboration with TUI aims to further improve the airline's passenger experience through innovative content.
Inflight Dublin says it is covering licensing, programming and delivery of inflight content for TUI airlines in the UK, Belgium, the Netherlands and the Nordics. Content includes blockbuster movies, television programs, eclectic audio selections, and broadcasts in eight languages (English, German, French, Dutch, Swedish, Norwegian, Danish and Finnish).
The new IFE content is available across the fleet of TUI's Boeing 787 and 767 widebodies, via in-seat IFE; and across Boeing 737NG narrowbody aircraft, via overhead IFE.
"We are delighted that TUI has recognized our expertise in IFE content and chosen to partner with us. It gives us great pride to work with an industry leader like TUI, and we look forward to providing the greatest level of service to their member airlines and customers," says White.