Promises about the potential benefits of the Internet of Things for airlines, travelers and the wider commercial aviation industry have been wideranging and expansive. But with the new Airbus Connected Experience partnership between the airframer, seatmakers Stelia and Recaro, and catering-retail giant gategroup, the low-hanging fruit of the IoT are coming tantalizingly close, but key questions around passenger data privacy remain largely unaddressed.
Airbus vice president of cabin product guidance Didier Nasarre sat down with Runway Girl Network to discuss the partnership and its benefits for the four companies, their airline customers — and for passengers.
The overall value in the connected cabin, says Nasarre, "is really to improve three major items: airline operational efficiency improvements, improvements of ancillary revenues on the airline side, and improved passenger experience. It's really end-to-end cabin data management, connecting the various cabin elements, whether you're talking about the seats, the overhead bins, the lavatories and the galleys, into one integrated system."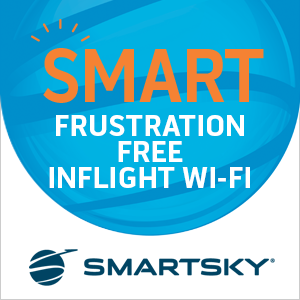 For airlines, the benefits are largely around "providing value with this information, so you can analyze patterns. For example, what is the food consumption? What is the bin loading status? What are the positions of the seats? What's the lavatory usage? You can provide analytics on this or you can provide real-time information to the cabin crew."
While Airbus wants to be the hub around which the data flows, and by which the analytics are structured, "the airline owns the data," Nasarre said categorically. "There's no question about it, and nobody wants to question that."
Airbus will deliver the connected cabin through four major types of components: firstly, the platform that provides a data server, operating software and data access through a wireless interface. Secondly, the connection to the outside world, whether that happens in real-time through a satellite communications link or on a delay via a 4G network — or both. Third are the applications that deliver each service, and last it's the operations teams that deliver the business model.
Early benefits are clearly around predictive maintenance, especially for seatmakers like Stelia and Recaro. "For an airline, you sell seats, so you need to make sure they're always operational. If you think about business class seats, it's even more important because the airline will retain fidelity [loyalty] through their services — but their product as well," Nasarre explains. "If you have a seat which is not properly working, this will damage the image of the airline and will have repercussions on the seat suppliers as well. It's in the seat supplier and the airline interest to make sure you can anticipate any failures and fix them before they occur."
For catering and onboard retail provider gategroup, the benefits stem from being able to process data on consumption patterns, stocking requirements and demand, but are notable in that they reinforce the move away from onboard retail being simply F&B to instead covering a wide variety of onboard products.
"The end-to-end catering is seen by airlines as the most important and valuable feature," Nasarre says. "You can address food and drinks, but you can also address inflight retail and boutique products. There are a lot of areas you can explore."
One future option might be what the companies are calling the 'dynamic galley', where strong demand for a certain type of product at a certain time of day or on certain routes — a hot breakfast, for example — could lead to hot-swappable cabin inserts, or indeed other imaginative solutions to delivering that component of the passenger experience.
For Airbus, though, the benefits of the Connected Experience programme include "a better understanding of the aircraft, of the cabin's weaknesses and strengths. In operation, this will bring additional opportunities for further development, or opportunities for revenue. The value is really brought by adding new services and linking various elements that were managed in isolation before," Nasarre says. "For example, maybe as Airbus we don't control the seat design in detail. Now, if you make the link between the aircraft and the commodity, you will think of services that did not exist up to now, thanks to the data link."
While these short-term benefits sound positive for the passenger experience, the privacy tradeoffs from the medium-term plans — which include processing substantially more passenger information — seem substantially less clear, with the Connected Experience programme seeming to rely on security via obscurity and planned anonymization of data.
"If you choose on your mobile phone to use Google and share information, it's because you want to have an additional service," Nasarre says. "They will be able to propose some specific ads, or propose a place to visit according to your preferences. It's going to be exactly the same, and the passenger will be able to choose whether to share this information or not. We don't see any particular difficulty there compared with what we're doing on the ground."
That may well be the case, but the general mood around privacy and large Internet companies like Google is not a positive one, with investigations of collection, processing, handling and security of user data ongoing in numerous jurisdictions. In addition, there are questions about whether optouts do indeed opt passengers out, whether data is collected via shadow profiles, and what access to user data is allowed, to whom, by whom, and for what purposes.
Nasarre was unable to point to any existing or planned standard for passenger data along the lines of IATA or SAE standards. "Today, I'm not aware of any. I don't say there is none, but I'm not aware of any. Passenger data is really managed by the airlines."
That will not make reassuring reading for information security professionals and privacy advocates, given the aviation industry's track record on data breaches and the amount (and type) of identifying personal data airlines already hold — or could hold, from personal device details to passport numbers to entertainment preferences, medical information to location data, to sleep patterns, food preferences to drinking habits, traveling partners to social media handles, credit card numbers to home and work addresses, and much more.
With the absence of ready answers to questions about how passengers' data will be secured, Airbus and its partners risk externalities — including privacy restrictions being imposed by regulators, governments and indeed passengers themselves — if they don't get user privacy right.
Related Articles: