This week's big reveal of the stunning Virgin Atlantic Airbus A350 interior represents the culmination of nearly four years of product evolution for the carrier.
Virgin Atlantic VP of customer experience Daniel Kerzner, speaking to RGN on the sidelines of the A350 event in London, said the airline focused on customer research, product selection and customizing the CMF (colors, materials, and finishes) to create a distinctive sensory experience that also delivers pleasure with a warmer palette. London-based Factory Design aided in the development.
"I think the product speaks for itself … the attention to detail, the design and the trim and finish, the social space that is unique to us," Kerzner said. "I think our customers are going to love it and it's certainly something that we're proud of."
A Loft-y lifestyle
The new Loft, which replaces the Virgin Atlantic onboard bar concept, is a welcoming and restful spot. A lobby-style social space at the entrance to the aircraft, it can also serve as a collaborative work space and is more inclusive than a bar. It's expertly accented with Boltaron translucent thermoplastic.
Kerzner described the Loft as a natural evolution of the airline's lifestyle brand. "Virgin Atlantic was created by Richard Branson to give people a better way to travel," explained Kerzner. "That expectation changes over time. Trends change over time. We don't look at other airlines, as an example, as a baseline. We look at how our customers are living their lives outside of flying. We look to residential, automotive, retail, hospitality. We look at what are the trends for our customers, how are they living their lives today, what inspires them, and what is that going to be 5-10 years from now so that we stay relevant."
To gather more information on the lifestyle trends of its customers, the airline carried out several "innovation safaris" in the UK, New York and Dubai.
"It's really about bringing the external thinking in. We look at who are the best hotels in the world and what are they offering customers. Who are the best restaurants in the world? Who are the best retailers? How do we then bring that into our world in a unique and different way," said Kerzner. "We make sure that we're giving our customers an experience that is different from what they get on any other airline."
Product targeting
The core Virgin Atlantic customer is a leisure traveler, Kerzner said, and the Virgin Atlantic brand is associated with key milestones and celebrations in passengers' lives. But Virgin also serves its share of business customers, including the demographic of "hidden productivity travelers" – from entrepreneurs to freelancers – who may not fit the pattern of traditional business passengers.
"It's people looking to have something different than what the norm is in the industry," noted Kerzner. "We have a lot of people who travel with us in economy who are on business. We have a lot of startup business and people who have more flexibility in terms of the cabin they travel in. For us, it's about how we surprise and delight, and exceed expectations, regardless of what cabin you're in."
The airline's tiered economy offering – economy light, classic economy and economy delight – has proven popular with customers, Kerzner said, and put the airline in a position to compete with rivals, from low-cost carriers to flagship airlines.
Saying "no" to doors
Virgin Atlantic's decision to buck the trend on doors in business class suites has more to do with the airline's lifestyle positioning than anything else, Kerzner told RGN. The brand quality of warm sociability between passengers and crew drove the decision, but Kerzner also believes that this Upper Class product is more honest than it would be with a 'make-shift' door.
"Unless we're looking at [airlines like] Singapore and Emirates, which have a fully enclosed suite on board, the partial doors do not stop someone from walking by and looking into your suite," he said. "The door creates a sociability barrier between yourself and the crew members on board, and it doesn't give you any more privacy than the privacy dividers we've introduced … Unless it is a full door, it's not a full door. It's a marketing trick. I think that customers are going to out-smart airlines on that."
Whatever side of the door argument you're on, Virgin Atlantic's suite also offers passengers plenty of light, with finishes that will play off the natural light coming from the A350's large windows, cabin mood lighting and the personal mood lighting on the customized seat.
Building love by being different  
The Virgin Atlantic product – ground to air – reflects a desire to keep customers' established "brand love" going.
"That people want to fly Virgin certainly comes through in terms of load factors and it comes through in the momentum that we have within our business, but most importantly it comes through in the love that people have for the brand," Kerzner said.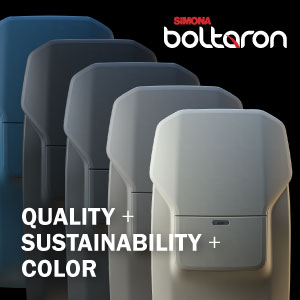 Kerzner told RGN that the airline ran anonymous contests, offering free tickets to New York on their preferred airline, with consumers revealing a strong preference for Virgin Atlantic.
"You pick the airline, and if you win you have to fly that airline," he explained. "Virgin had 56% [of consumer requests] and the next closest had 25% … We do the research regularly to understand that, if you stripped away points, if you stripped away price, and if you stripped away benefits, what airline would you want to fly? Every time we've done this research – twice in London and one time in New York – every time, Virgin has been two times higher than the next highest airline."
"It's a different experience when you walk onto a Virgin Atlantic plane and that's what people love us for. People know when they get on a Virgin Aircraft that 'this experience is going to be different than it is if I'm flying someone else.'," Kerzner added. "They expect us to give them a better way to travel and we owe it to our customers to give that to them."
"It's really difficult to be a most loved brand in any category, and that's what gets us out to work every morning. We know that we have to be better than others, but the bigger question is how we can be different."
Related Articles: