The year 2021 will see JetBlue launching "a reimagined version of Mint", its premium flat bed cabin, with flights from both New York JFK and Boston to London. The move has been long mooted, and indeed JetBlue has waited until its A321LR version of the A320neo family arrives in order to make it work, with the extra range particularly important given the winds on the westbound leg of the journey in wintertime. JetBlue will convert thirteen aircraft from its existing A321neo order book to the long-range version.
The airline is keeping mum on the seating details for the new Mint, but it's clear the front cabin is a target. "London is the largest metro area JetBlue doesn't yet serve from both Boston and New York, and we could not be more thrilled to be changing that in the years ahead. The fares being charged today by airlines on these routes, specifically on the premium end, are enough to make you blush," said Joanna Geraghty, the airline's president and chief operating officer.
While the airline's above-average Core product will be on offer down the back, "transatlantic Mint product features and design elements, combined with JetBlue's specially trained Mint inflight crewmembers, will create an intimate and exclusive travel experience," the airline explained, noting that, "like its transcontinental Mint business model, JetBlue will offer the elevated flying experience for a fraction of what other airlines are charging today for premium seats."
The current Mint product is a version of Thompson Aero's Vantage product that features a door on the "throne" seat in the 1-1, 2-2 alternating configuration, but the airline has not revealed whether the "reimagined" Mint will be based on Vantage or another product. Numerous airlines, including TAP Air Portugal and Aer Lingus, have selected Vantage for their transatlantic single-aisle aircraft.
Thompson has for some years been developing Vantage Solo, its narrowbody-focused seat. This journalist first saw the seat behind closed doors at the Aircraft Interiors Expo five years ago, and it is notable in its inward-facing herringbone design — particularly so this week as transatlantic stalwart Virgin Atlantic moves to a new herringbone where all seats face the windows, and British Airways unveils its new Super Diamond outward-facing doored herringbone.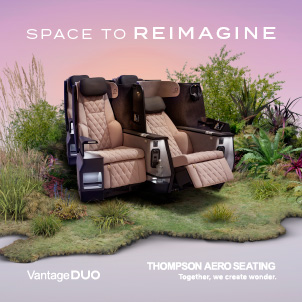 That the details are scant for flights two years hence and for a move long hyped by the airline is not particularly surprising, with rumors that JetBlue is hoping for some government-allocated "remedy slots" at London Heathrow to provide competition to a market that is dominated by immunized joint ventures. The announcement today specifically did not name the airport — or potentially airports — the carrier is targeting.
But even before the announcement, the competition was not waiting for JetBlue to make its move, with Virgin Atlantic and Delta bracketing the two JetBlue northeastern US hubs of Boston and New York JFK with flights to London's secondary airport, Gatwick, announced last week. Those are added to the existing eight daily flights between Heathrow and JFK, plus daily JFK flights to Edinburgh, Glasgow and Manchester.
And it's not just new destinations: Delta is upgrading its aircraft used on the route, though not before time: the original Boeing 767 Thompson Vantage seats from ten years ago are feeling very tired and notably cramped. "Delta flights between Boston and London-Heathrow will operate on an Airbus A330-200, which already serves Delta's JFK-Heathrow flights and features additional premium seats," says the airline, "and in November 2019, the airline will introduce on these routes fully refurbished Boeing 767-400s," which will offer an updated Vantage product with more space.
From a #PaxEx perspective, it seems that JetBlue is already prompting the incumbent operators on the route to up their seating game, and it wouldn't be surprising to see additional improvements to head the challenger off at the pass between now and 2021.
Related Articles: