As flights on current- and next-generation longhaul twinjets become longer and longer, airlines are continuing to search for ways to use the limited footprint on board to deliver passenger experience services during the cruise phase, and Collins Aerospace's M-Flex — a fold-out monument for bars, lounges, self-service areas, ancillary revenue sales spaces, promotional areas, and more, contained within the monuments around the doors — is one new option.
Collins demonstrated M-Flex to Runway Girl Network at the Aircraft Interiors Expo in Hamburg, and the product is a notable advancement in creating additional space during cruise from areas that are currently mainly used for safety purposes during takeoff and landing.
M-Flex is planned to be available for both narrowbody and widebody aircraft, given the increasing range profiles of longer-range A321neo and 737 MAX aircraft, although Collins is focusing initially on the widebody market.
The product is currently conceived and was shown at AIX in two main options: M-Flex Duet for the more premium side of the game, which is a double-swing-out bar pivoting out from the doors, and M-Flex FX as a fold-down option more suited for self-service or as additional work and service space for flight attendants.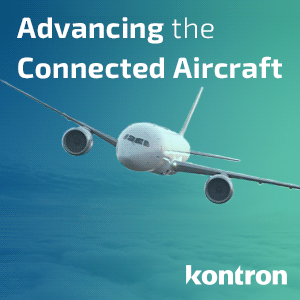 "It's the same idea, the same concept," Jefferey McKee, director of Research & Development, Interiors for Collins Aerospace tells Runway Girl Network. "We're doing it in a more utilitarian environment as a service area. This is more focused on the crew. The idea is that we extend what a sixteen-inch closet would be out to a thirty or forty inch working area. We can do that with a standard sixteen-inch closet, which is a catalogue item for most aircraft, or we can put it within a four-inch monument. These are scalable. They can go to any size, really. What we look at is: what's the smallest we think we can get to today, and what's the standard. We want to fit it within the standard of what's offered."
From a passenger experience perspective, airlines want to provide bar and lounge areas for premium cabins and self-service spaces further back in the aircraft, but it is a rare carrier that can make the real-world airline configuration accounting numbers work to decide to remove seats in order to create these spaces.
The rather unsatisfactory solution has previously been to try to improve the look and feel of galley areas, but the hard industrial surfaces are difficult to give a premium feel. Doors 2 areas in particular have been evolving, with pull-down screens reducing the industrial metallic feel on some airlines, while others have sacrificed insert space to create a more customized look and feel to their bars. But M-Flex is a step change in passenger experience.
Collins' McKee declined to be drawn on the present situation in terms of both additional weight, whether M-Flex uses the same mounting points as a regular monument, and the certification implications of M-Flex, telling Runway Girl Network that "We're still in the process of development, so it's changing constantly."
The company is, however, expecting to certify to 16g both the monuments that serve as flight attendant seating attachment points (which would be required), as well as the monuments that do not (which would not, perhaps, necessarily be required). "Right now we're looking at the attendant seat as part of the implementation of this unit," McKee told RGN.
For inflight security, Collins was showing a locking mechanism utilizing RFID-based card swipes to ensure that only authorized crewmembers are able to latch and unlatch M-Flex. The product is also a finalist in this year's Crystal Cabin Awards.
Related Articles: