SmartSky Networks is in the process of selecting the value added resellers (VARs) which will provide its 4G LTE inflight connectivity service to airlines and business aircraft operators.
"So we are not going direct to the airlines meaning we are not going to be the ones providing the portal and doing all that. So, we are going to rely on our partners to do that. We're making sure that we are selecting good partners. We are in the process of going through that," SmartSky chief commercial officer Nancy Walker told RGN last week at the Aircraft Interiors Expo in Hamburg.
She added: "We are not going to be the VAR. We are not going to be the one who is the customer/passenger facing front. That's not what we are about."
Though the VAR route has been in the works for a while, the strategy has only just been finalized in recent months, confided Walker to RGN. It ensures SmartSky can focus on its proficiencies – providing a powerful broadband ATG pipe to operators – while enabling VARs to do what they've spent years and lots of money on perfecting: offering seamless logins and payment portals, as well as other applications for the pipe.
Some of SmartSky's potential resellers already "are doing a great job", noted Walker, without disclosing their identities.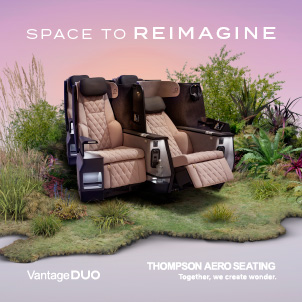 Though SmartSky continues to see opportunities for developing 4G LTE inflight connectivity networks in other countries, including India, the US firm is "laser focused" on one thing right now – launching in the United States.
"This is the year," declared Walker, noting that SmartSky expects to have full coverage across CONUS by the end of 2019.
The ball is certainly rolling for the firm. In January, JetSuiteX – a private air service owned by JetSuite that sells public charters – announced that it will become the first carrier to offer SmartSky's next generation air-to-ground (ATG) solution. The system will be fitted to the 30-seat Embraer 135 aircraft flown by JetSuiteX between private terminals. Then, in March, StandardAero was awarded the first Supplemental Type Certificate (STC) for the ERJ135/140/145 series and the Legacy 600/650 aircraft models common in business aviation.
JetSuiteX is pushing to start installs "right away", said Walker, with a service-entry expected around the fall. JetSuiteX will offer the service for free to its passengers.
SmartSky's arrangement with JetSuiteX has helped to build excitement in the market. "When you are talking about an airline like JetSuite, with the highest net promoter score in the industry and it's so much higher it's not even [comparable] … to have us be endorsed by them really has opened up the floodgates. A lot of people wanting to talk to us. A lot of good things happening very quickly," said Walker.
To wit, SmartSky has enjoyed fruitful conversations with both business aircraft operators and commercial airlines. And there is "a lot of other things with commercial airlines in the works", said Walker, noting, for example, that SmartSky is eyeing hybrid solutions for larger single-aisle aircraft which face capacity constraints in crowded US hubs. So in effect, SmartSky could step in and relieve the pressure with its ATG solution, even for operators equipped with a satellite system.
For maintenance, repair and overhaul (MRO) firms that want a quick and easy way to validate their SmartSky ATG installs without flying the plane, SmartSky has an answer – its new patent-pending SmartCart package. SmartSky president Ryan Stone explained:
So, the system mimics a ground-based tower and it actually contacts to our core.

So you are fully provisioned … We actually use a laptop inside the airplane connected through the wifi, out the radio and antenna system to the cart and we move it around the aircraft validating that the beam selection is all working properly.
SmartSky is also bolstering its electronic flight bag (EFB) offering to drive operational benefits for operators with its low-latency system. "Of course, we talk about passenger connectivity but it's the operational savings and the operational data that the airlines are becoming more and more understanding that they have to be able to make great use out of that," said Walker. "And that's something that our pipes, our network allows and enables and that we are setting up to be able to do, help them do quite a bit with that data."
But, she reiterated, SmartSky is "laser focusing on making sure we get the network built out and everything done and aircraft in service this year".
Related Articles: